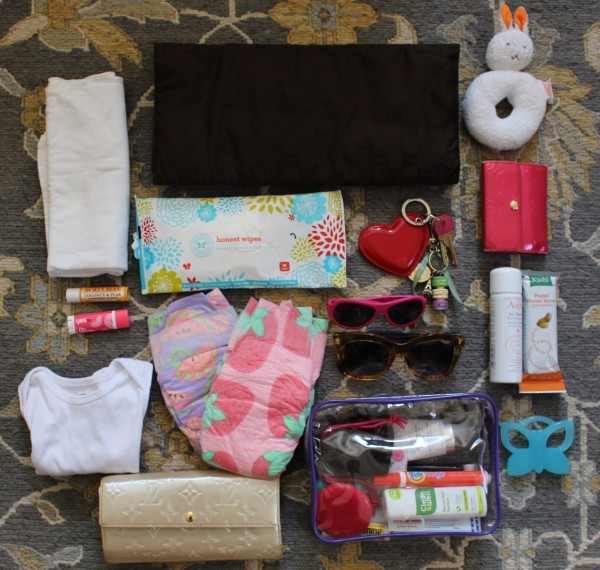 Since I'm nosy and always curious what someone has inside their purse / diaper bag / stroller organizer etc. I thought I would share what I carry with me in my diaper bag.
I have this bag in rose, which is great because it's huge (I do not know how to pack light for anything, ever) and is a baby-friendly spill proof fabric. Inside the bag I have:
a few diapers
sleeveless onesie – these are the best 
wallet (I actually carry two; see above re: not knowing how to pack light)
toy
sunglasses for me and Georgie
burp cloth – these are organic cotton and sooo soft
keys
face mist because it's summer and it's HOT in the city
granola bar
a few favorite lip balms – coconut & pear and grapefruit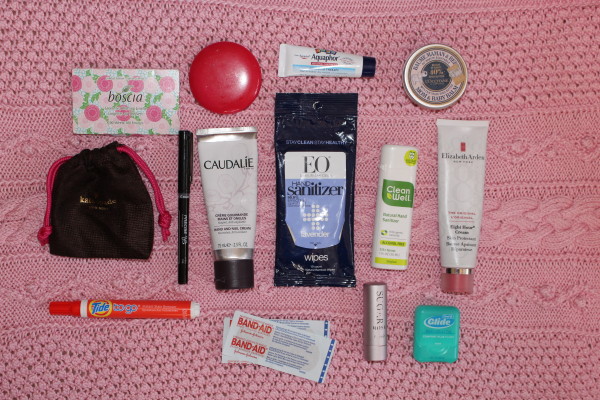 I also carry a small cosmetics case filled with things I generally use on a day to day basis, and I take this with me into other bags when I'm going out but don't need the diaper bag. It's filled with:
blotting papers
hair ties
pen
hand sanitizer – I like these wipes and this spray (both chemical free)
tide pen
band aids
floss
Maybe one day I will become slightly more minimalistic, but that day is clearly not today!