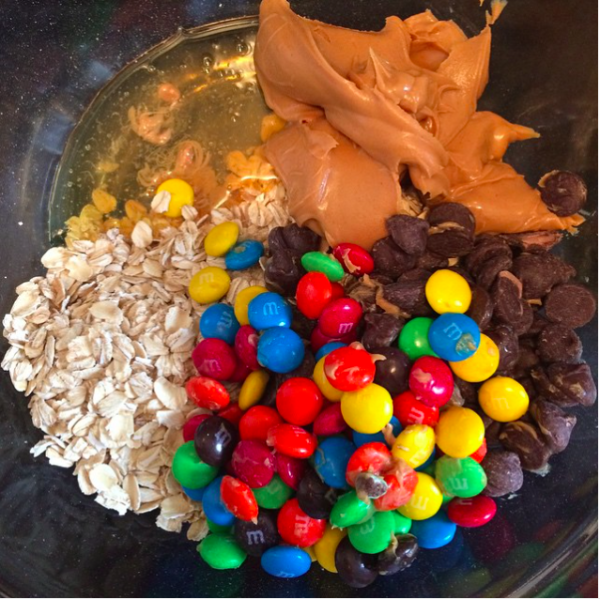 When I was pregnant, I was pretty much constantly hungry. It was tough for me to eat a really big meal (mainly because there just wasn't enough room in there!) so I ate smaller meals and snacks throughout the day, at a somewhat consistent pace.
I had mega cravings for pastries, and would bake chocolate chip cookies and blueberry muffins which were delicious, but not exactly the healthiest to be consuming on a daily basis. So I started to make these energy bites instead. They were so easy, and SO GOOD. Every time I left the house I would pop a few in a ziploc bag to bring with me.
The recipe is totally customizable – as long as you have the oats, the honey and the peanut butter, you can play around with other things to add in. If your mixture seems too dry, add more honey or peanut butter, and if it seems too gooey, add more oats. I usually added in m&m's because, well, pregnancy.
Recipe (adapted from this one)
Ingredients:
1 cup old fashioned oats
1/2 cup peanut butter
1/3 cup honey
1/2 cup coconut flakes
1/4 cup mini chocolate chips
1/4 cup plain m&m's
1 tsp vanilla extract
Directions:
Stir all ingredients until combined, using either a spoon or your hands
Once the mixture is combined, pop in the fridge for 20-30 minutes
When the mixture has cooled slightly, roll into bite sized pieces and enjoy!
Leftovers can be stored in the fridge in an air tight container for up to a week (I use a cookie tin lined with parchment paper)
Image via my Instagram