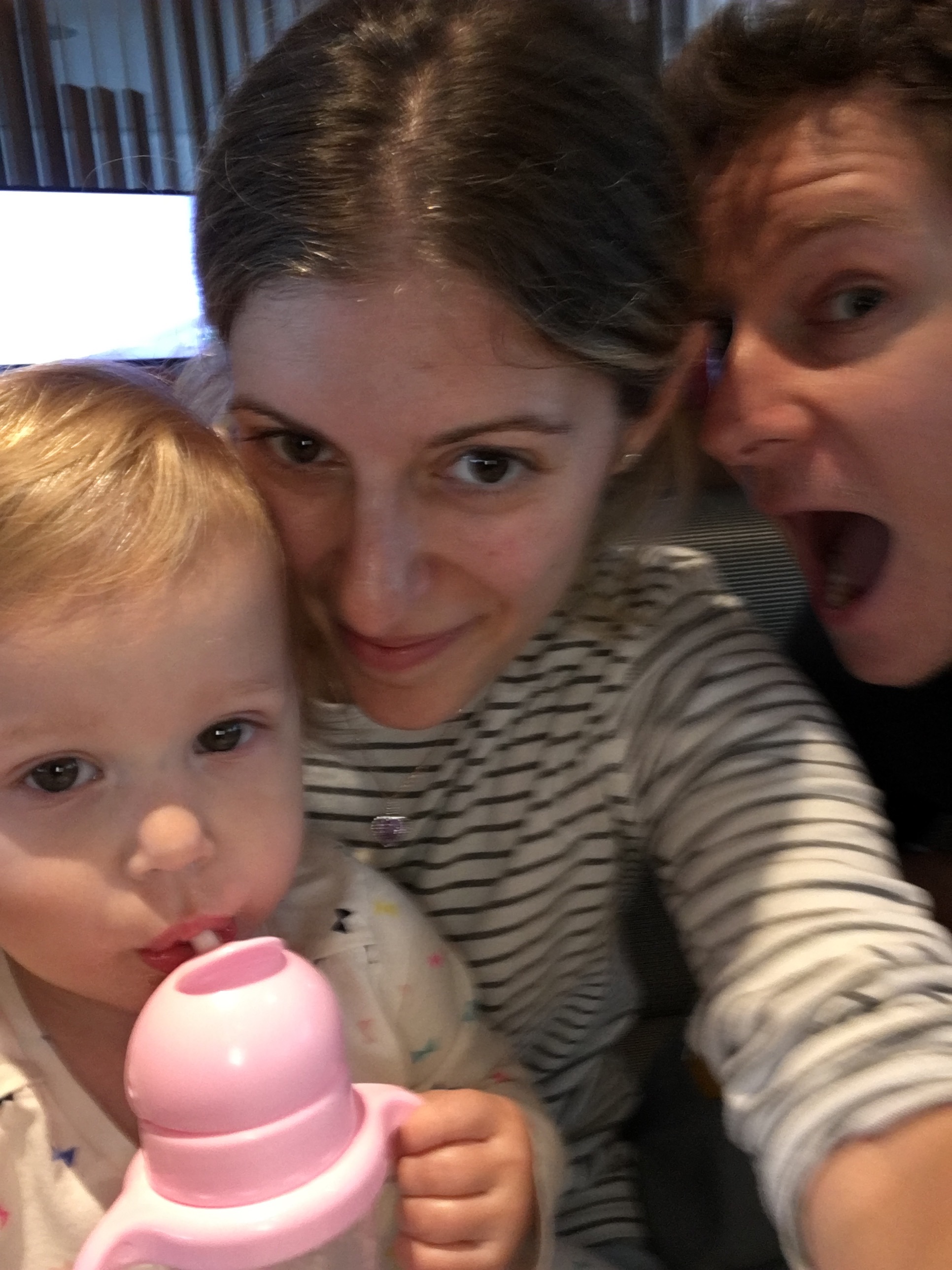 Hi!! First of all, I did not mean to post that we are back from vacation August 25th, and then go a whole two weeks without posting again. But once we moved into our house, it took almost that long to get our cable and wifi hooked up, hence the delay.
Second of all, we are in our house! YAY!!!! Tom and I still don't actually feel like this house is ours – we keep waiting for the grown ups to come home. I wonder when it will sink in that the grown ups are us?! We love it here so, so much and while we still have some boxes left to unpack and plenty of furniture to get and arrange, we are feeling settled and so happy. The house is adorable and cozy (Georgie has her own room! And we have a backyard!), and the area is so perfect for our little family that we still pinch ourselves that we actually get to live here. There are parks overlooking the water and charming little main streets and trees everywhere and people are friendly and it's just a total dream.
Now back to our Italy trip! It was such a fun one, and I would love to share some pics. There are lots – we were in three different cities in Italy, and then spent a week in England before flying home – so I'm going to break it up into a few posts, starting with this amazing picture of Georgie at 6am at JFK, looking as delicious as ever.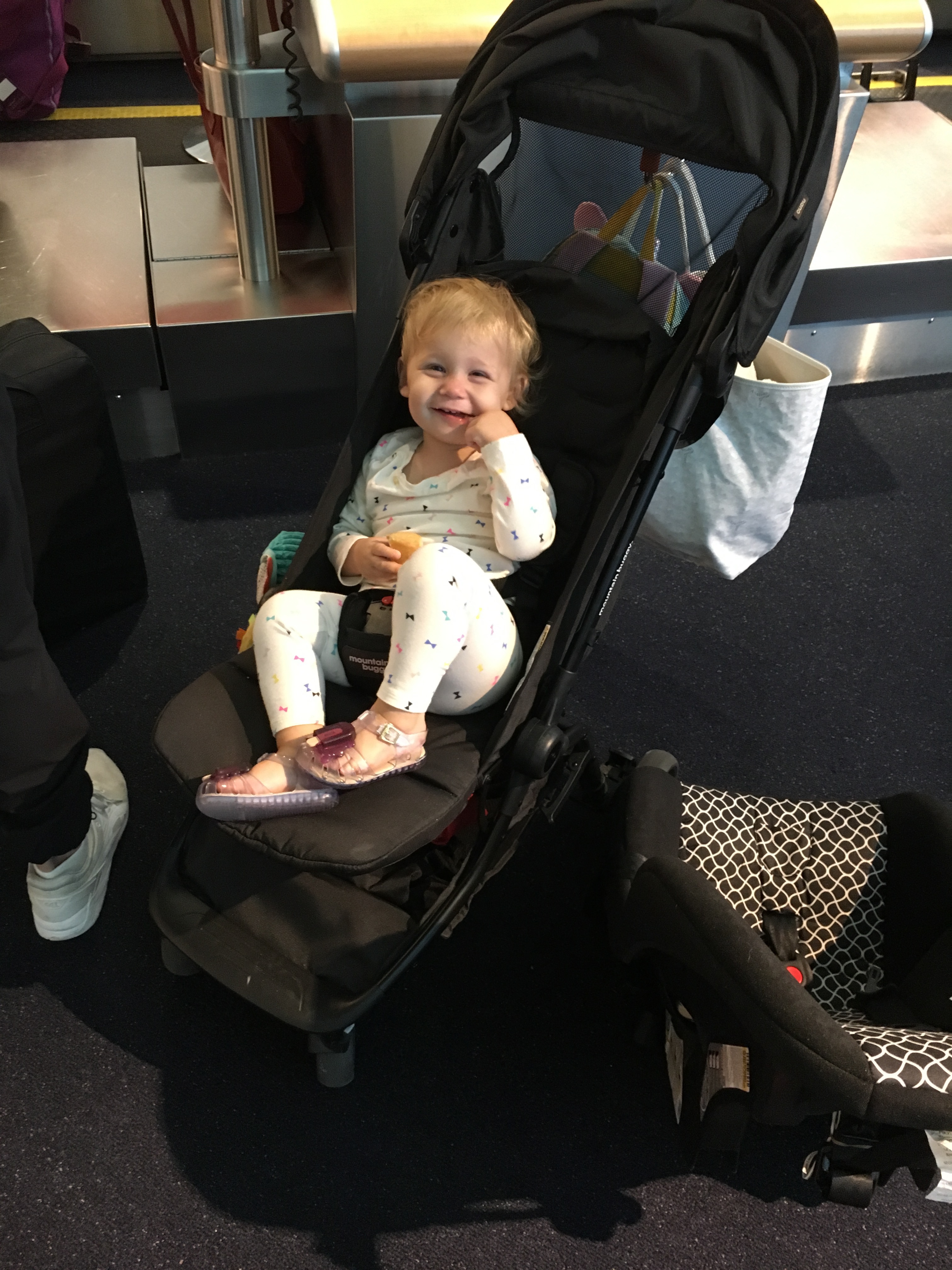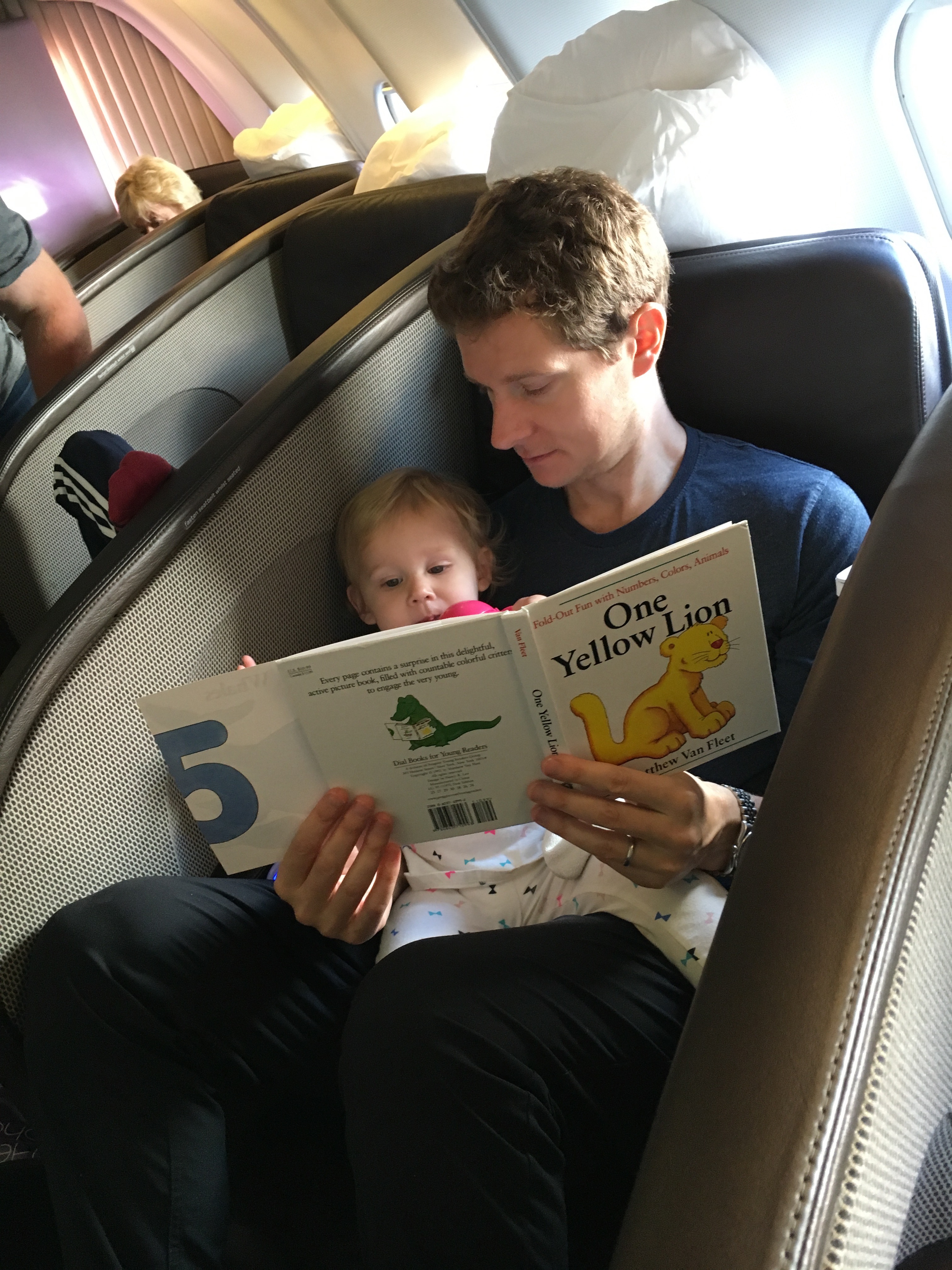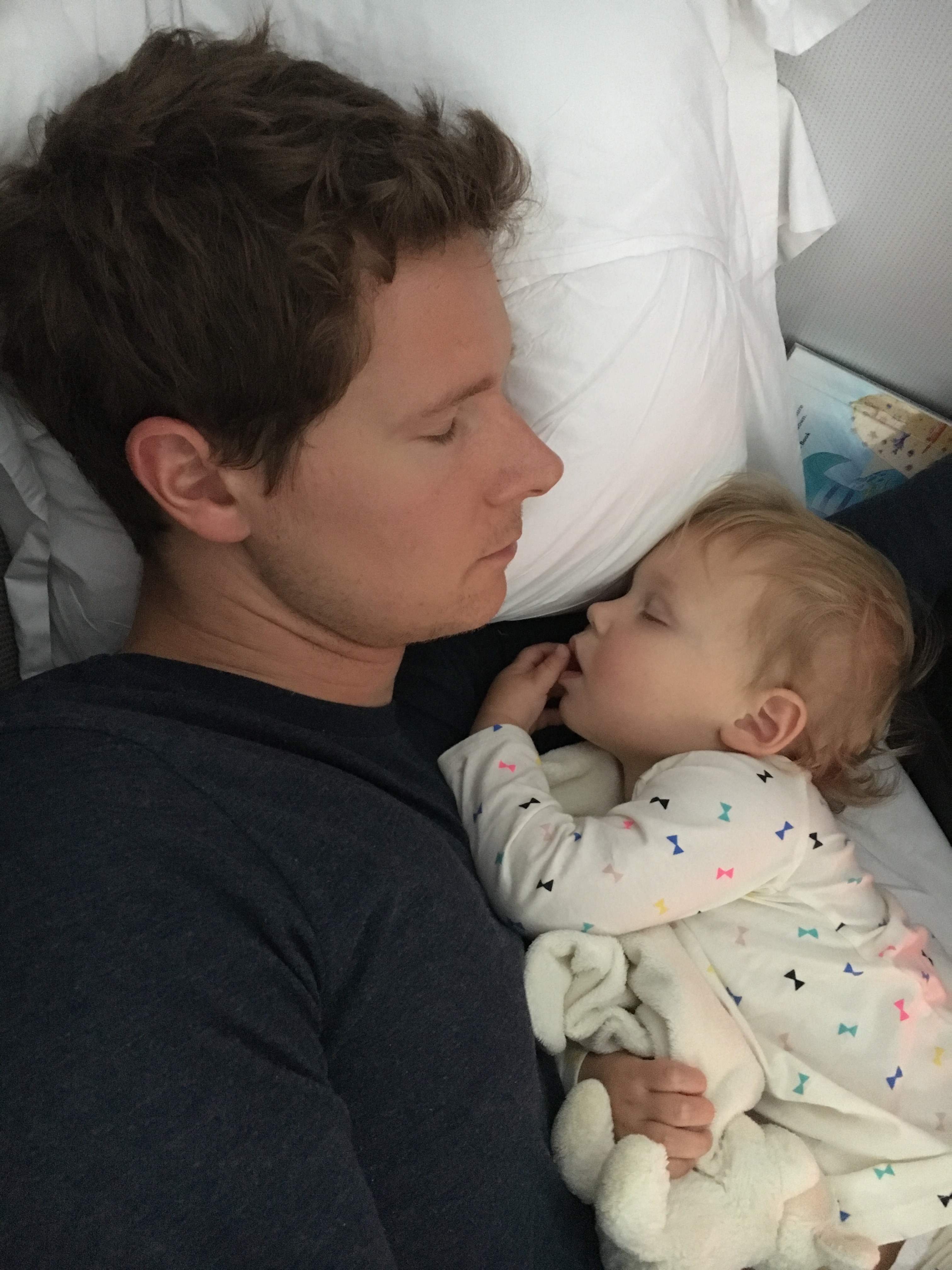 I could honestly spend hours reading about how people travel with their babies and toddlers. I don't know what that says about me, but it's the truth. I've done a travel with baby post, but I am also working on a travel with toddler post because traveling with a non-mover or even a crawling baby is so vastly different than traveling with a toddler. We flew Virgin Atlantic and did the day flight (we travel with this stroller and then gate check this car seat and didn't buy Georgie a seat since we were lucky enough to fly upper class), which is still hands down the best choice for us. It was such a smooth travel day – we were stocked and prepped with books and new toys and snacks and an iPhone full of Bubble Guppies (which Georgie affectionately calls 'Bub Ga'). Georgie was happy and entertained and well fed and took a pretty solid airplane nap. Success.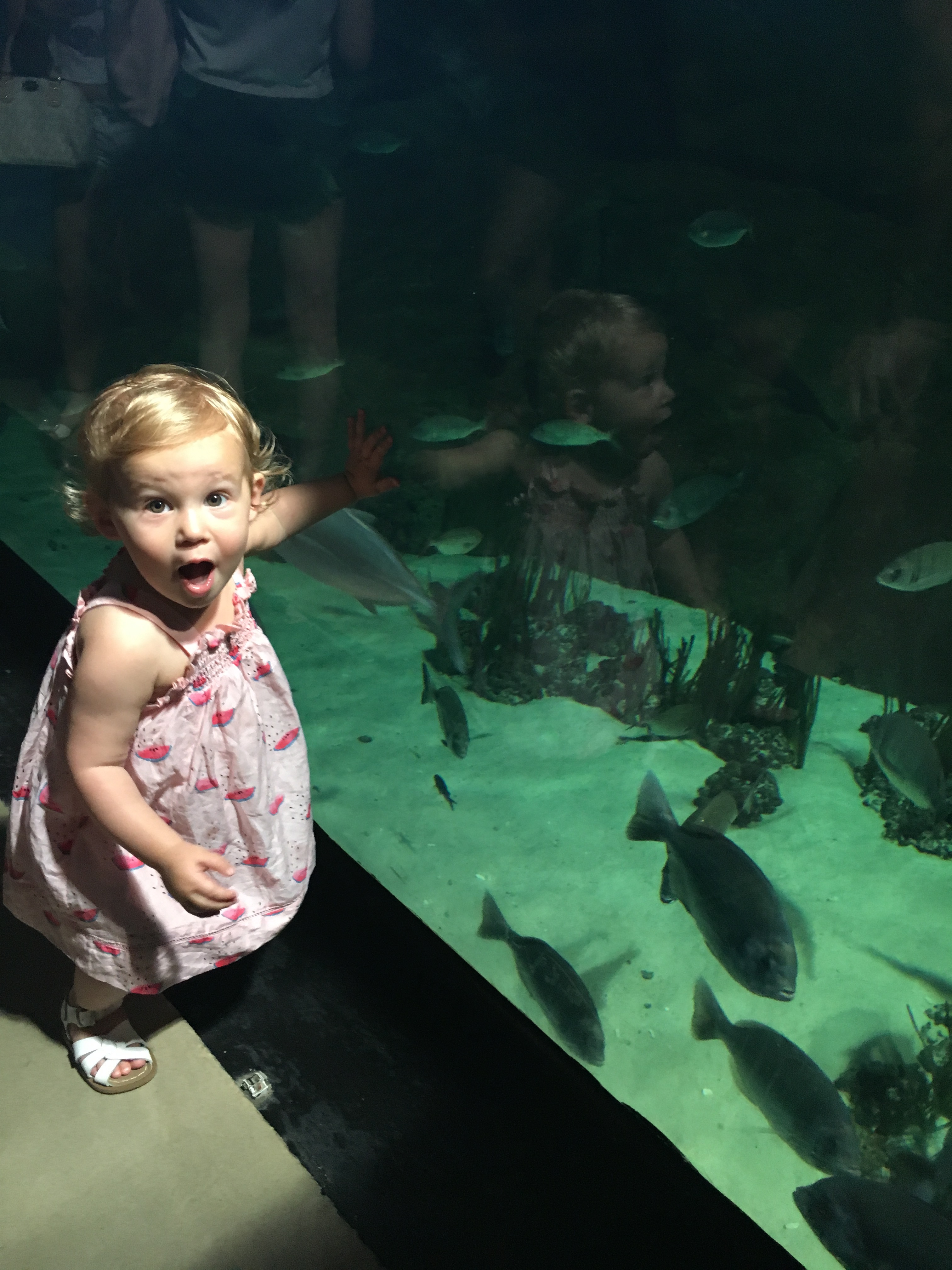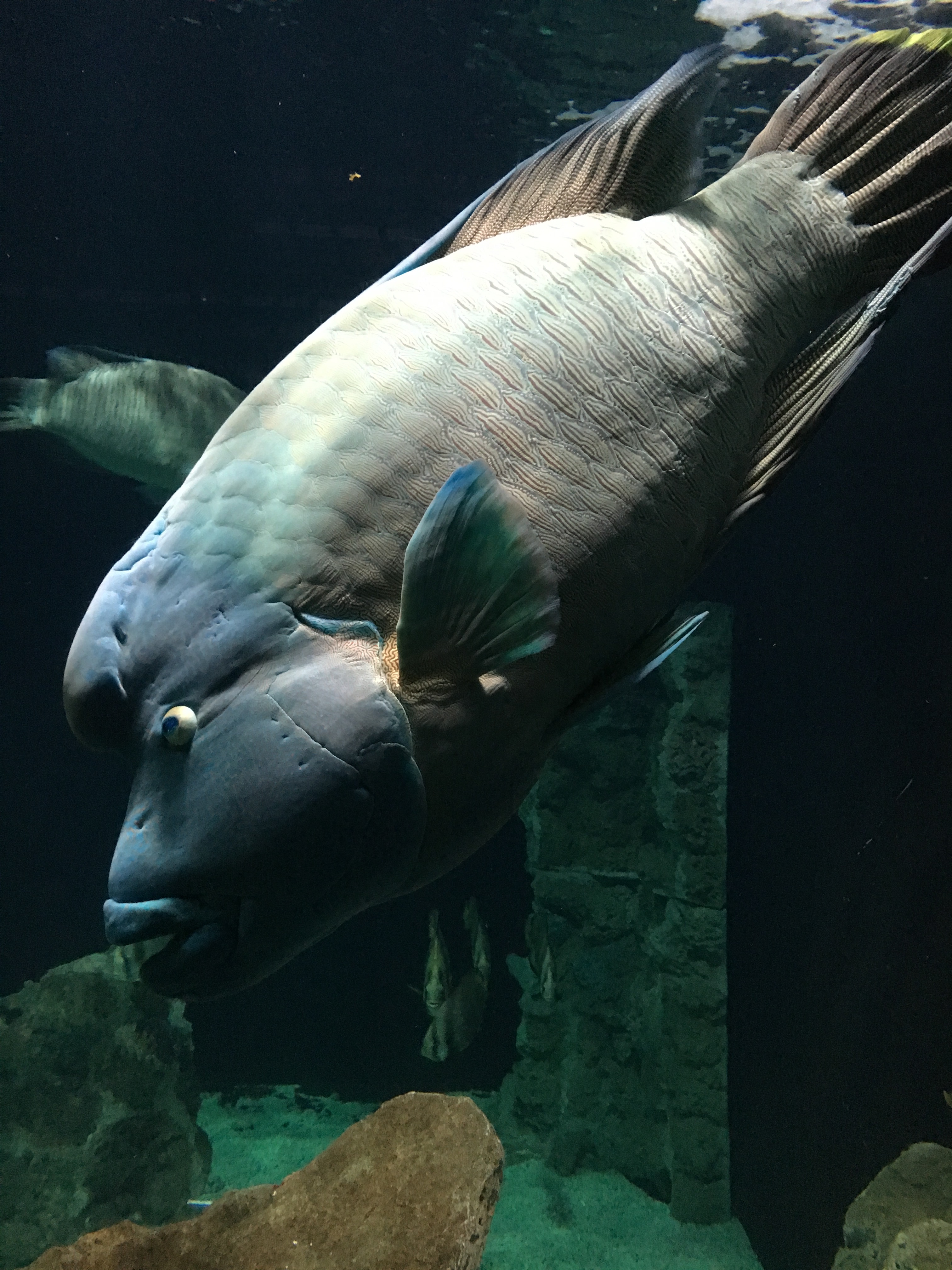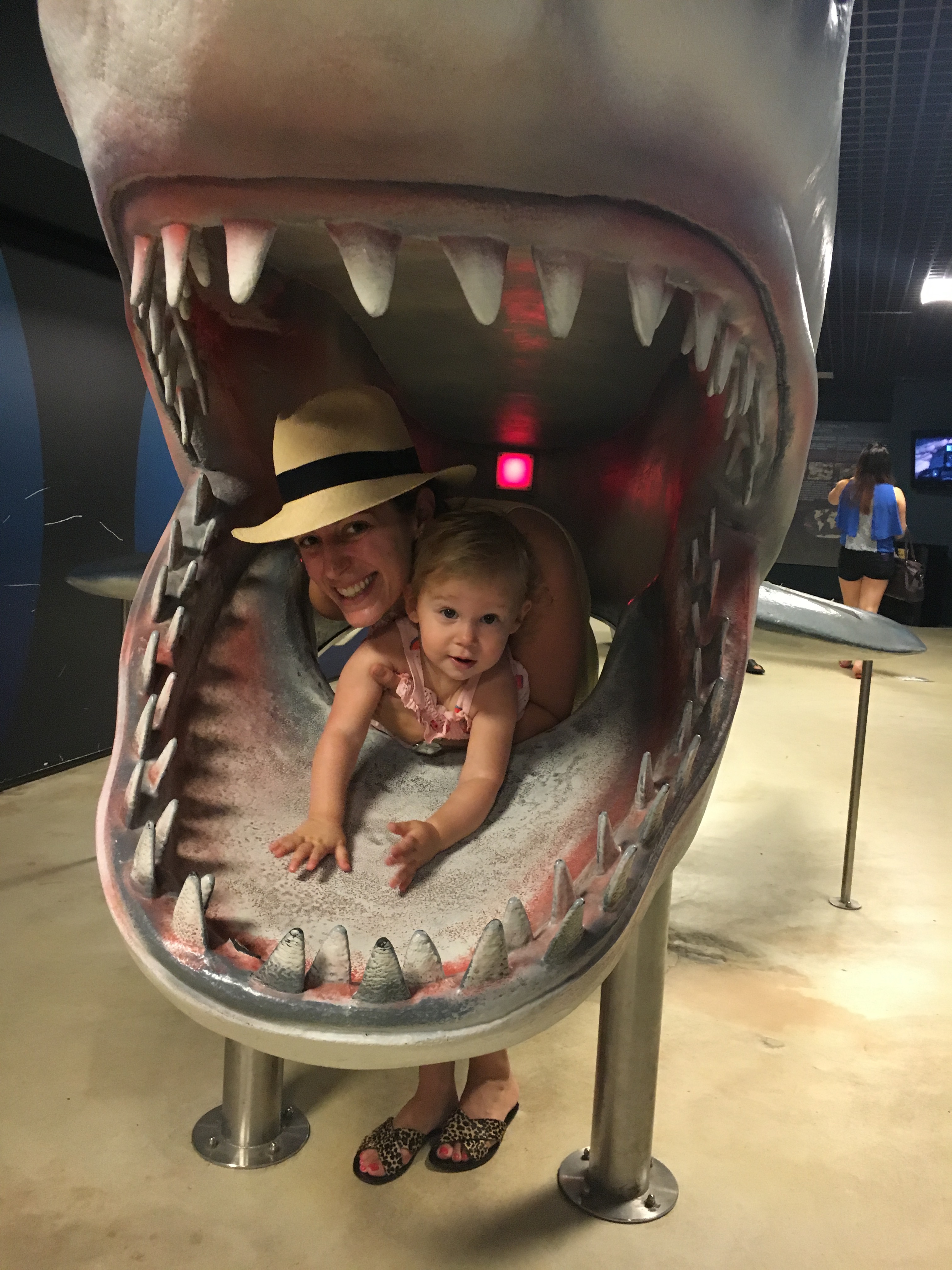 The day after we arrived in England, we flew from London to Pisa with Tom's sister Miriam, her husband Simon and their two kids, Sophia and Hunter. We rented a car at the airport and drove to Livorno where we stayed here for three nights before heading to the villa in Tuscany with the rest of Tom's family. Doing our best to jump right into the local time zone and keep Georgie busy, we visited the aquarium down the street, which was little but pretty cute. Tom, Georgie and I had a crazy experience with that gorgeous looking fish. We stood watching it slowly float by, and I swear it stared at us – like really looked at us – for a solid few minutes. We loved him.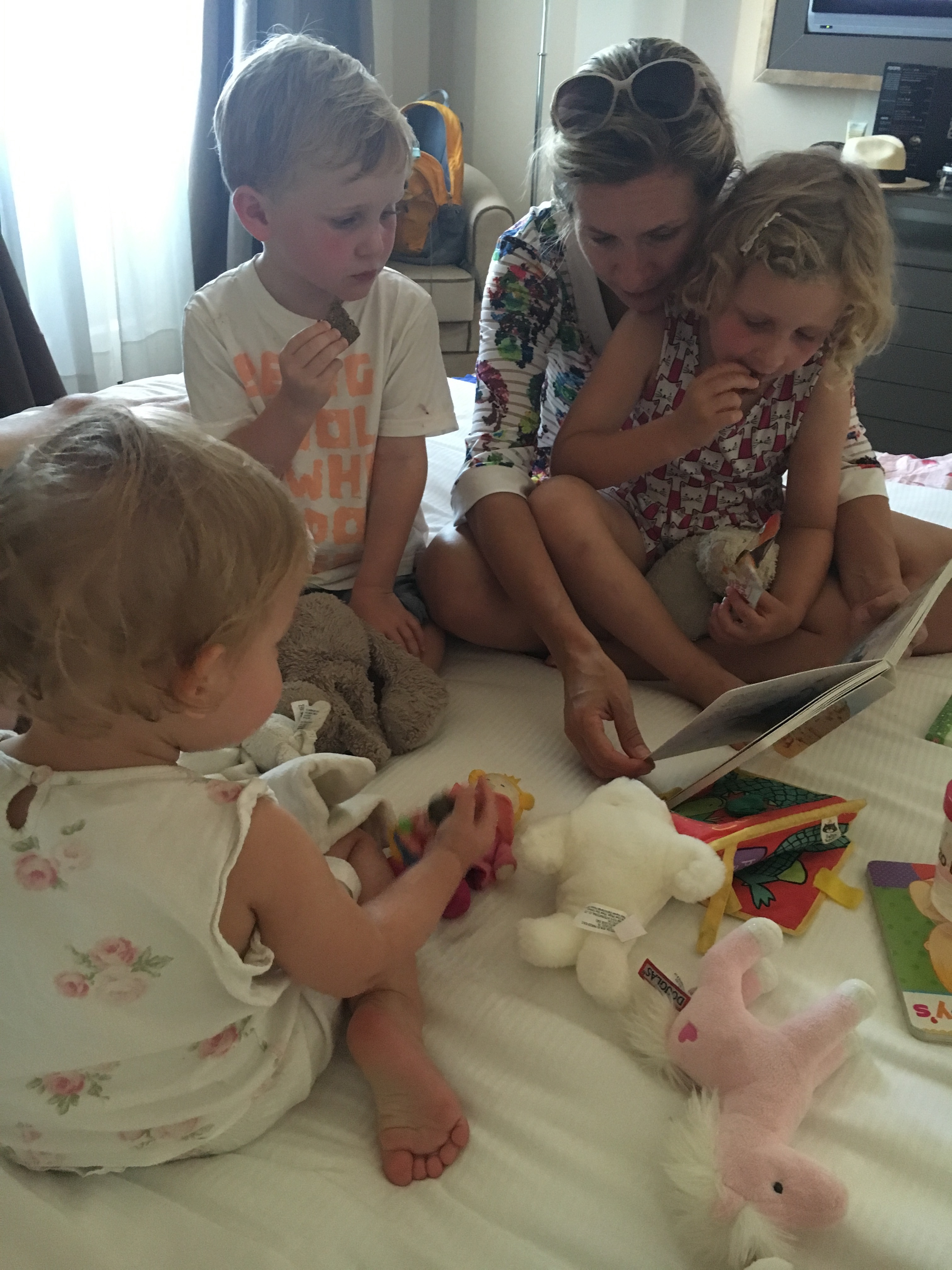 Snacks and stories at the hotel! Georgie's feet in this picture kills me.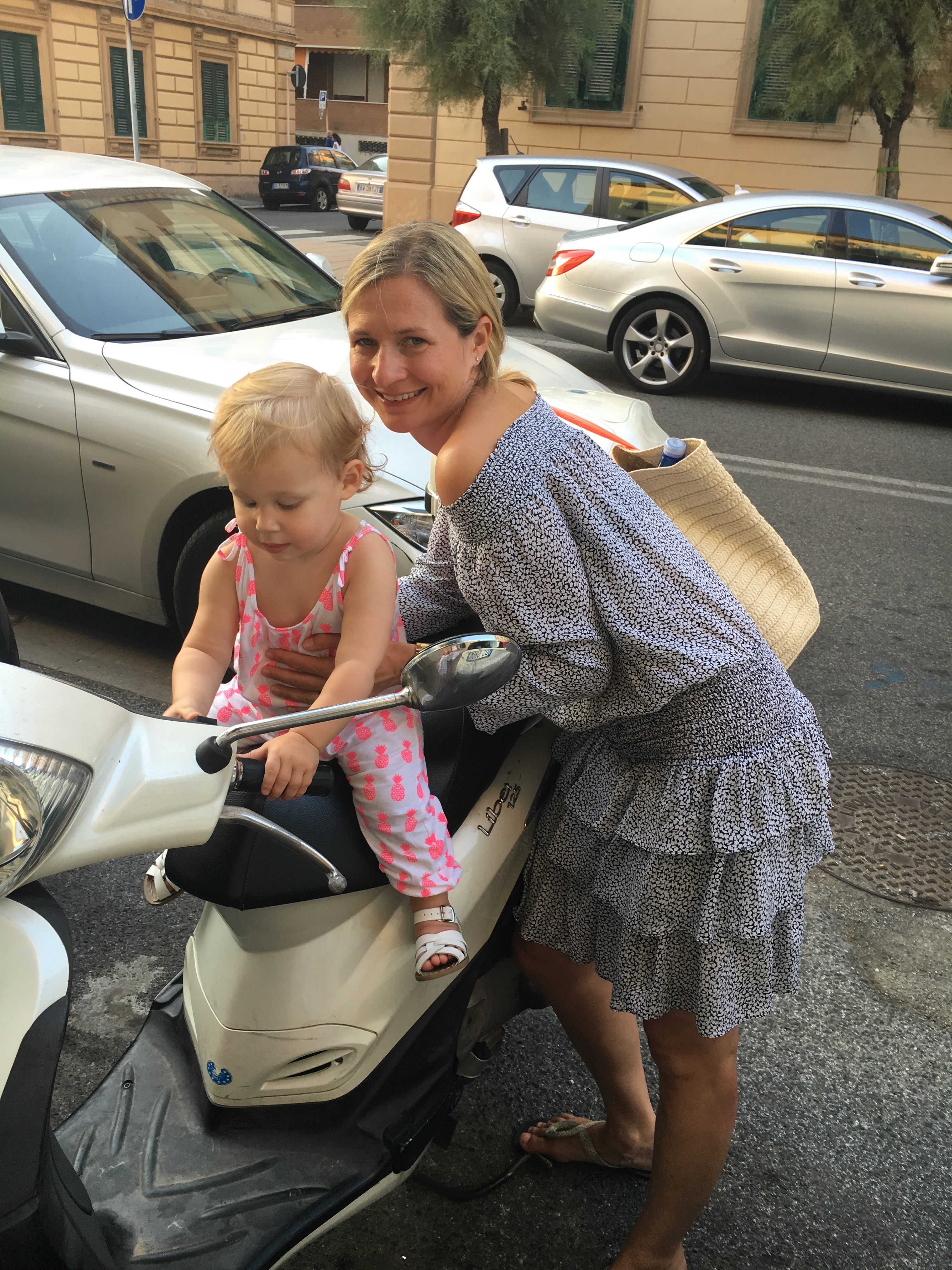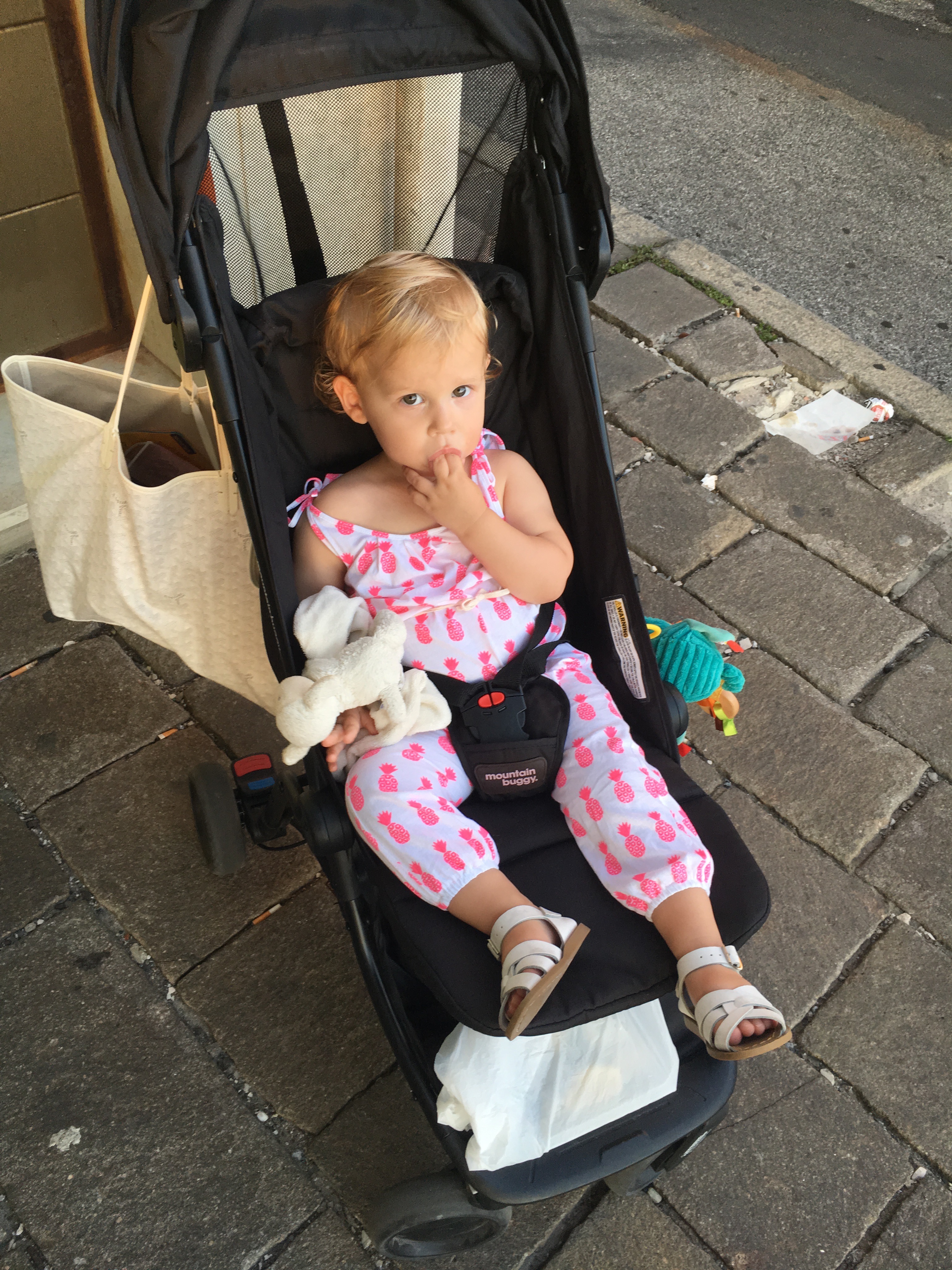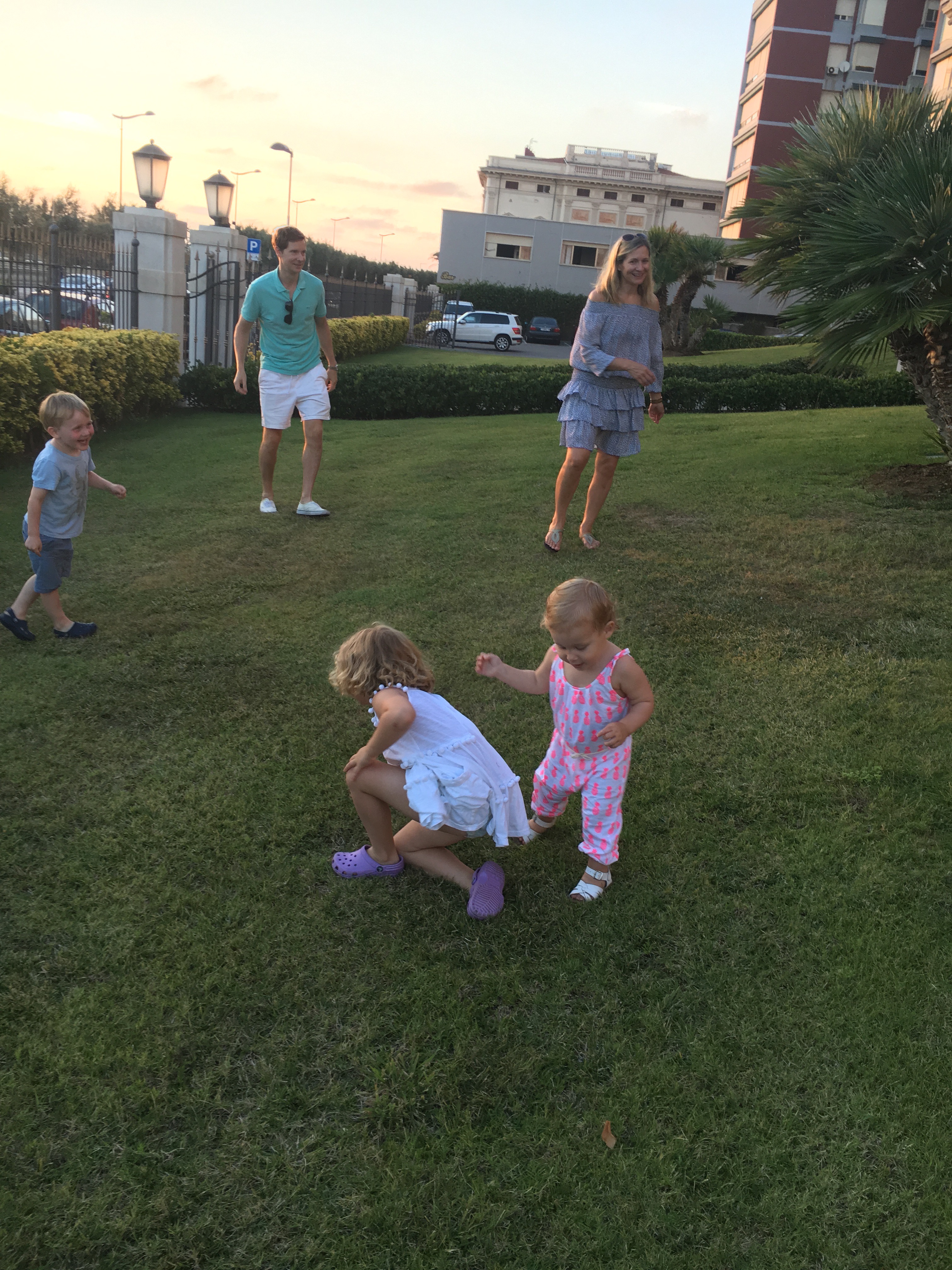 Hands down the best part of the trip was being with family, and Georgie was the happiest little girl ever to be with her cousins.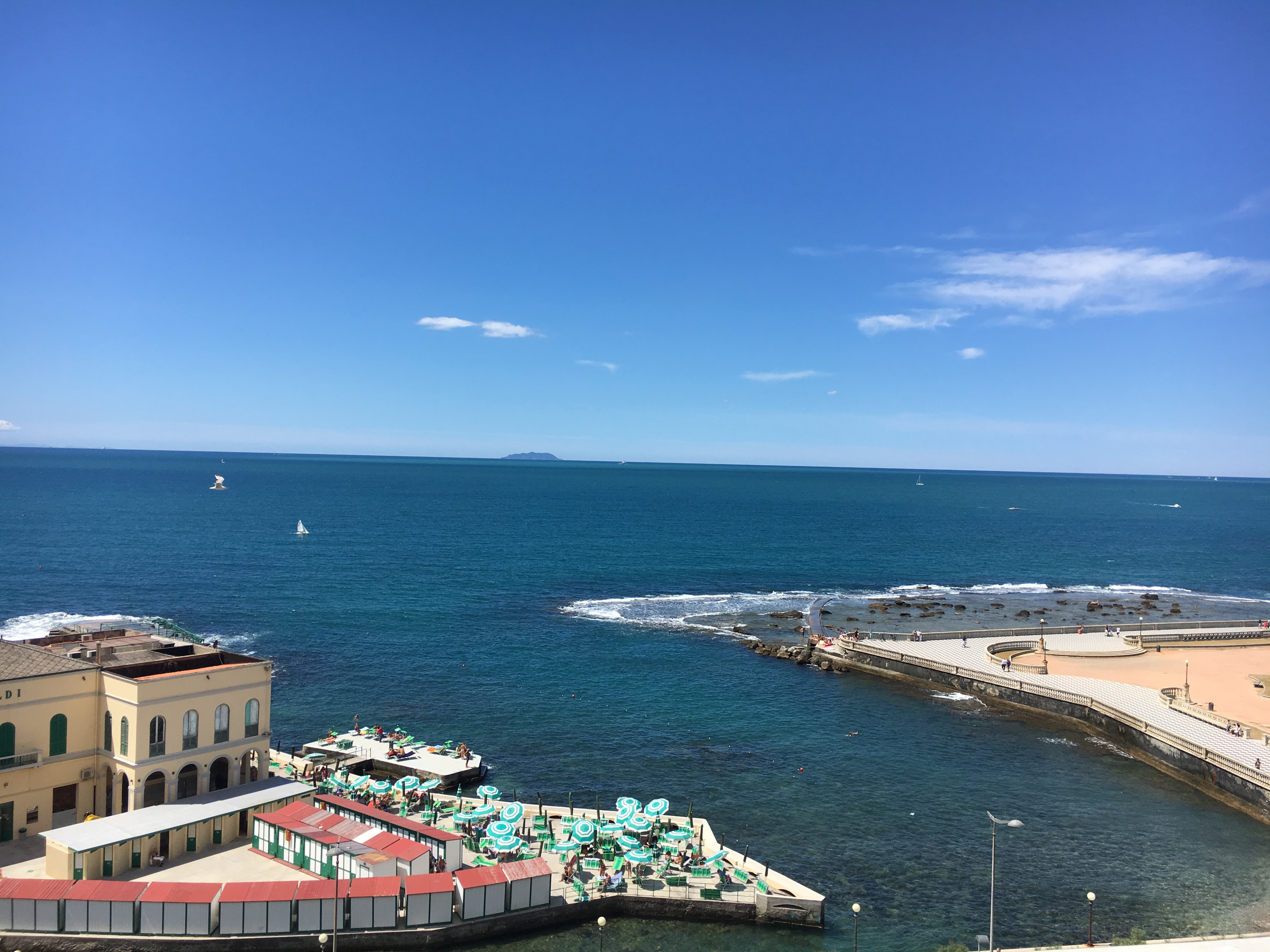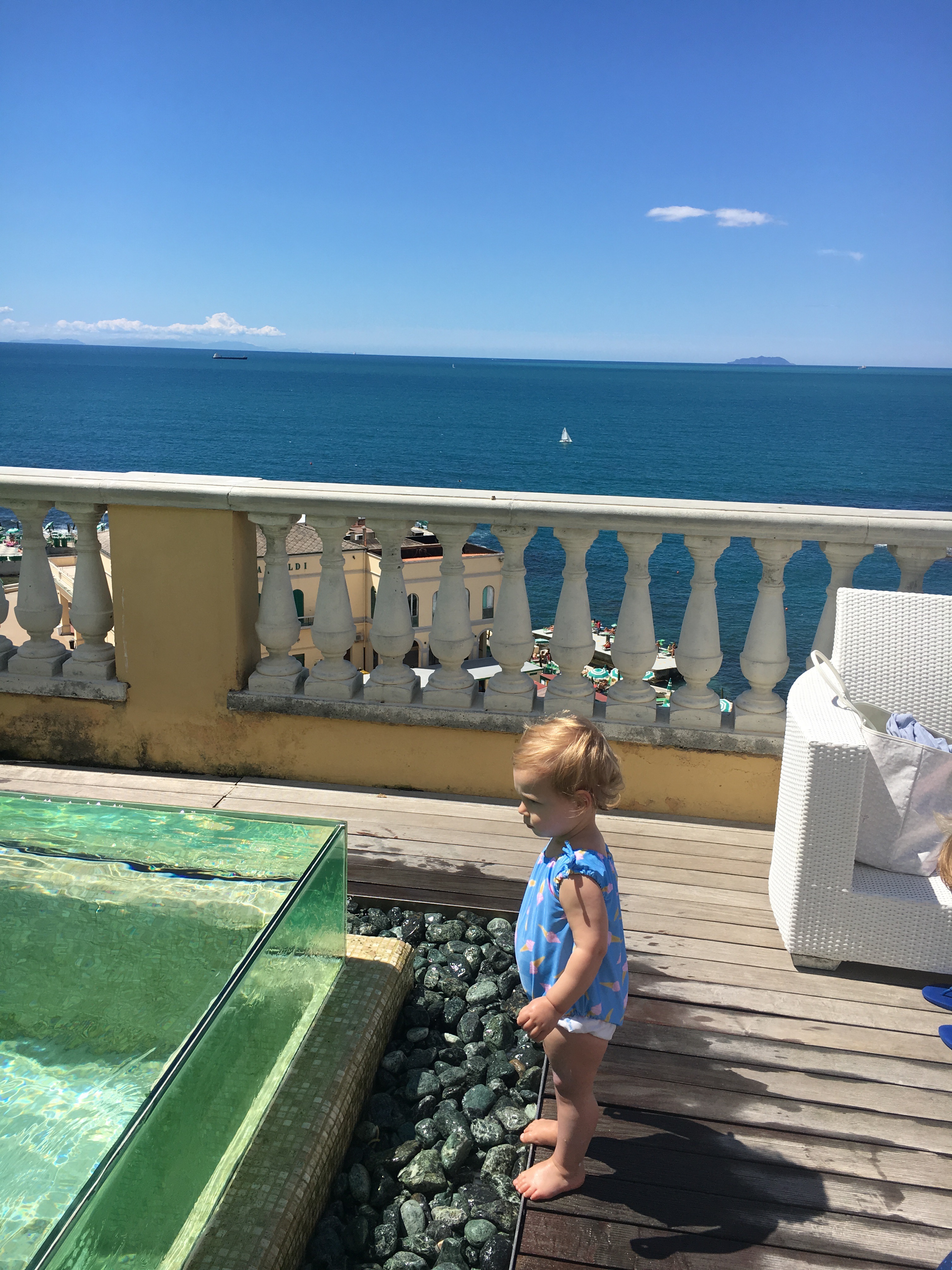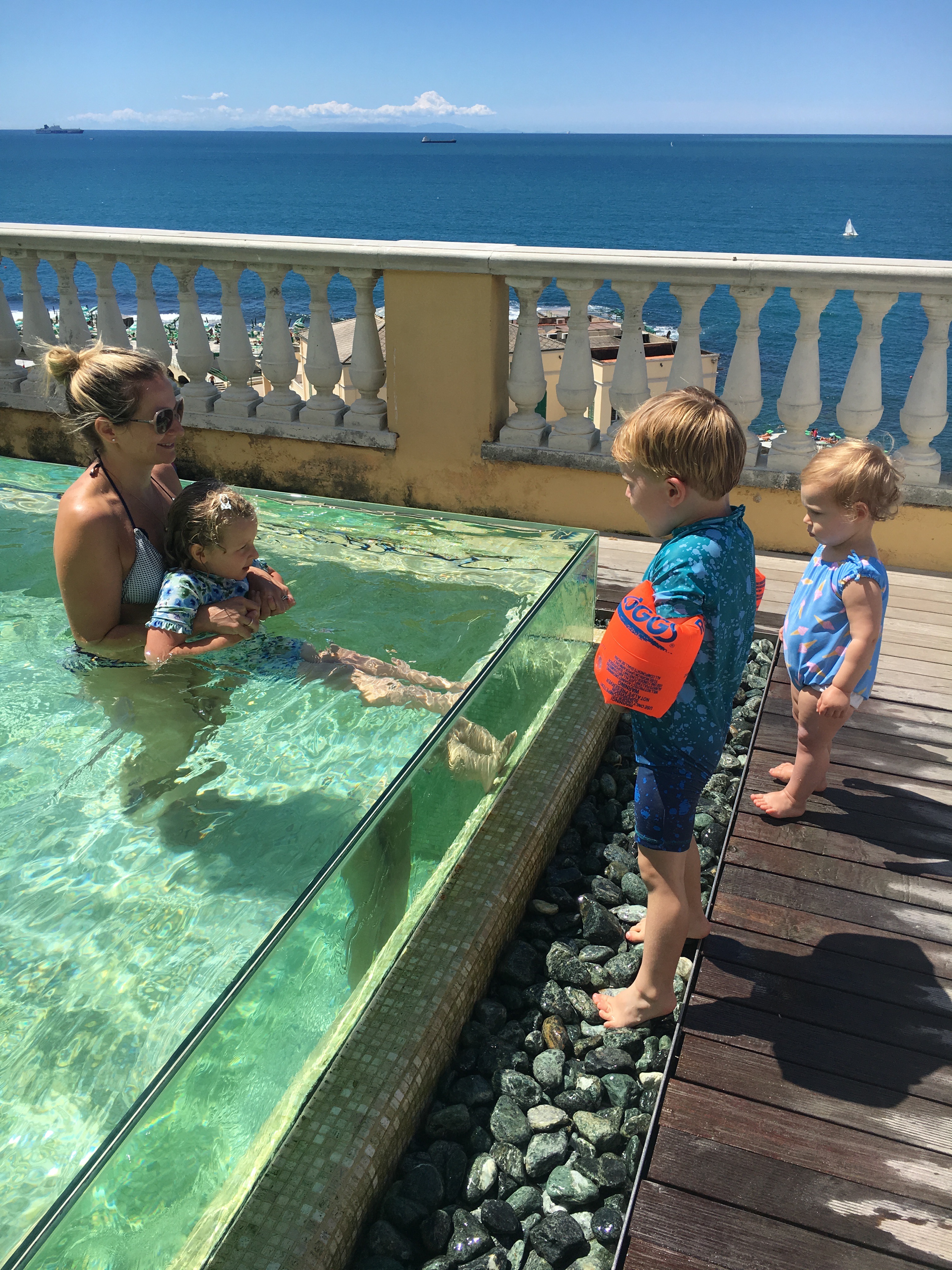 The hotel had a rooftop pool with the most incredible views. It definitely wasn't the most kid-friendly pool (as you can see in the picture above, it's all glass) but it was beautiful. On our last day at the hotel we hung out up there before we drove to the villa – swimming and eating pasta and watching the boats go by.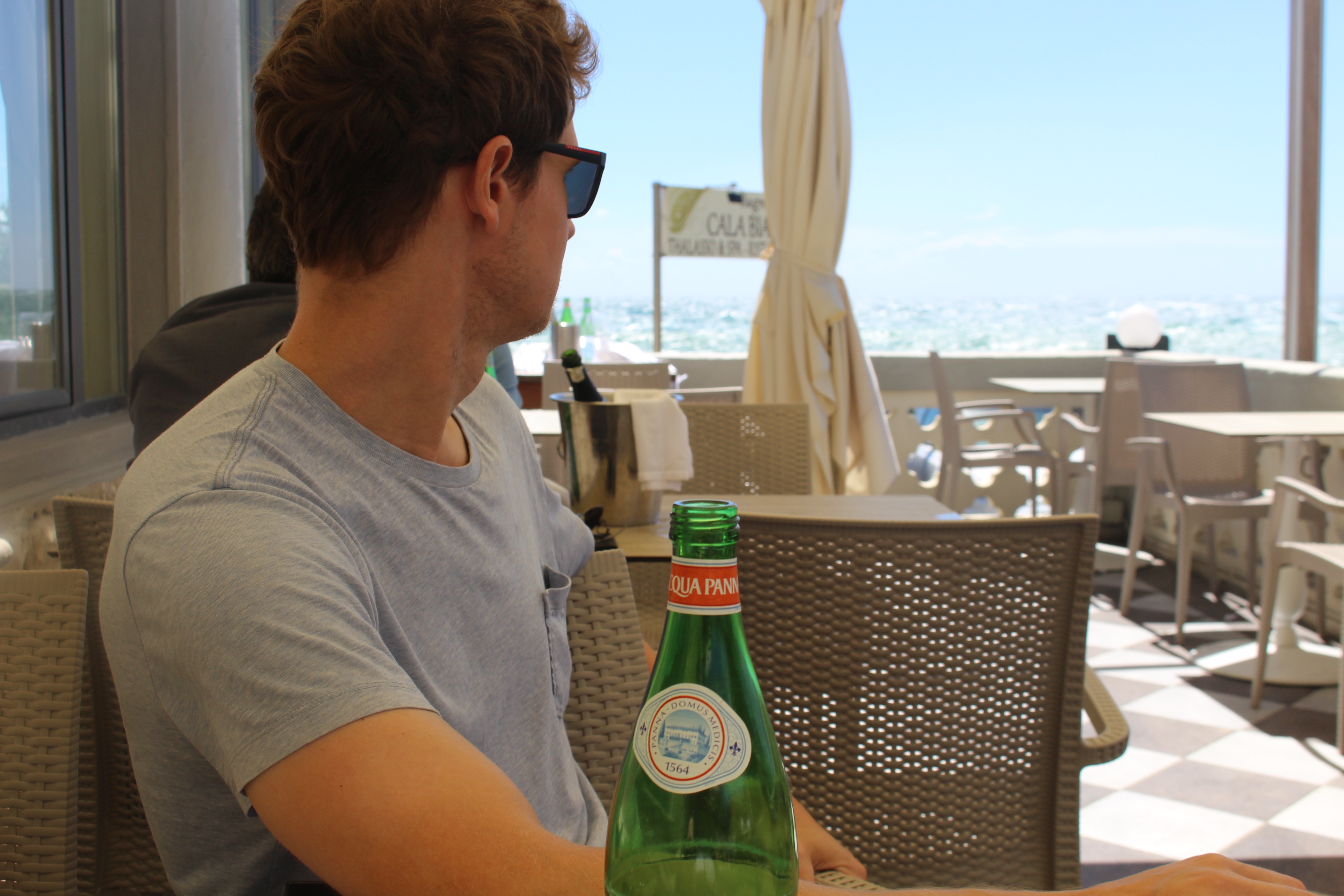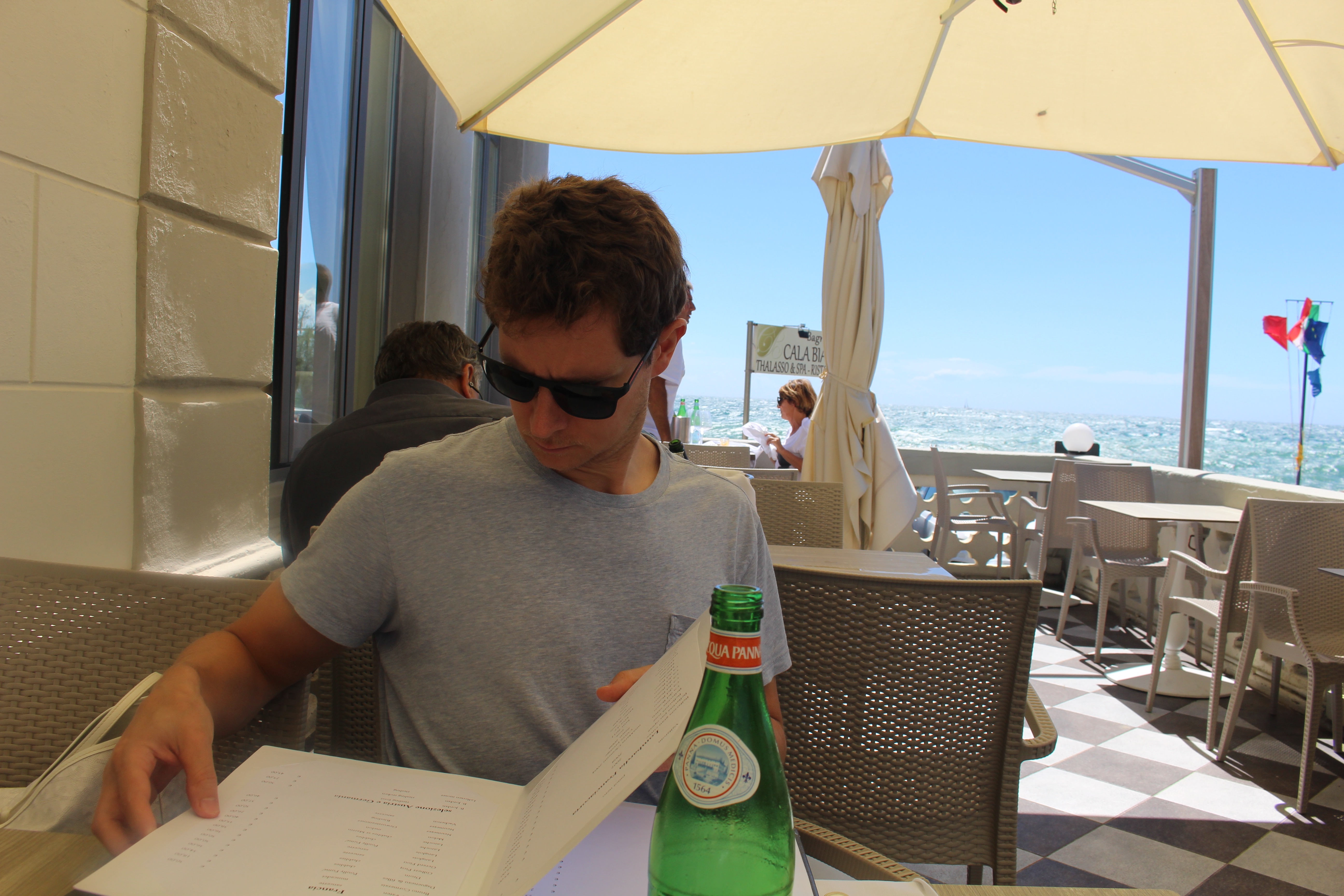 Tom found a restaurant about 15 minutes away from the hotel that was right on the water and supposedly served really delicious, homemade pasta. We went and it did not disappoint. I think it was my favorite meal of the trip. We ordered a bottle of champagne and tons of pasta and chocolate mousse for dessert and the air was warm and the staff was so lovely (and super accommodating of Georgie) and it was the best. But really, how can a summertime, al fresco Italian meal with bubbly and the sound of the waves crashing ever be anything but the best?!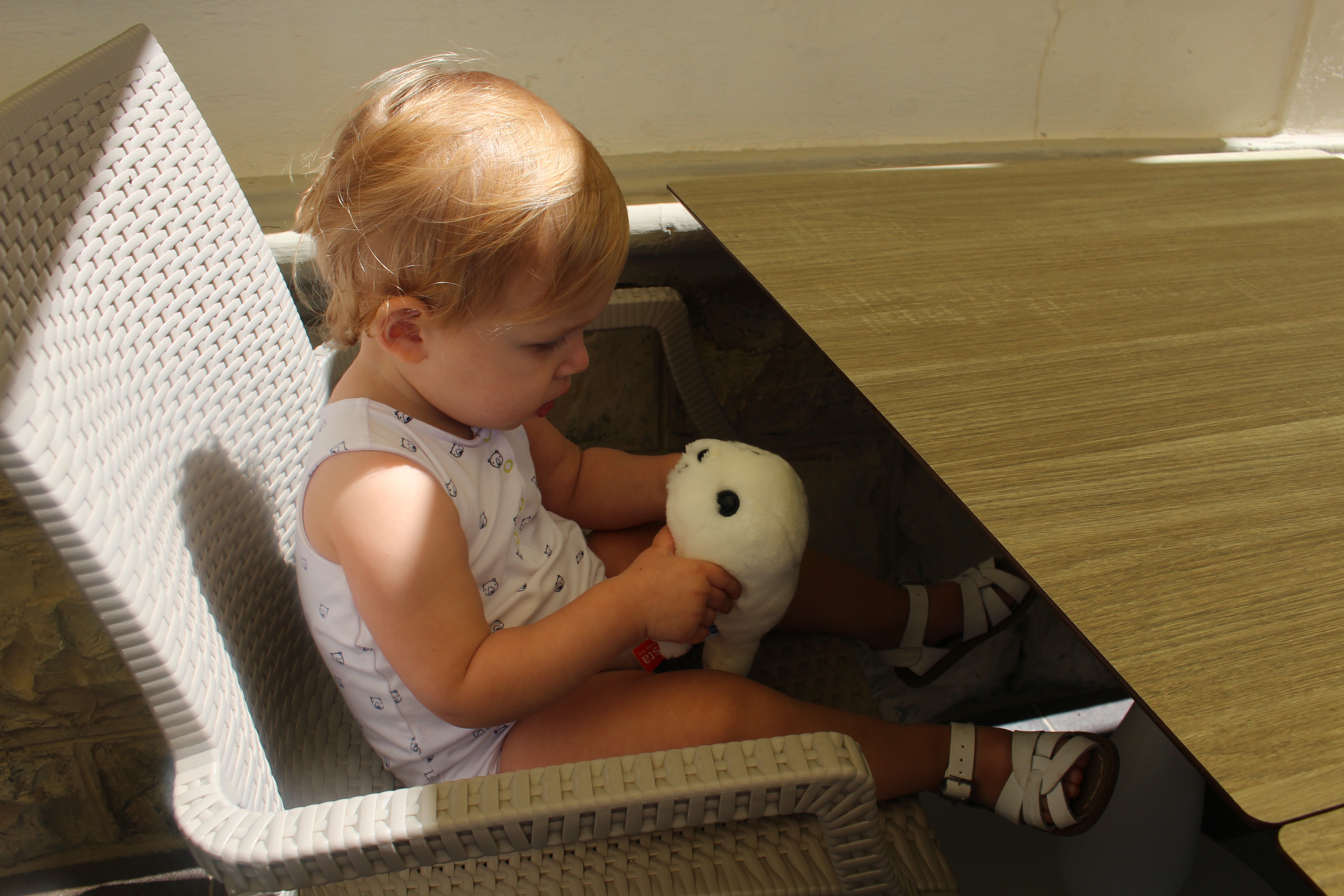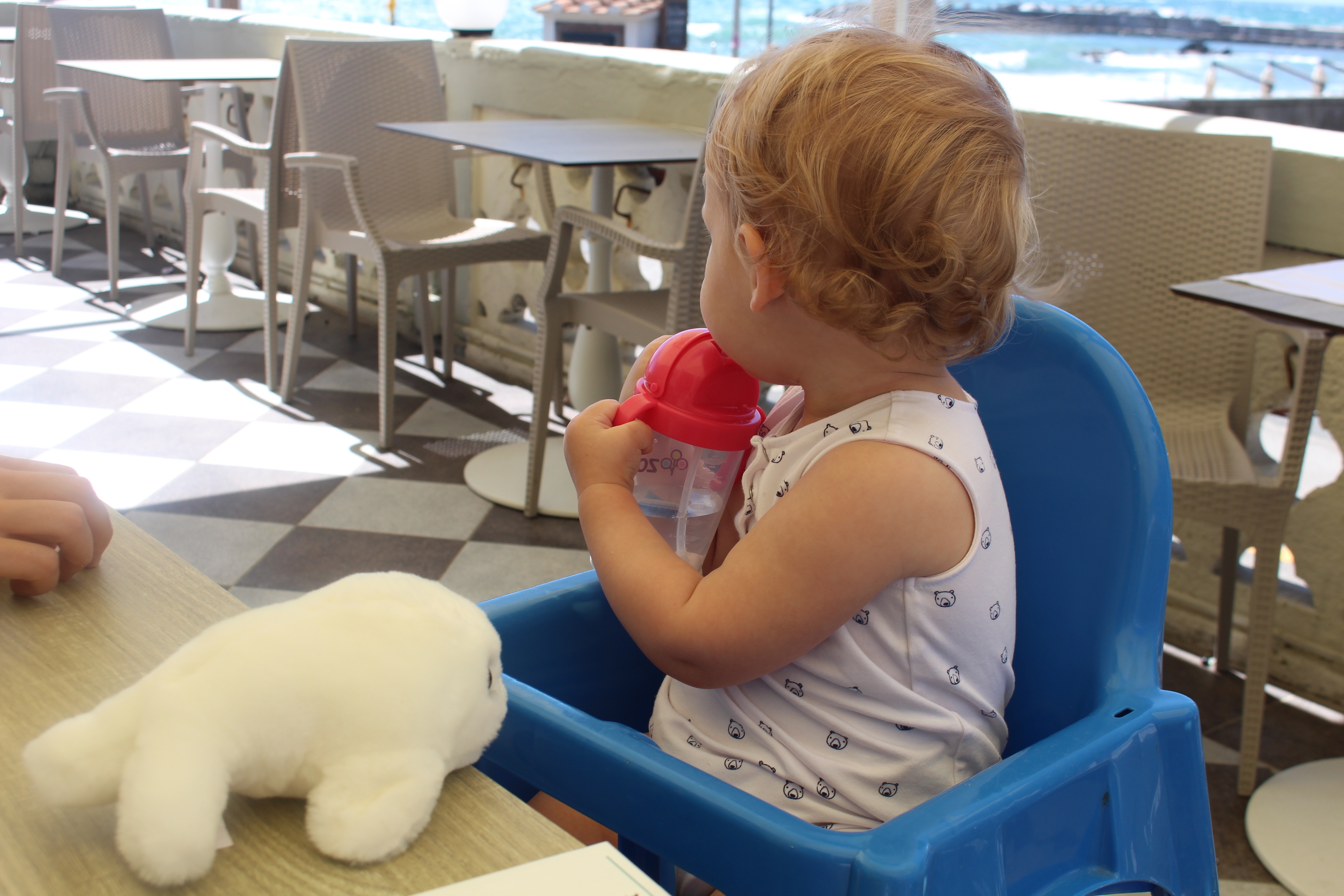 Taking in the views with her sweet little seal stuffed animal from the aquarium.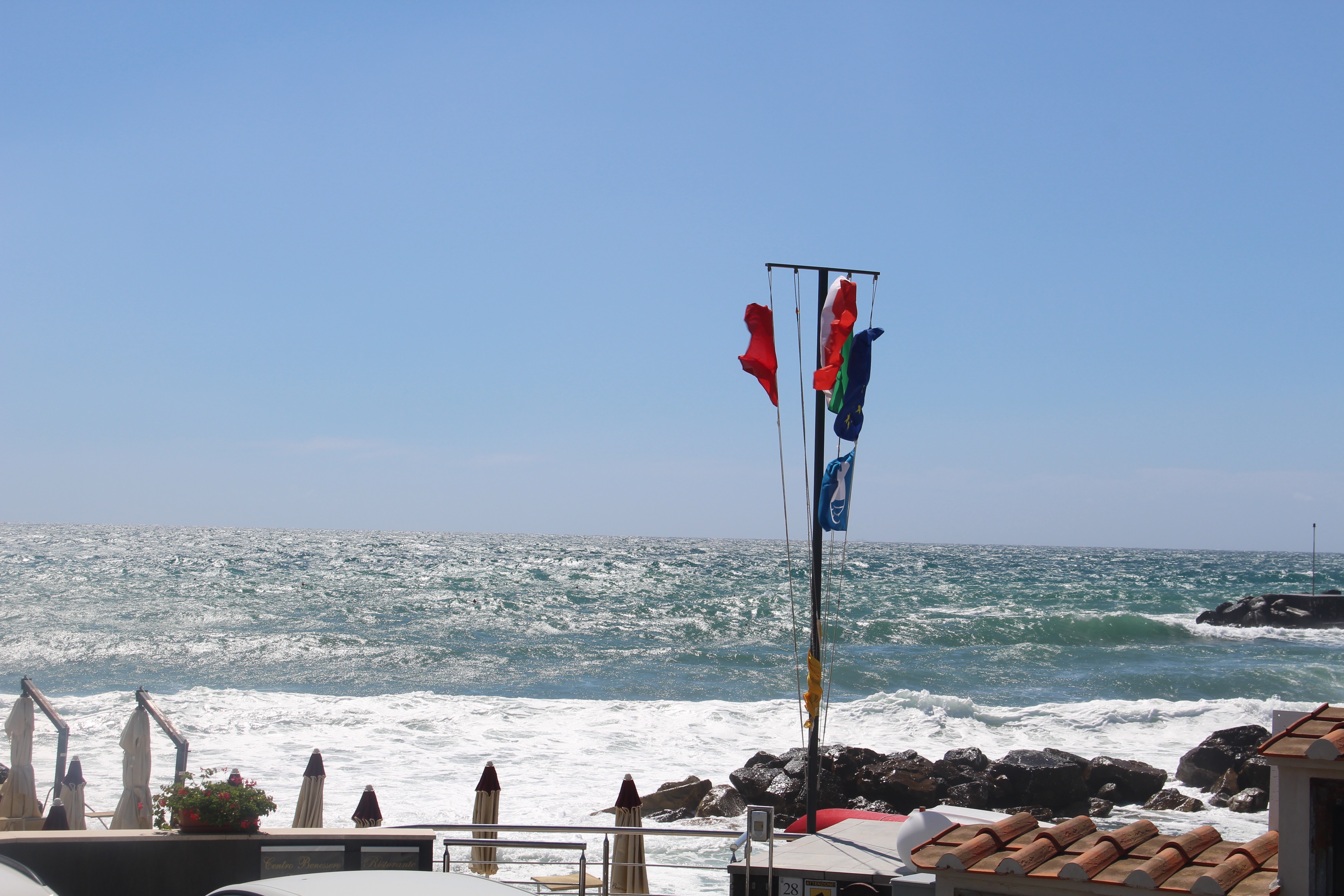 Such a gorgeous view! It was a crazy windy day so there were a ton of waves breaking – the best sound. If only this could be the view for all of our meals.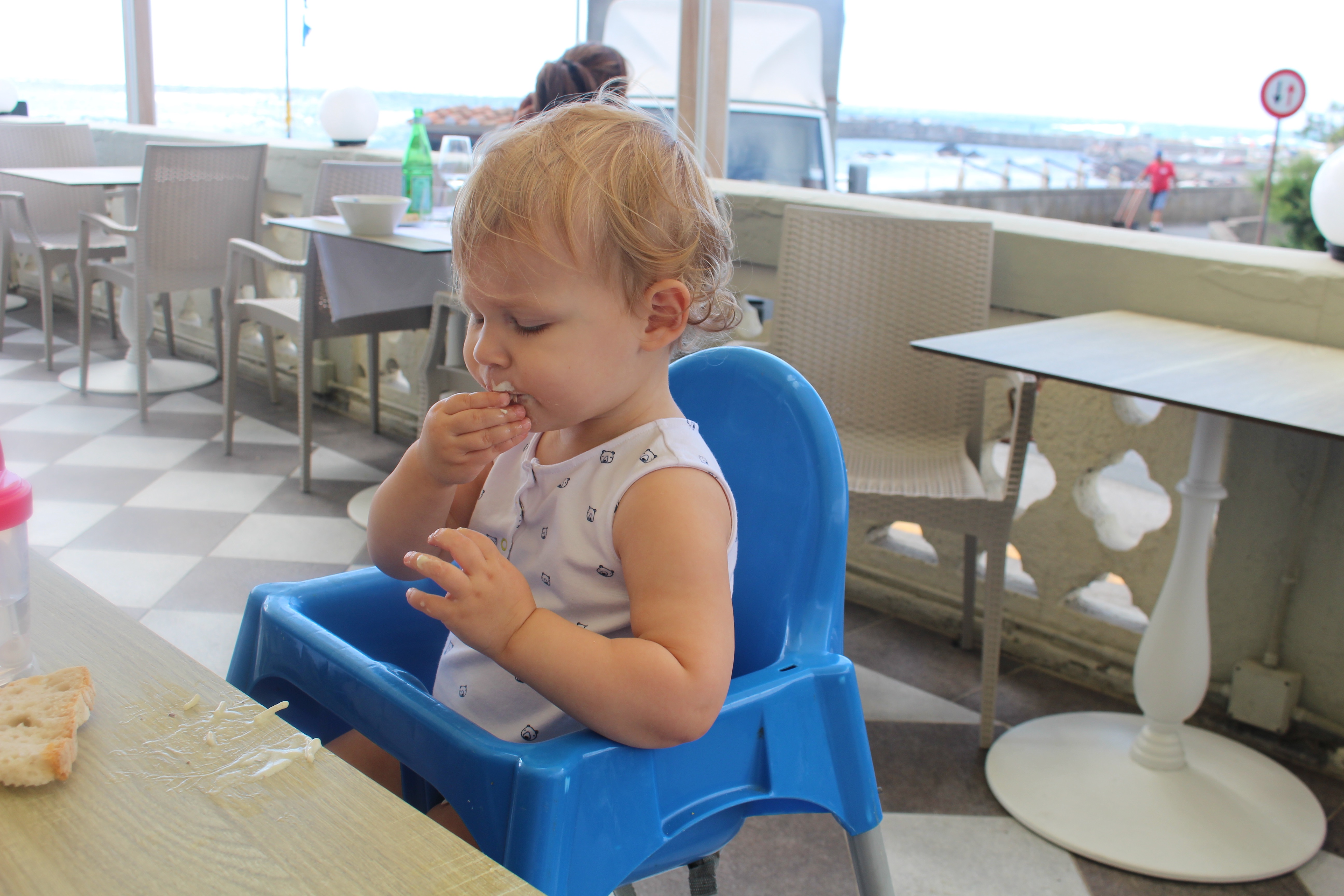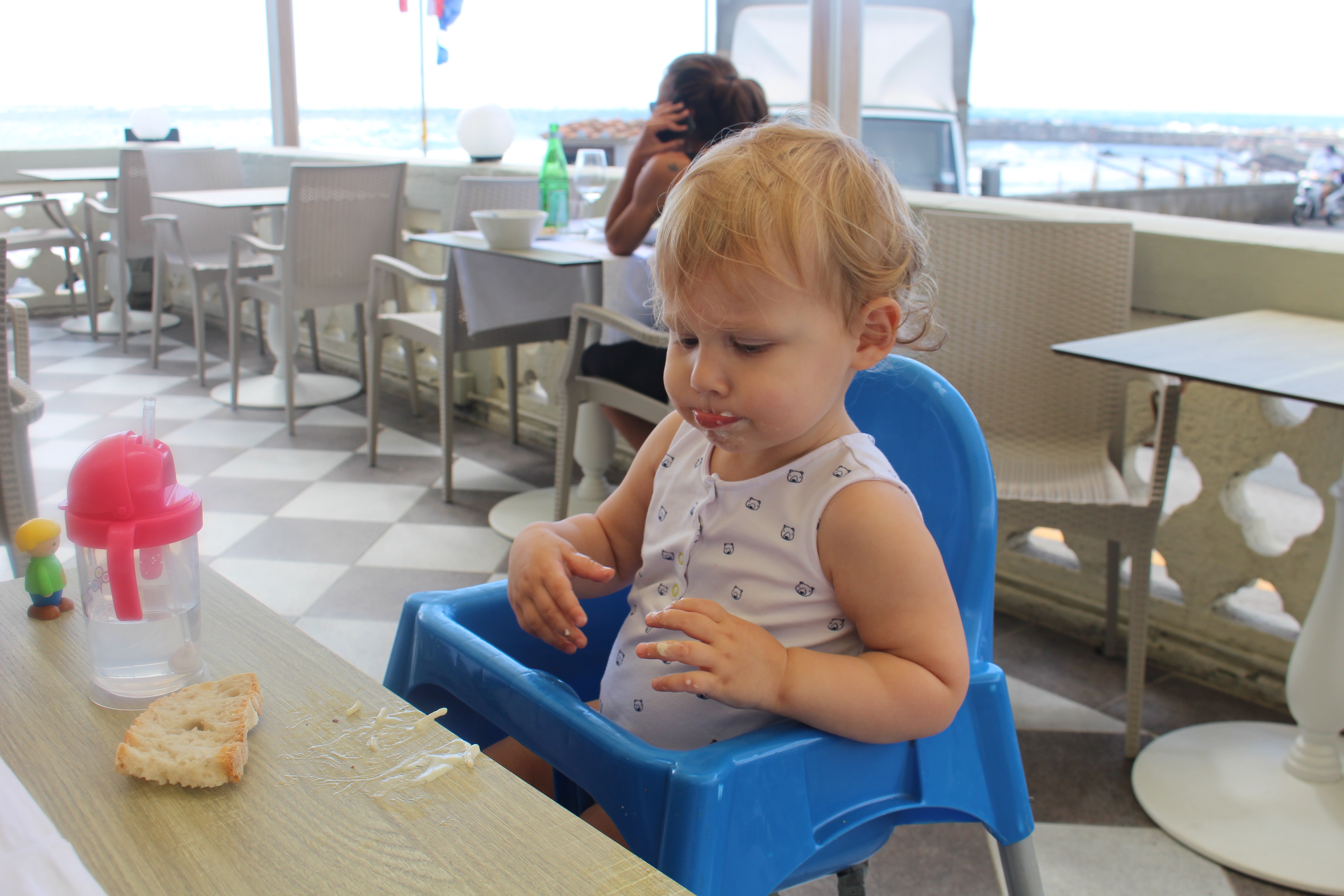 The yummiest, creamiest pasta ever. Georgie enjoyed it as much as I did 😉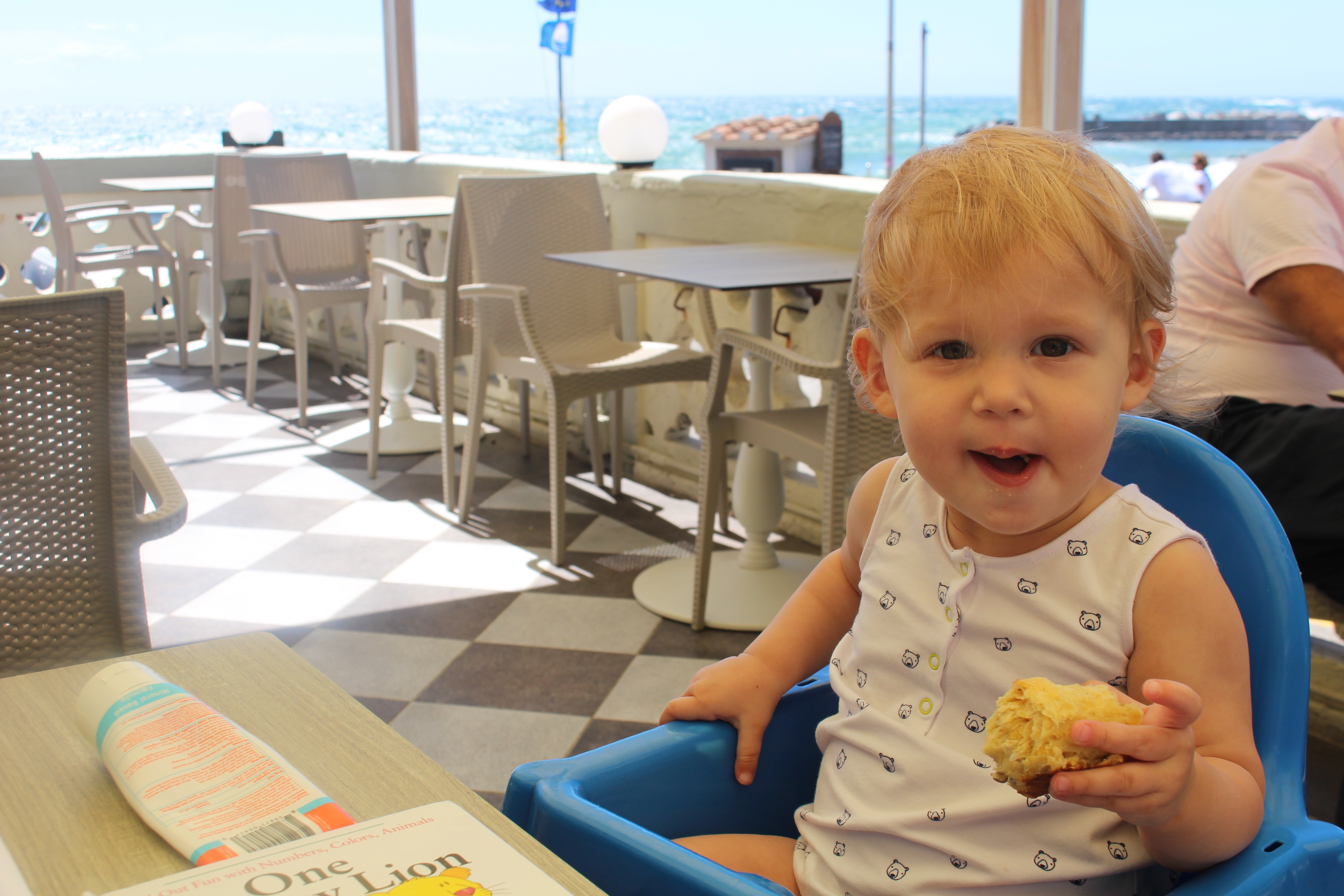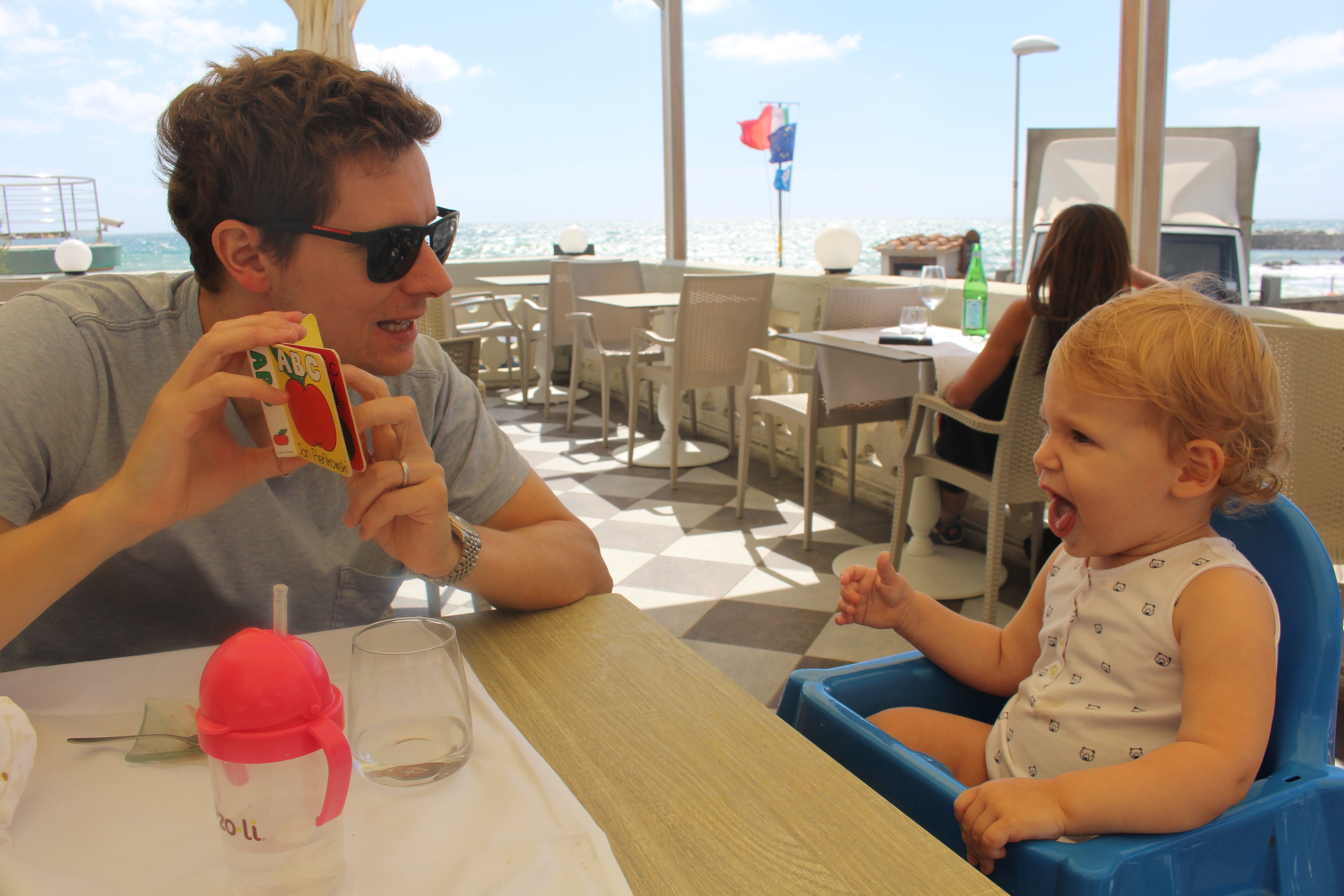 The two pictures above represent our keys to a successful meal in a restaurant: ordering a bread basket the second we sit down, and bringing about 15 chubby books with us.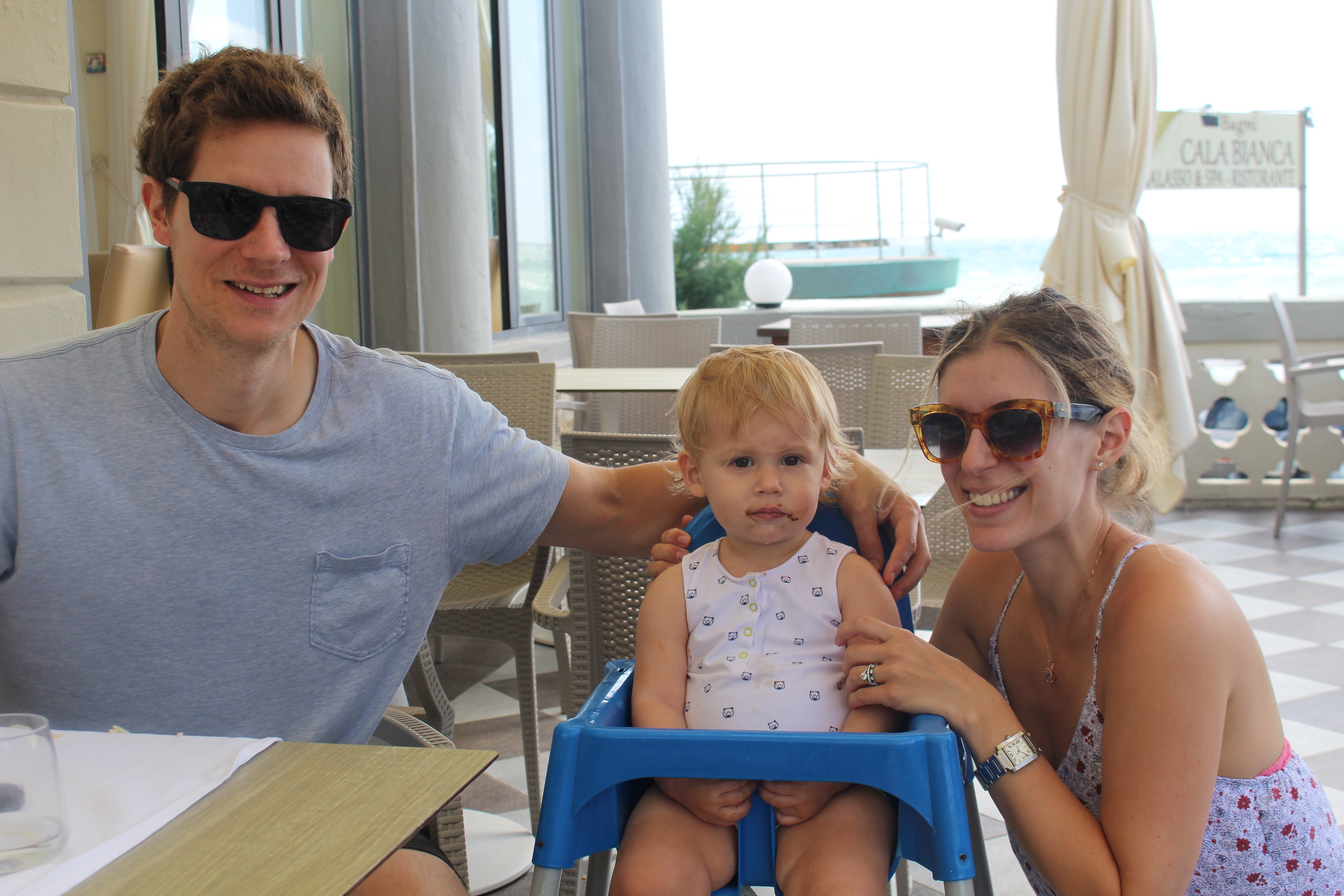 This picture cracks me up. Georgie is so stoic but those chunky thighs and chocolate stained mouth are just too much!!!
Our daughter really knows how to relax and enjoy the good life 🙂