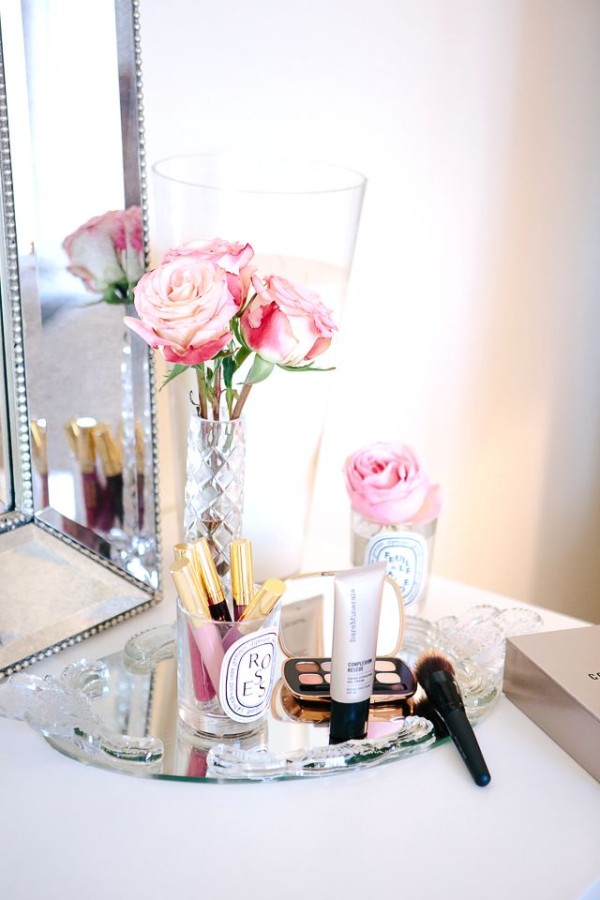 I don't wear makeup most days. I rely on my beloved skincare routine, and I never leave the house without curling my eyelashes, preferably with this, but that's pretty much it. I do love makeup though, and although I own way more than I actually use, I typically stick to the following routine when I go out:
Skin: I dab the Nars Radiant Creamy Concealer in Custard in a downward triangle underneath my eyes (like this – such a genius trick that actually works so well) as well as on any blemishes. I also dab a tiny bit around the bottom of my nose as there is always some redness there. Next I use a few drops of the BareMinerals BareSkin Brightening Serum either on this fun little brush or just on my hands, and I smooth it over my whole face. I'll occasionally use the BareMinerals Original Foundation with this brush to set everything.
When I want to look a little sun kissed, I love this liquid 'no bronzer' bronzer. It has a dropper and you use two or three drops, rub them into your hands and press them onto the places the sun naturally hits your face – your cheeks, bridge of your nose, chin and forehead. It's so easy and so natural looking, which are my two essentials with any makeup product.
For my cheeks, I use the Josie Maran Coconut Watercolor Cheek Gelee (best product name) in Poppy Paradise, which is basically a rich pink color jelly in a pot for your cheeks. And it's all natural, which I always prefer in my makeup.
Eyes: I use the Kevyn Aucoin Precision Brow Pencil to fill in my brows (totally should have listened to my dad in high school when he told me to leave my brows alone) and I love it because it's so, so, so natural looking. My goal is for my brows to look slightly fuller but not at all fake. I have been using the DiorShow mascara which is great, but I love a good drugstore mascara just as much.
Lips: I have quite a selection of lip glosses and lipsticks and lip stains, but more often than not use the Dior Addict Lip Glow, which enhances your lips natural color to bring out some extra rosiness – it's really natural looking and pretty, and it smells faintly of vanilla. Before putting on any lip color, I'll first use either an EOS balm or the Kiehl's Lip Balm No. 1.
Etc: When my lips are a bit dry and I know I'm putting on a lip color, I'll use this Fresh Sugar Lip Polish and then a thick lip balm which I let sink in for awhile, dab off, and then apply lip gloss or lipstick.
One of my favorite products ever is the RMS Living Luminizer which I apply just above the apples of my cheeks, below my brows and on my cupid's bow. It gives your whole face a really subtle and beautiful dewy glow. Since Georgie was born I hardly ever wear perfume, but on nights out I'll spritz on a little of the Jo Malone Red Roses, which smells fresh and light and lovely.
And as a very last step, I spray the Juice Beauty Hydrating Mist (the best) all over my face to set everything and to add a little extra hydration.
Top image via