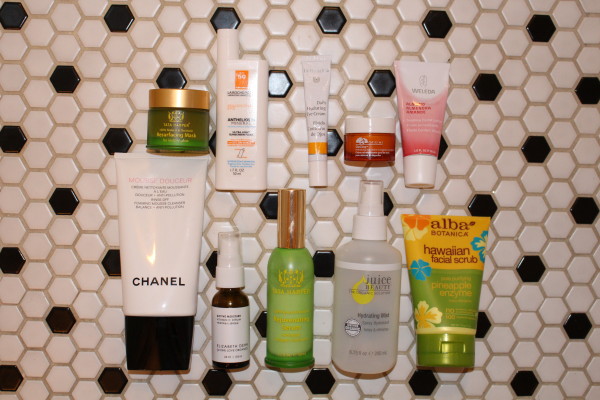 I have always been a product junkie, which in my teens and 20's meant buying things based on how pretty their packaging was, or after reading about them in a magazine. I had a stocked medicine cabinet of products that were pretty to look at, but that I rarely touched.
More recently, I think due to a combination of entering my 30's and discovering the wonders of natural and organic products, I have whittled my assortment down to a smaller amount of favorites that I love and that I look forward to applying everyday.
Morning and night, I wash my face with this Chanel face wash (this is one of the few non-natural products I use, but I just LOVE it – thanks mom for the recommendation!). A few times a week I'll use this Pineapple Enzyme Scrub, or the Bliss Oxygen Energizing Mask, and on the other days I'll use the Tata Harper Resurfacing Mask, which smells unbelievably delicious and also doubles as a spot treatment.
Once my face is squeaky clean, I spritz on Juice Beauty's Hydarating Mist, which makes whatever you apply to your face next really sink into your skin (I also spray this throughout the day, especially in the current summer-in-the-city heat). In the morning, I use the Tata Harper Rejuvenating Serum (pricey but so worth it – Tata Harper products are the best) followed by this La Roche Posay sunscreen which is so light and blends in without leaving any white cakiness. If my skin is feeling a little dry, I'll put on some Weleda Almond Lotion before my sunscreen, and I've also been wanting to try this moisturizer that makeup artists and models all apparently use religiously.
At night, I use this Vitamin C Serum before my Tata Harper Serum, and during the colder months I'll then apply a thicker night cream (usually this Elizabeth Arden Cream Complex, although I've also been wanting to try the Fresh Black Tea Cream).
I have gone through a ton of eye creams trying to find one that works for me – my skin is really sensitive around my eyes so most of them either burn when I apply them (worst feeling ever) or make my skin this weird yellowy red color. I have been loving this Origins one in the morning, which has caffeine to help brighten up the eye area and leaves a very subtle sparkly sheen, and this Dr. Hauschka one in the evenings, which glides on so easily and sinks right in.
I'm always on the lookout for new products to try, and have my eye on the new Glossier Coconut Balm (I'm a sucker for anything coconut) and this Boscia B.B. Cream (I never wear makeup during the day (!!), so thinking this might be a fun, easy addition for days when I could use a little skin pick-me-up).