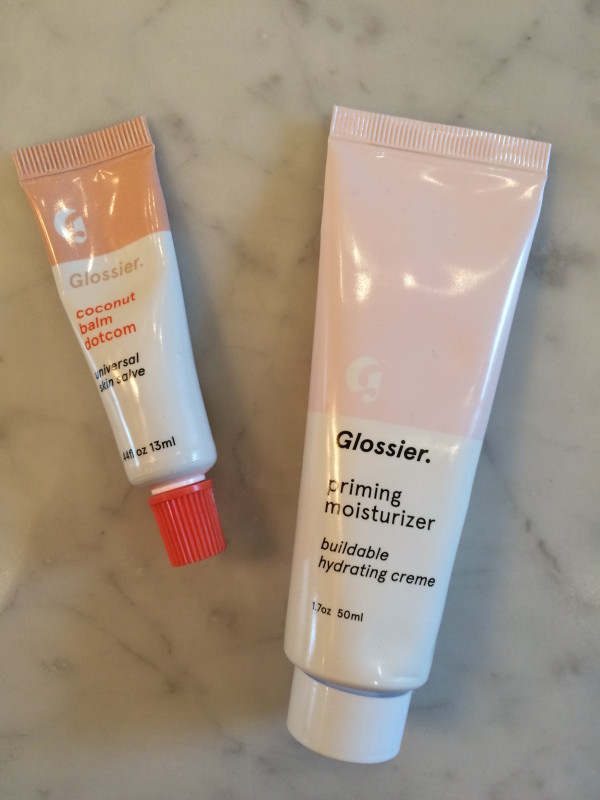 My birthday wish list this year had a recurring theme on it: beauty products. I had been wanting to try the Glossier products for months, so I added the priming moisturizer and coconut balm dotcom to the list, and have been using them for the past week.
I've gotten into a pretty good groove with my skincare routine, but I love adding a few new products every now and again, especially as the seasons change. Since I rarely wear any makeup, I am loving how the priming moisturizer makes my skin feel a little more put together. It promises to 'bring out the best in your skin,' and I do think it delivers in terms of plumping, smoothing and removing redness. Since it's formulated to be buildable, it will be a good one to slather on when my skin gets dry in the colder months.
I love a multitasking beauty product (the Elizabeth Arden Eight Hour Cream has long been a fave of mine) and the Coconut Balm Dotcom is a particularly yummy one, which I've been using mainly as a lip balm. It's a perfectly thick consistency without being goopy or cake-y, and it smells scrumptious, like summer in a bottle. My only complaint is that the tube is so tiny! I wish they made this in a jumbo size, because it's really that good.