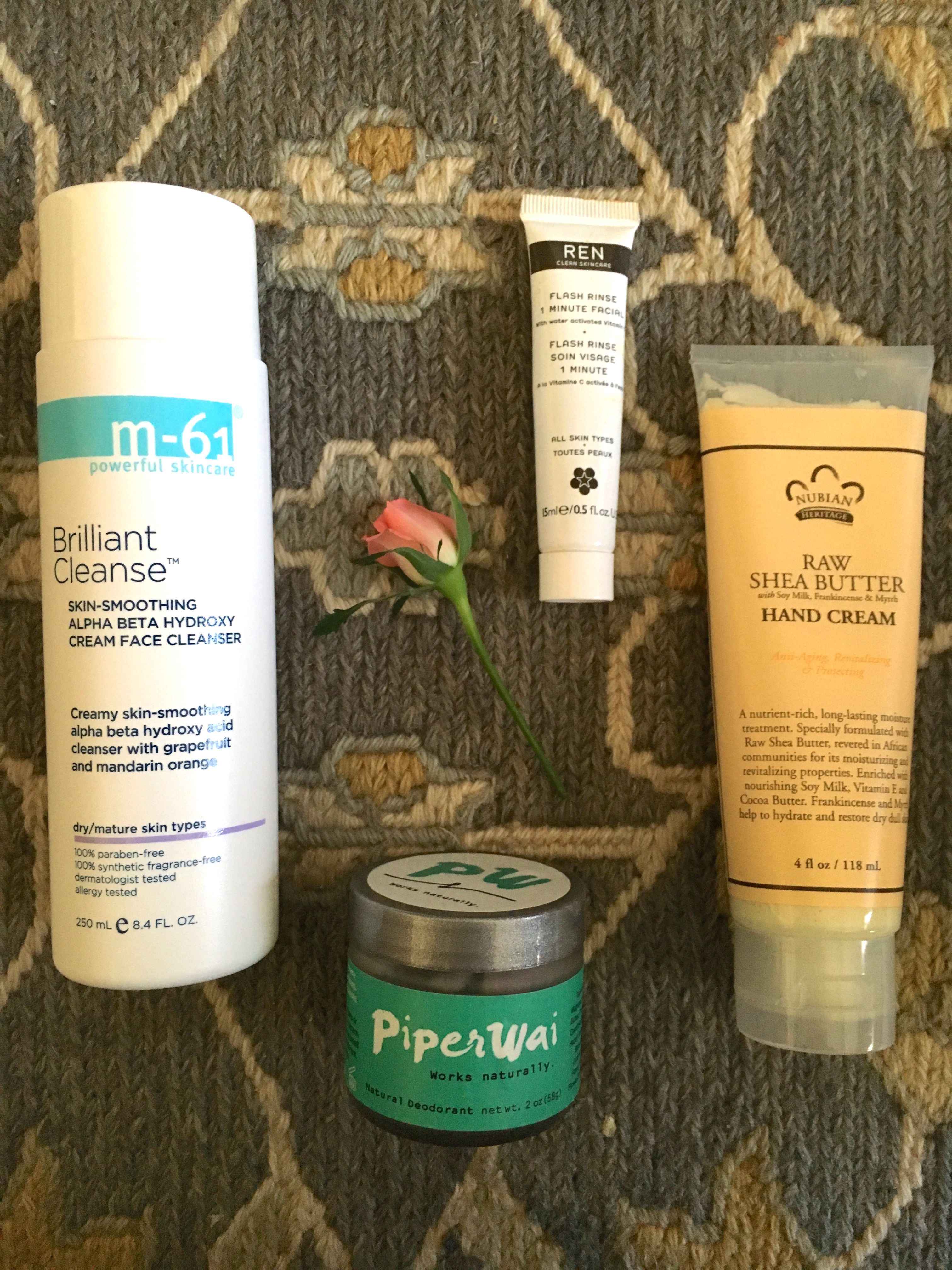 While I generally stay local to a group of solid favorites, I love trying out new beauty and skincare products. Here are a few current favorites:
M-61 Brilliant Cleanse // I ran out of my beloved face wash while we were at my parents house, and decided to try a new one from a brand that I've been curious about for awhile. M-61 is a skincare line started by the co-founder of Blue Mercury, a store I have long adored. All of the products in the line are packed with powerful natural ingredients, and don't have any unwanted chemicals. So far, I am loving their Brilliant Cleanse. It goes on really creamy and mild and at first I was worried that it was too mild, but it packs a punch with alpha beta hydroxy, which gives your skin a great soft glow without it feeling dry or tight. And it has a mild, fresh scent thanks to grapefruit and mandarin orange extract. At night, I like to follow this up with a toner to ensure my skin is super clean (either this one or this one).
Ren Flash Rinse 1 Minute Facial // This little guy is SO good! You apply it to your face and neck, massage it in, then dampen your fingers with water and re-massage to activate the Vitamin C – so it goes from being somewhat dry and grainy to super smooth. I love it! Then you leave on for 1 minute and rinse. It's a perfect quick fix for tired or dull skin. My only semi-complaint is that it smells a little bit like black licorice, but otherwise it's wonderful.
Nubian Heritage Raw Shea Butter Hand Cream // I have a bit of a weird nostalgia with this brand. Right after I found out I was pregnant, I practically floated (I was SO HAPPY) to Fairway to buy a few things. When I was approaching the checkout I picked up a tube of this coconut papaya hand cream. I figured it would smell tropical and delightful, and it was all natural, so I threw it into my cart. I loved it for a few weeks, but once the morning sickness set in, there was something about the scent that I could not stomach. I had to give it away and to this day, thinking of it makes my stomach churn a little bit. But this hand cream is fantastic – super thick and creamy, melts into your skin, and smells perfectly faintly delicious, thanks to the soy milk, cocoa butter, Frankincense and Myrrh.
Piper Wai Natural Deodorant // This was recently recommended to me by a friend who raves about it, so I had to try. It's a cream deodorant with activated charcoal (which can absorb 1,000x its own weight in moisture!!) and it smells like those gummy cola bottles, yum 😉 You only need a pea sized amount and I know some people don't love applying deodorant with their hands, but this one smells so good and you actually don't have to wash it off after you apply, because it has skin-conditioning ingredients that moisturize your hands as well. It works pretty well – sometimes I need to re-apply again in the afternoon but it definitely keeps me smelling fresh all day!