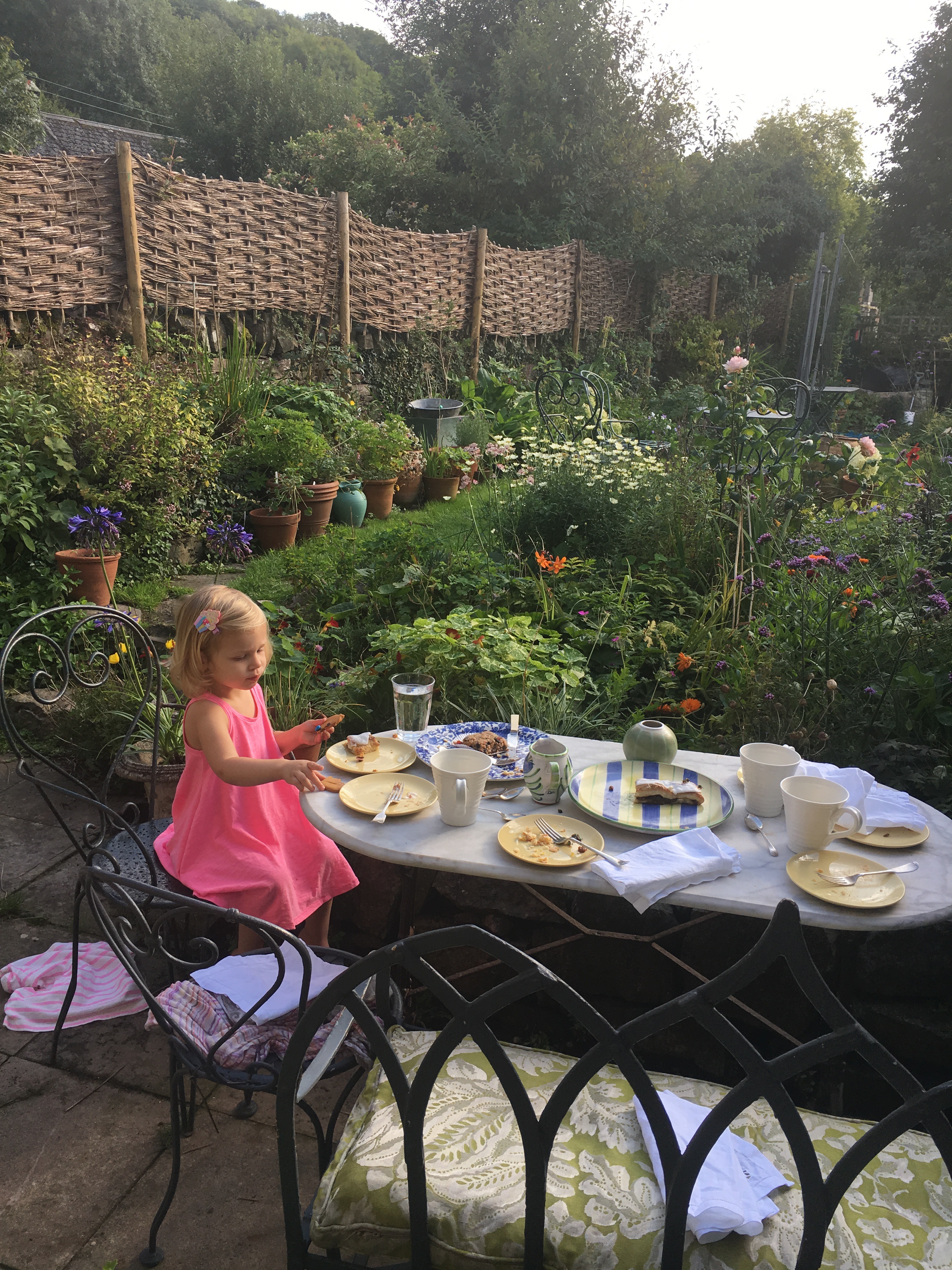 I am fascinated by what people eat in a day (this has long been a favorite column of mine) and love peeking at a table's food at a restaurant, or asking friends what they're making for dinner. Every night when Tom gets home the first question I ask him is 'what did you have for lunch today?'.
Since becoming a parent, I have cracked this obsession open even wider, and get so much inspiration from what other people feed their kids. It's so easy to get stuck in a routine of rotating the same things again and again, so I try to seek out fresh ideas, which I do mainly by checking blogs (this one is my favorite), cookbooks (this one is incredible for baby food and toddler food, and adult food too!) or asking friends.
Since she was a baby, Georgie has been a star eater. She started solids at four and a half months, and never looked back. Although I will say, around the 2.5 year old mark she started to get a little bit pickier with food and her appetite has dwindled a bit. Apparently this is totally normal as their growth slows down a little bit from the majorly fast pace it has been, so they don't need to eat quite as much. These days Georgie is a fan of breakfast and dinner, but lunch isn't a big meal anymore, and most days she doesn't have an afternoon snack, which used to be a total essential! Here are some of Georgie' favorite foods, and a typical day of eating: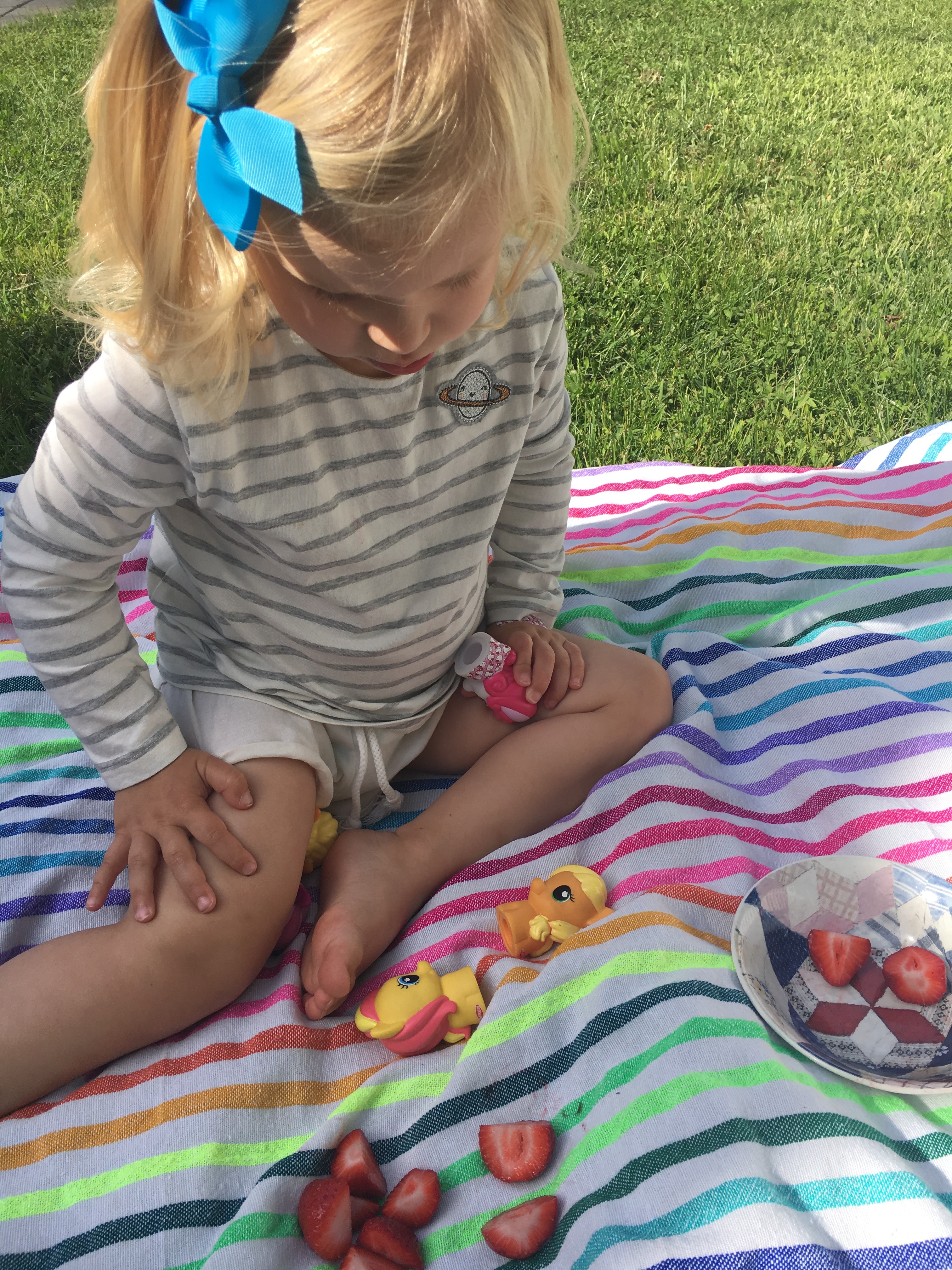 Breakfast: Every day starts with warm 'milky.' Georgie gets 8 oz. in this cup first thing every morning. She usually asks for it within a minute of waking up and she guzzles it down in approximately 45 seconds. Her favorite breakfast these days is two ingredient pancakes. They're easy to make, full of healthy goodness and she eats at least five. Lately she likes to dip them in some syrup, and I usually give her some berries to have with them as well. She's over eggs for the most part, but like any good half-British kid, she is obsessed with baked beans and sausage, so she will have that on the weekends sometimes, or I'll make french toast or blueberry pancakes and turkey bacon. Another weekday breakfast we are into lately is 'four waffles' (each waffle sheet has four little pieces) with peanut butter, and a 'creamy yogurt,' or some oatmeal with bananas.
Morning Snack: We are usually out and about in the mornings, so I'll always pack a few snack options. These days Georgie is into Ritz crackers, raisins, grapes, string cheese and snack bars (these and these). I'll bring a few in these snack stacks (the best) and we are good to go. If I've baked something recently like banana bread or muffins, I'll pack some of that for snack, and if it's a school day, Georgie has a morning snack there.
Lunch: Like I said before, lunch isn't our best meal these days for whatever reason. Typically Georgie loves a cheese quesadilla with sliced peppers, a veggie and cheese omelet, hummus wrap with cucumber, egg salad sandwich with side of corn, a turkey and cheese pressed sandwich, or peanut butter on challah with some apple. I also make this tuna pasta for lunch a lot.
Dinner: Georgie's favorite meal of the day! She loves turkey bolognese with pasta, fish sticks or breaded chicken, a red pepper chicken with rice dish that I make, truffle mushroom ravioli (from Fresh Direct), chicken parmigiana, mac and cheese (Annie's or homemade) salmon or cod. She really eats most things for dinner, and with every main I always give her veggies too. She is a huge fan of broccoli, peas and carrots, corn, spinach and string beans, and also loves mashed potatoes every now and again.
Dessert: After dinner we always have 'dessert' which is either some fruit or creamy yogurt, or sometimes a sparkle pop or special treat, like a little bowl of dark chocolate chips – her faveeeeeee. Seriously you should see her face when I tell her she can have some. Then around 30 minutes after dinner and dessert (generally falls around 6pm) she has another 8oz of warm milk.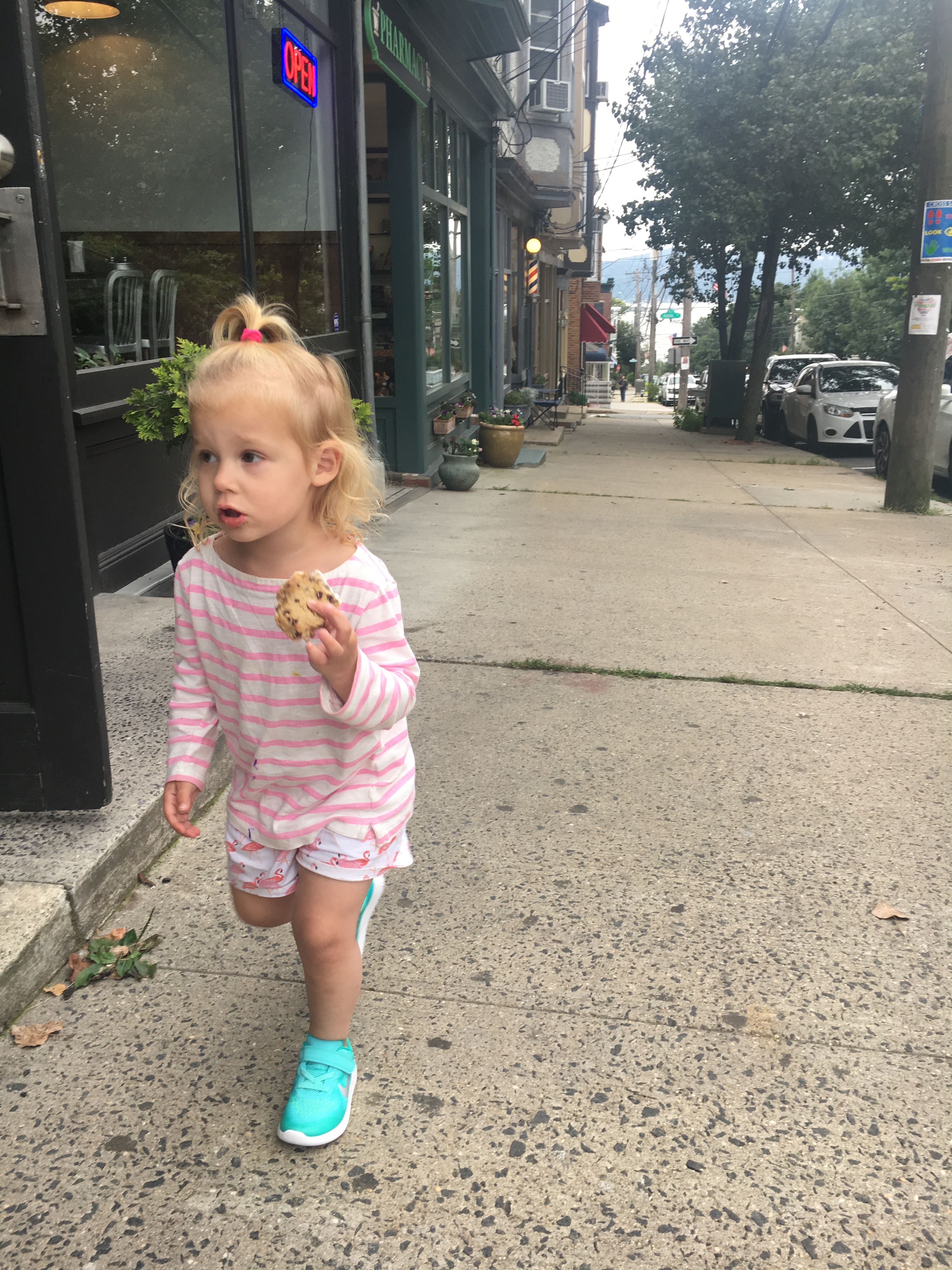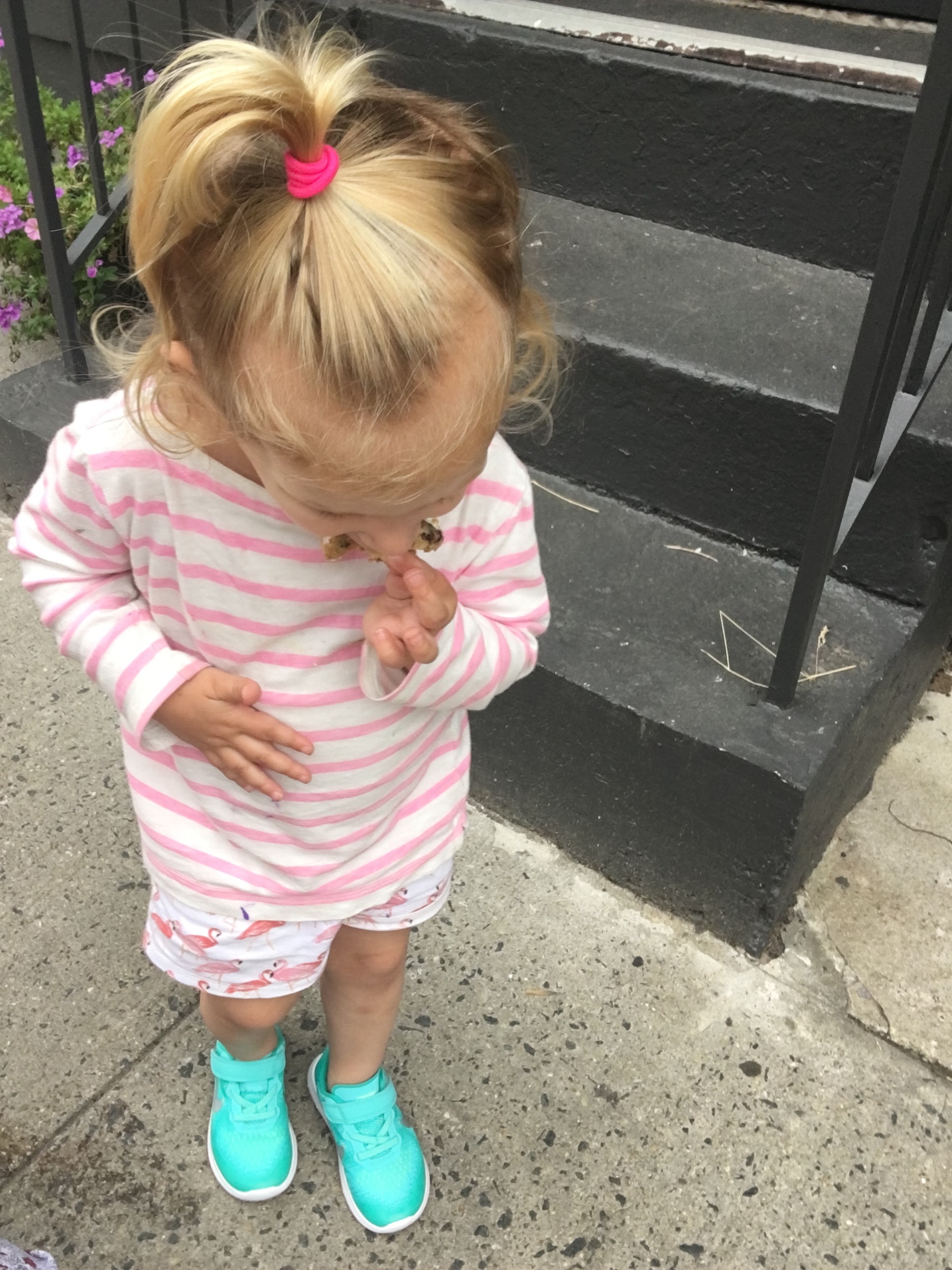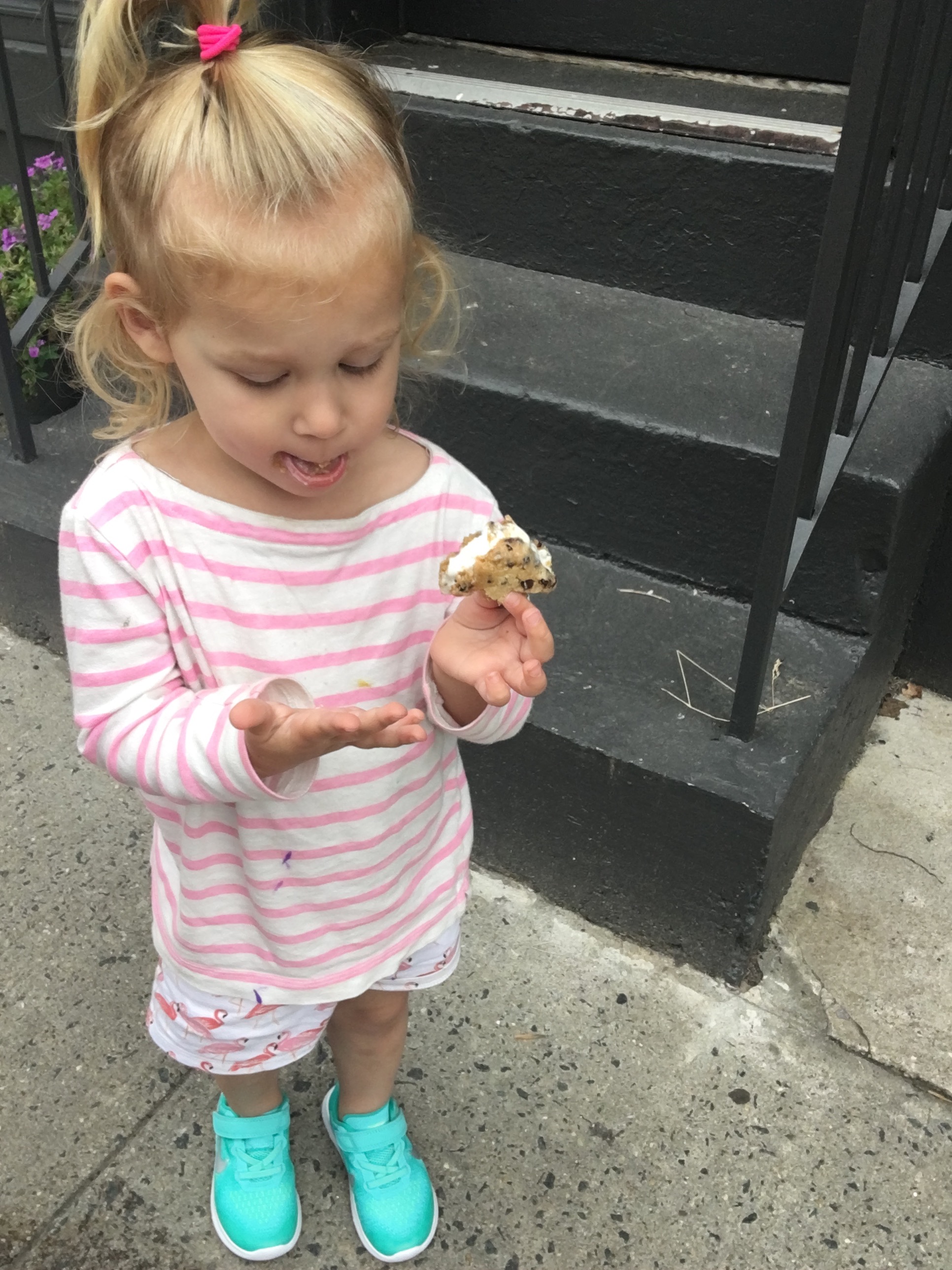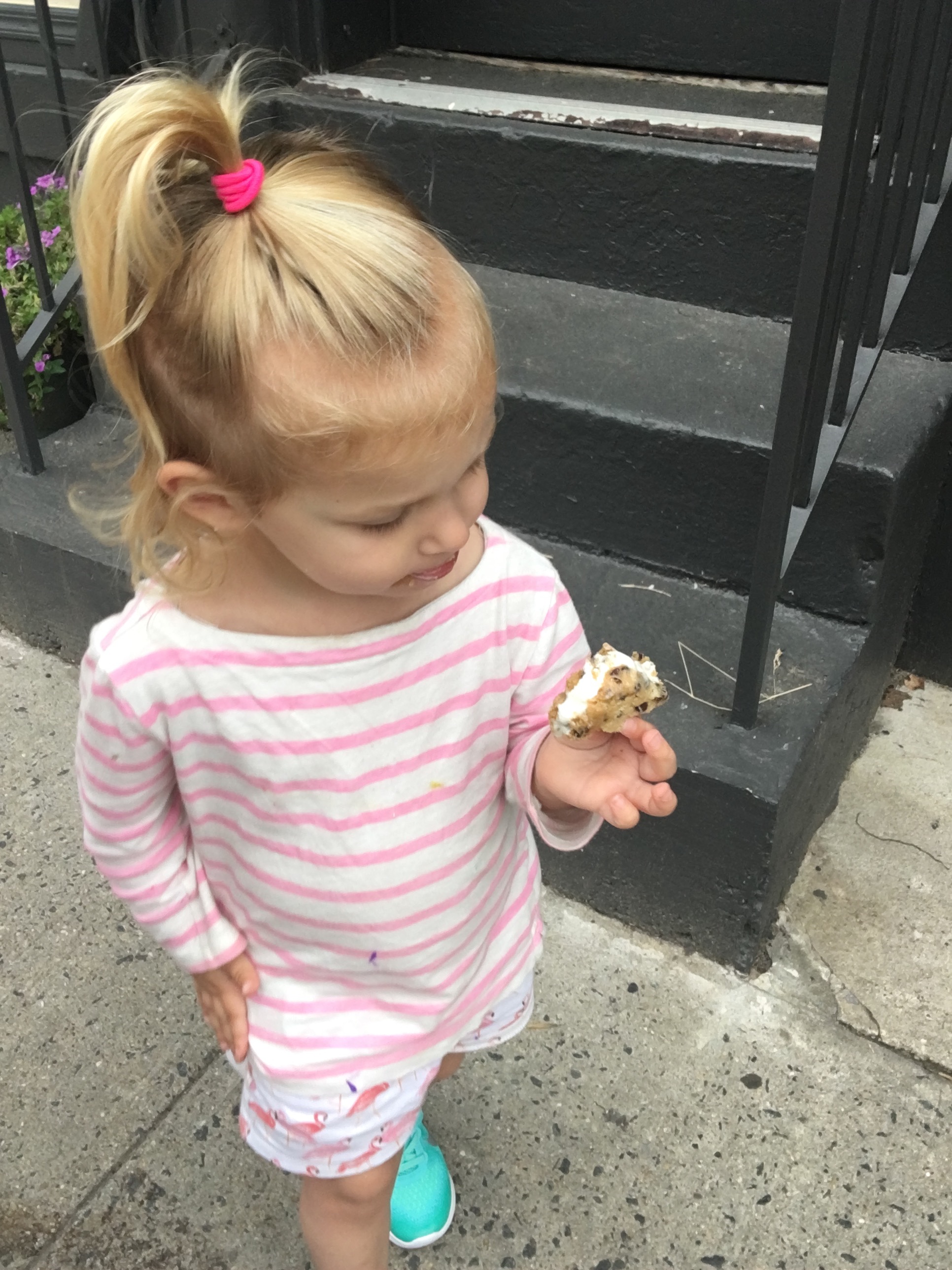 I love this series of Georgie eating a chocolate chip ice cream sandwich. The moves are so her. She hates having dirty fingers so takes a bite, then proceeds to wipe her hands on her top. This is what she does with every meal, always.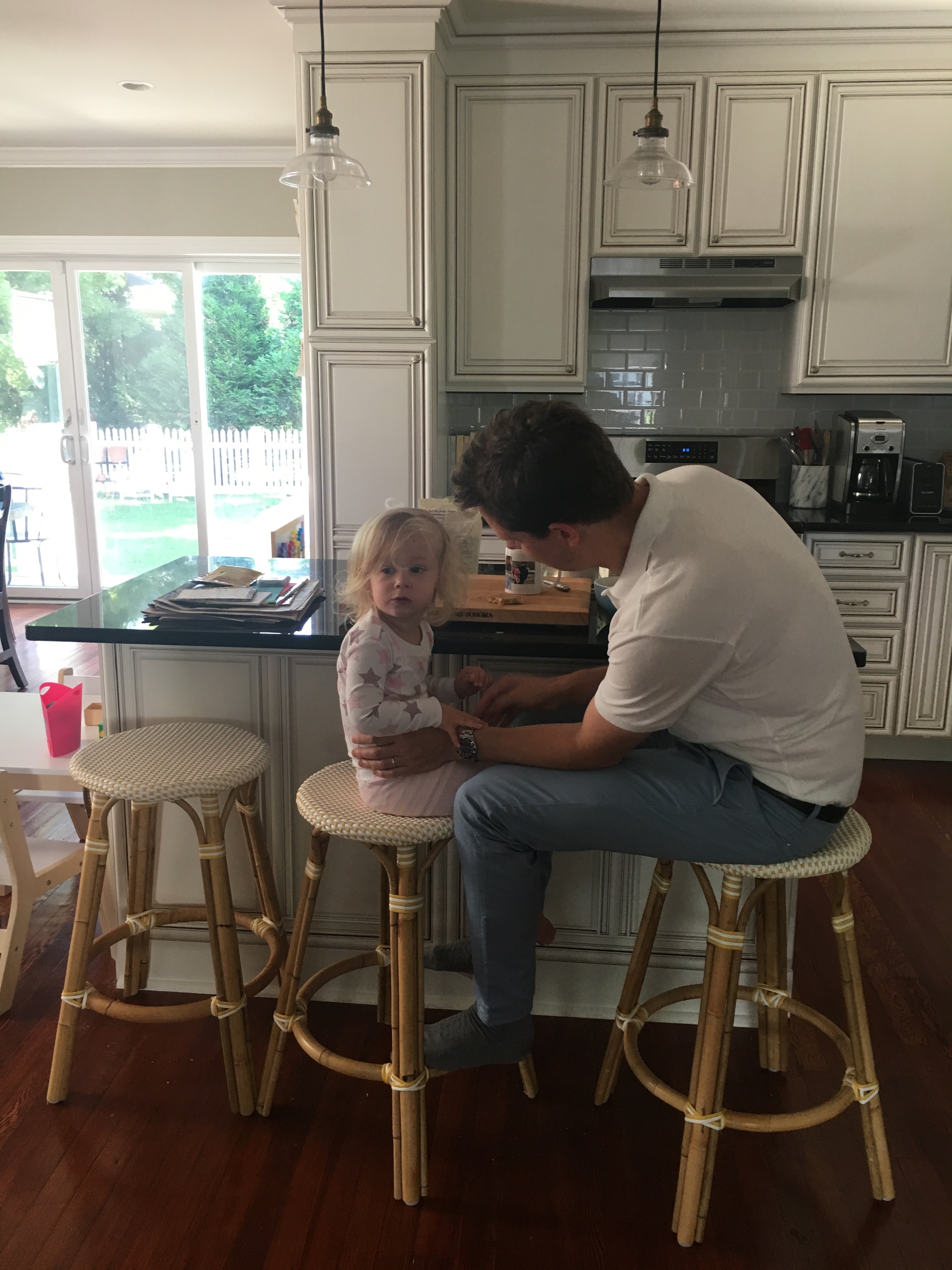 A little pre-work breakfast with Daddy, and the best bedhead I have ever seen! (Look at that massive tuft on the left side of her face :))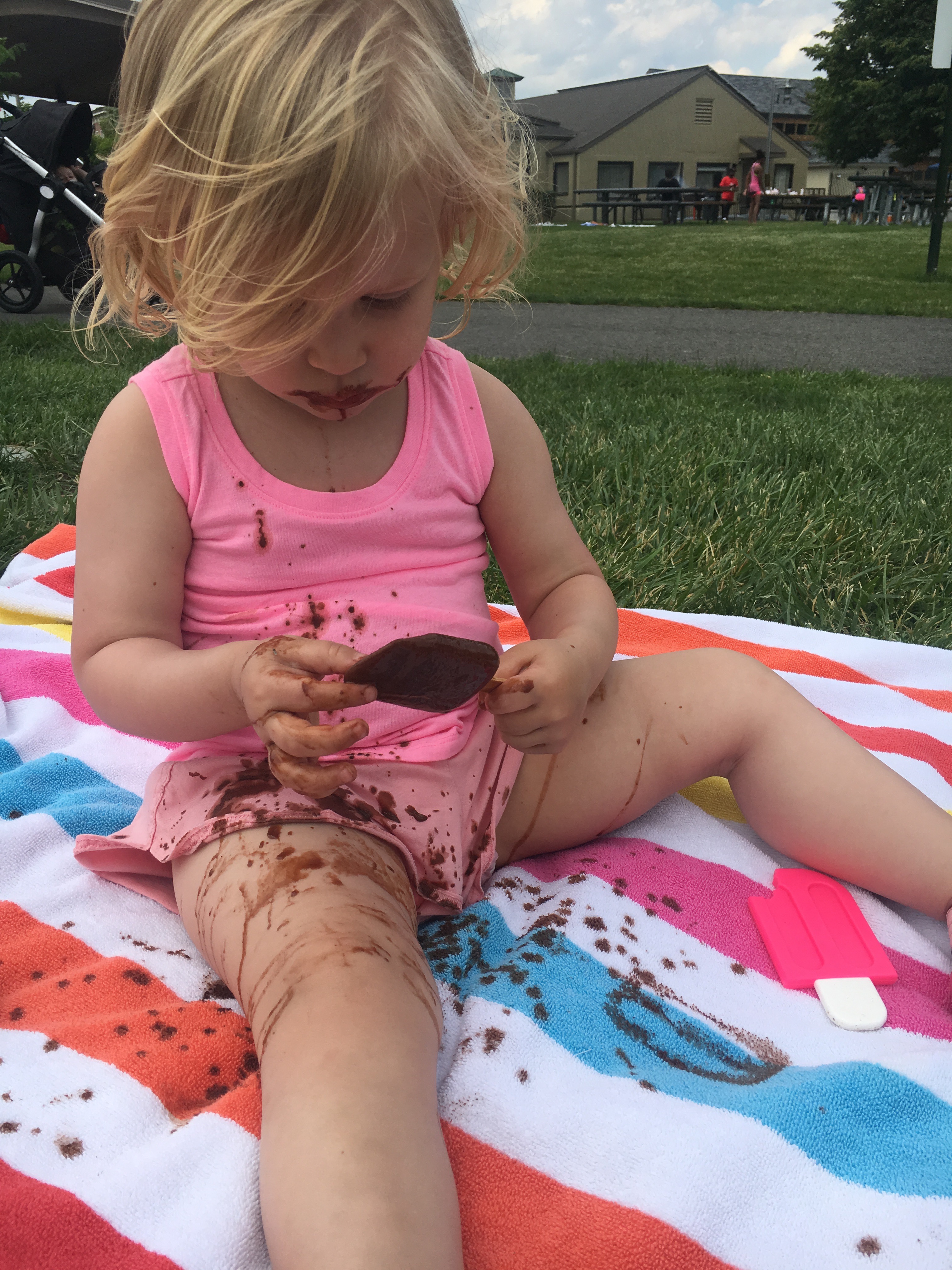 Eating a chocolate popsicle the only way we know how! And no, that towel will not ever be the same, even after endless washes and Oxi Clean's and stain removers.