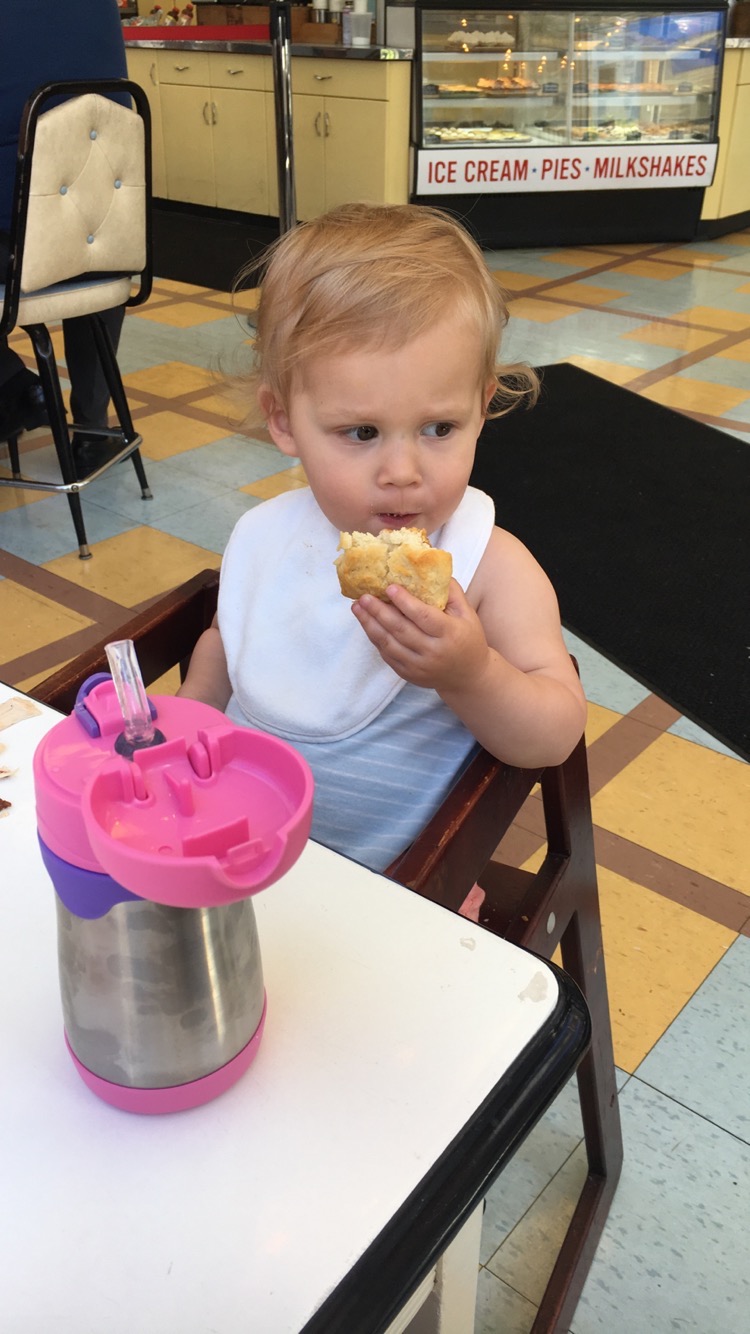 Much like our travel with kids theory (do it early, do it often) we subscribe to the same thought when it comes to eating at restaurants. Our goal is to raise a child who is polite and well behaved and able to stay composed in an array of situations, and sitting still at a restaurant seems like a good place to start. Of course, we understand and expect there to be certain times when it just doesn't work out, due to a growth spurt or teething or just a plain old bad day, but for the most part, we have learned what we need to do to ensure a fun meal out for our little family (and those seated near us :)). Here are a few things that work for us.
Pre-Scout the Restaurant // Make sure you do a quick online search or pop into the restaurant to make sure it's kid friendly. Usually the best way to test this is whether or not they have high chairs (in my mind, high chairs = kid friendly). And if they have a kids menu, you're totally golden. If you like to bring your own high chair, this one is fantastic – we bring it with us when we travel.
Bring Toys // Every toddler has their own group of goodies that keeps them calm and entertained, and for us at the moment that includes board books, a few chewy animals (like these pop blocs) and when all else fails, spoons and straws.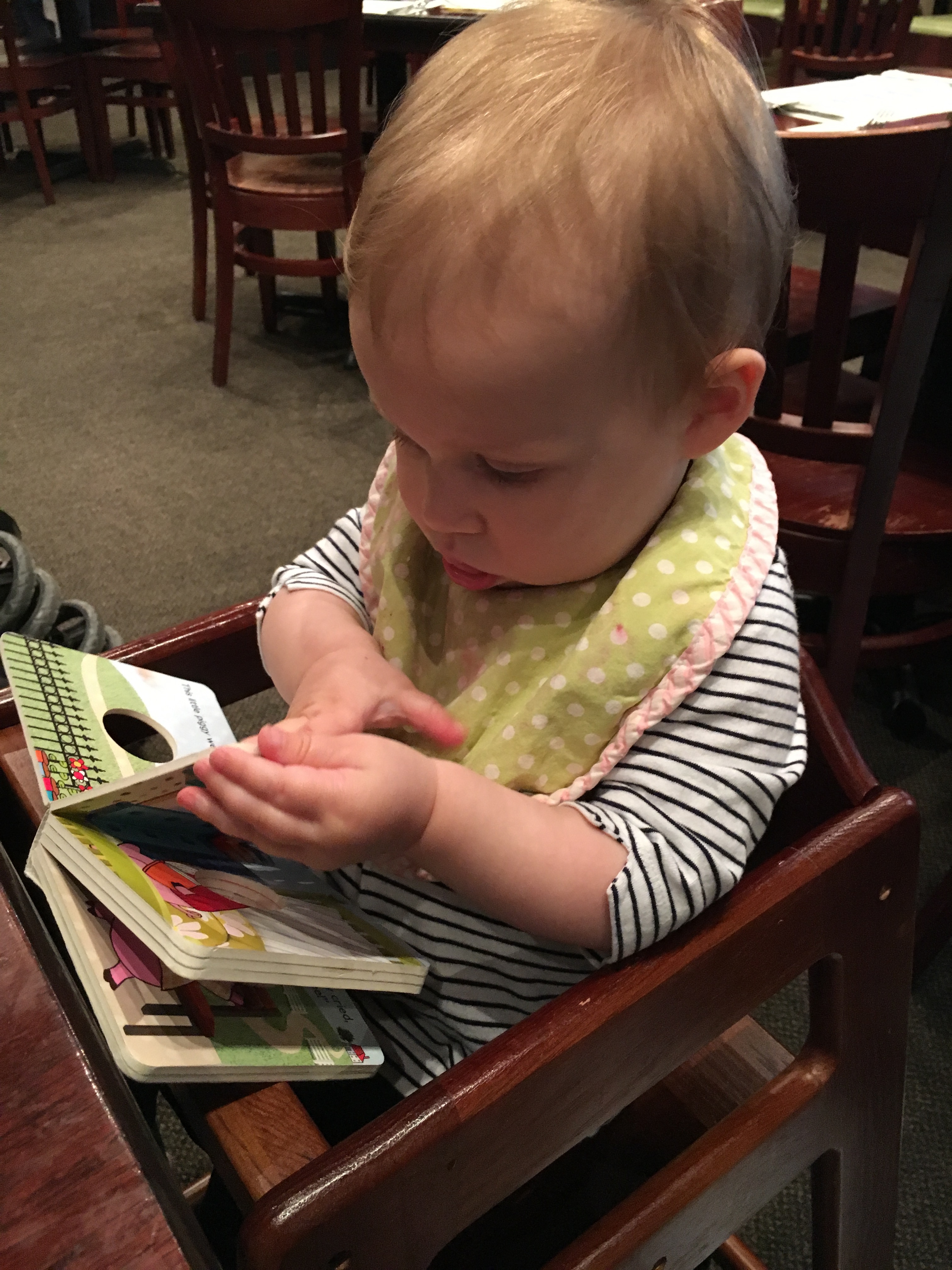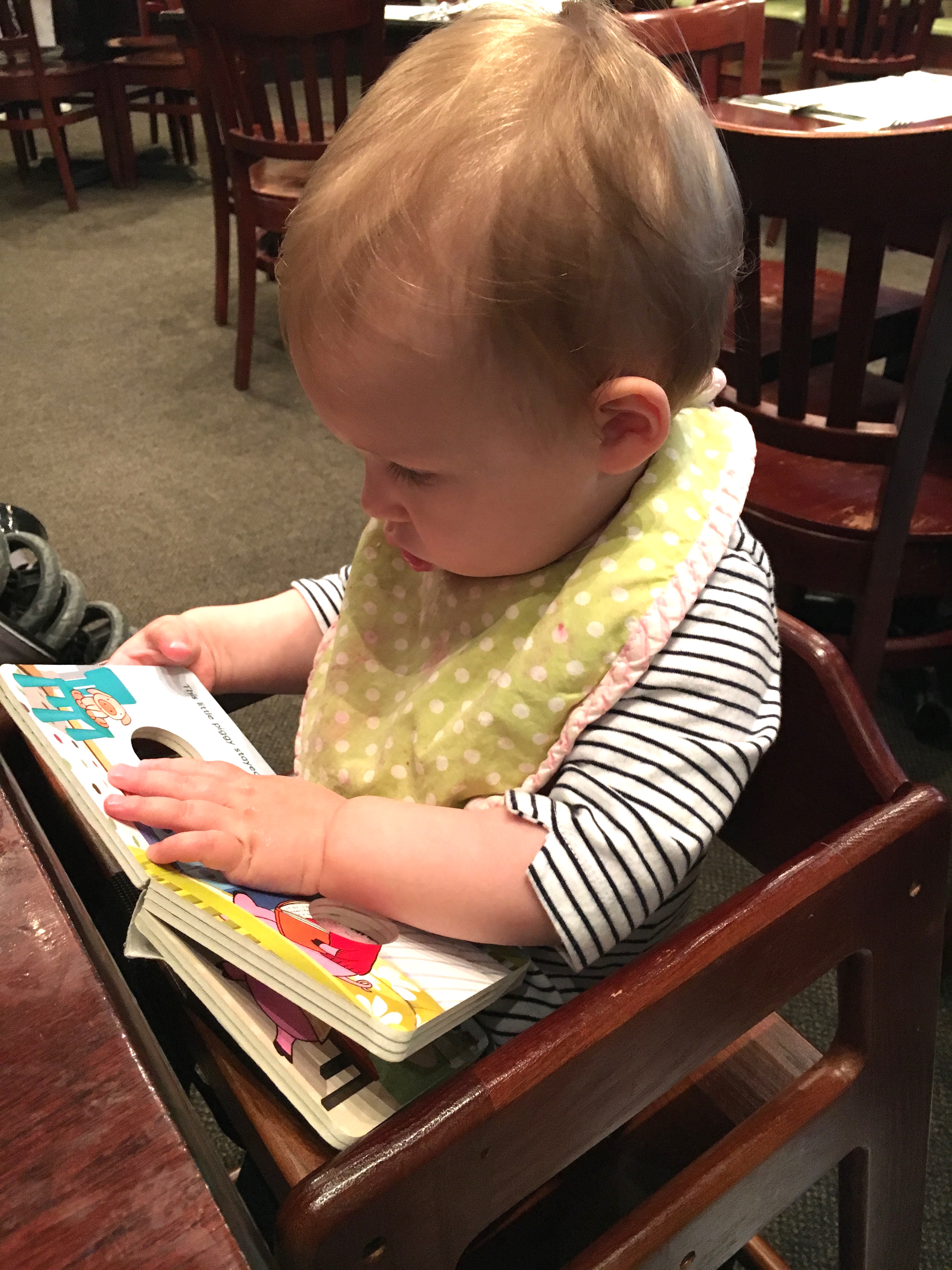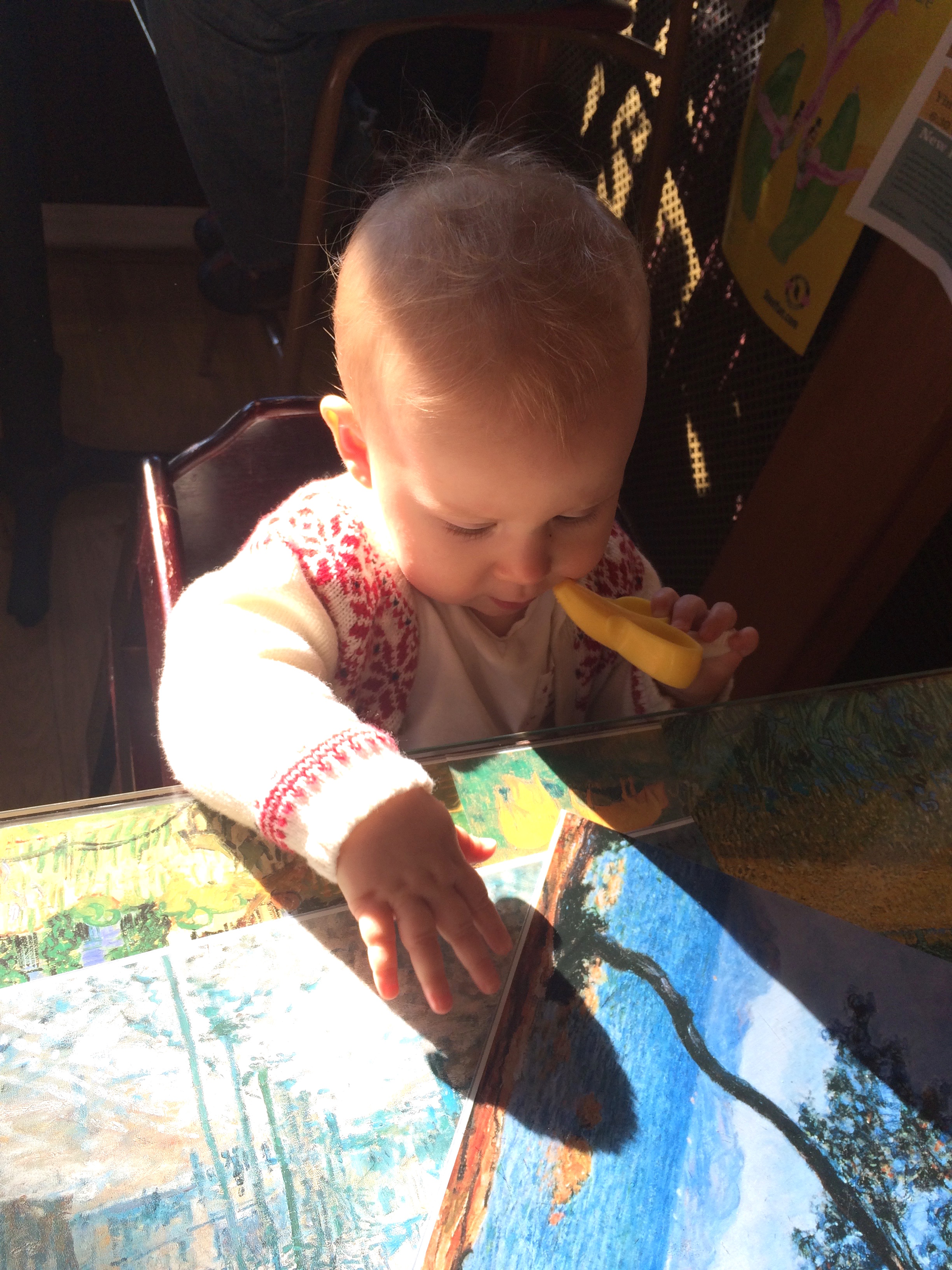 Brings Snacks // It's good to be prepared, so in case your table is taking too long to be ready, or if your little one is too hungry to wait for the bread basket, make sure you have some snacks on hand to tide them over. We like strawberry mum mums or these puffs or these melty things or these rice cakes, and use either this snack catcher or this one. We also always bring Georgie's water cup, although I have no problem with her sipping from our cup (with assistance) if she's in the mood.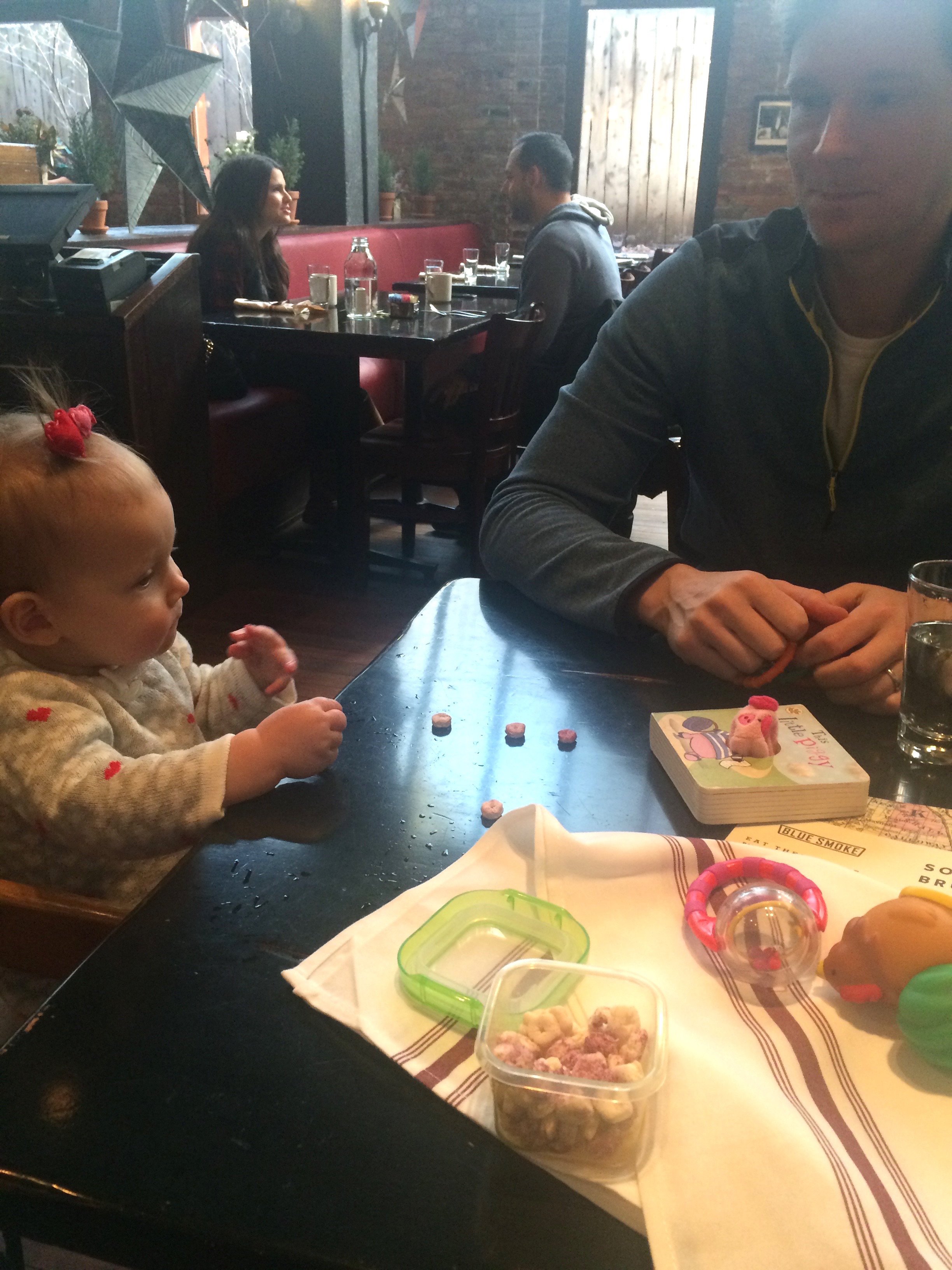 Wipe the Table // I am definitely not a germ freak when it comes to Georgie. I subscribe to the parenting theory of my Grandma Rose – 'every child needs to eat a pound of dirt.' I think it's good for Georgie to expose herself to germs at the playground and in music class and never feel the need to wipe down the swing before she gets in. It's all part of building up her immune system. That said, the one thing I am obsessive about is chemicals, and I assume that most restaurants use chemical cleaners to wipe down their tables. So, I make sure to give the area where Georgie will be eating a good wipe down, and we also bring these with us whenever we go out to eat. They ensure your toddler is eating off of a clean surface, and as an added bonus, they are one of Georgie's favorite things to play with. (We usually bring at least two!)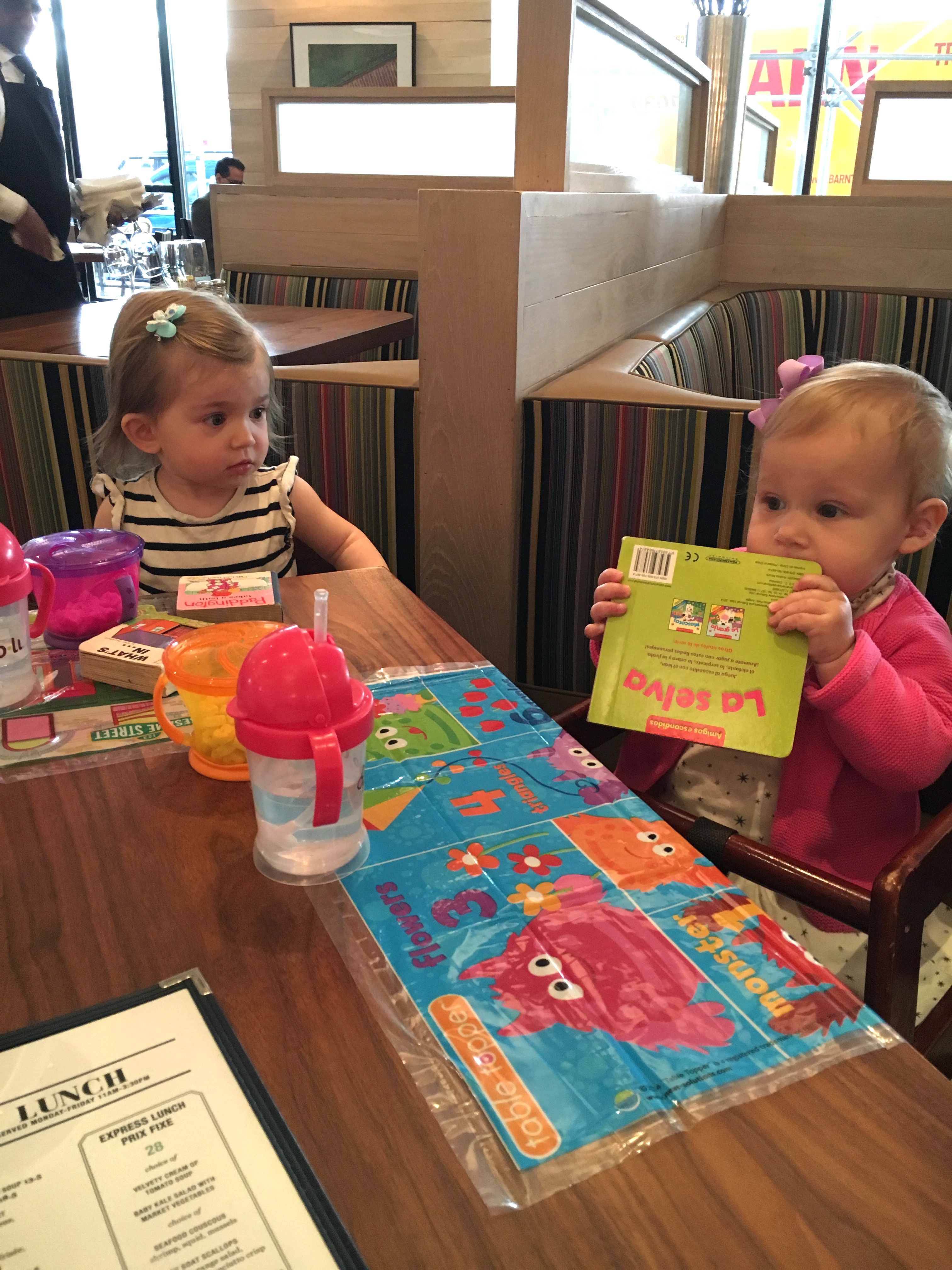 Order Something Small // As soon as you sit down, ask for something small for your toddler to eat. For us, that's carbs. Nothing keeps Georgie happier in her high chair than munching on some bread. Croissants, rolls, breadsticks, they all work wonders. Another lifesaver for us is a fruit bowl. Then once the main courses arrive, cut up some pieces for your little one and then enjoy your meal. Kids learn by watching, and nothing teaches them to eat properly and politely more than watching you do just that. I know some parents like to have their kids eat their meal first and then they eat theirs, and whatever works for you is wonderful, but for us, I think it's important to all enjoy eating together and at the same time.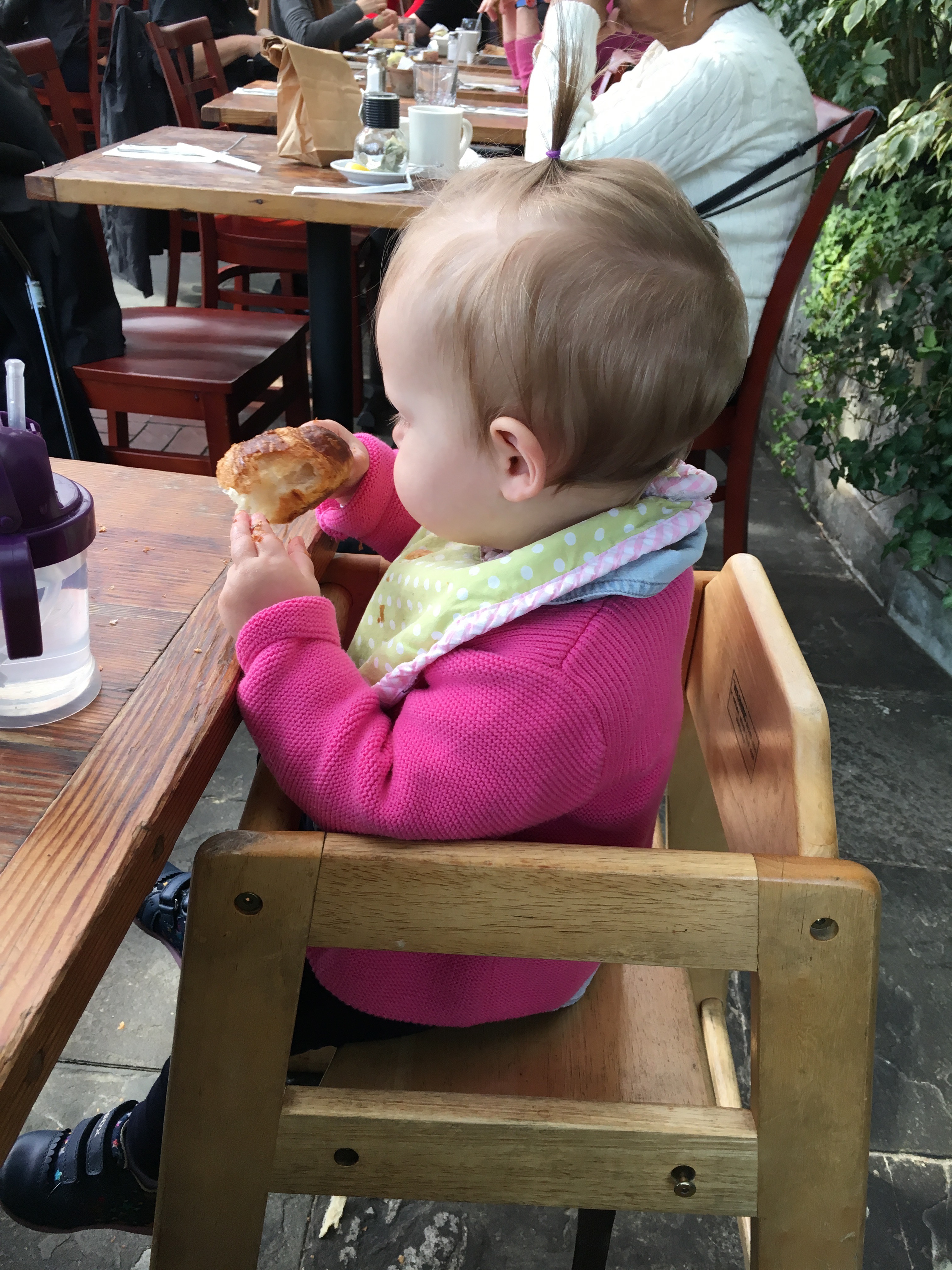 Have a Plan B // There will be inevitable meltdowns and whining and if things get bad and your food hasn't even arrived yet, make sure you have a plan. Our first move is always to take Georgie out of her highchair and let her walk around. She's incredibly friendly and likes to walk to up people at their table and offer up her toy, or try to look extra cute and get some of their food 🙂 Stickers, crayons if they are old enough, or even a quiet show on your iPhone for a few minutes will also work.
Relax // Kids feed off of your energy like teeny tiny little sponges, so try to stay relaxed, especially if they start to throw food or arch their back and try to escape out of the high chair. I always go into a meal saying to myself, 'If it doesn't work out, we will take our food to go,' and I think just knowing that's an option if it all goes south calms me down. Also, once the check is paid and before you leave, grab a napkin and pick up the food bits that your toddler has inevitably thrown onto the floor. Georgie is a mega messy eater, and I like to make life a little easier for the staff. I don't get every single last bit, but it feels like the right thing to do to grab as much from the floor as I can before we head out.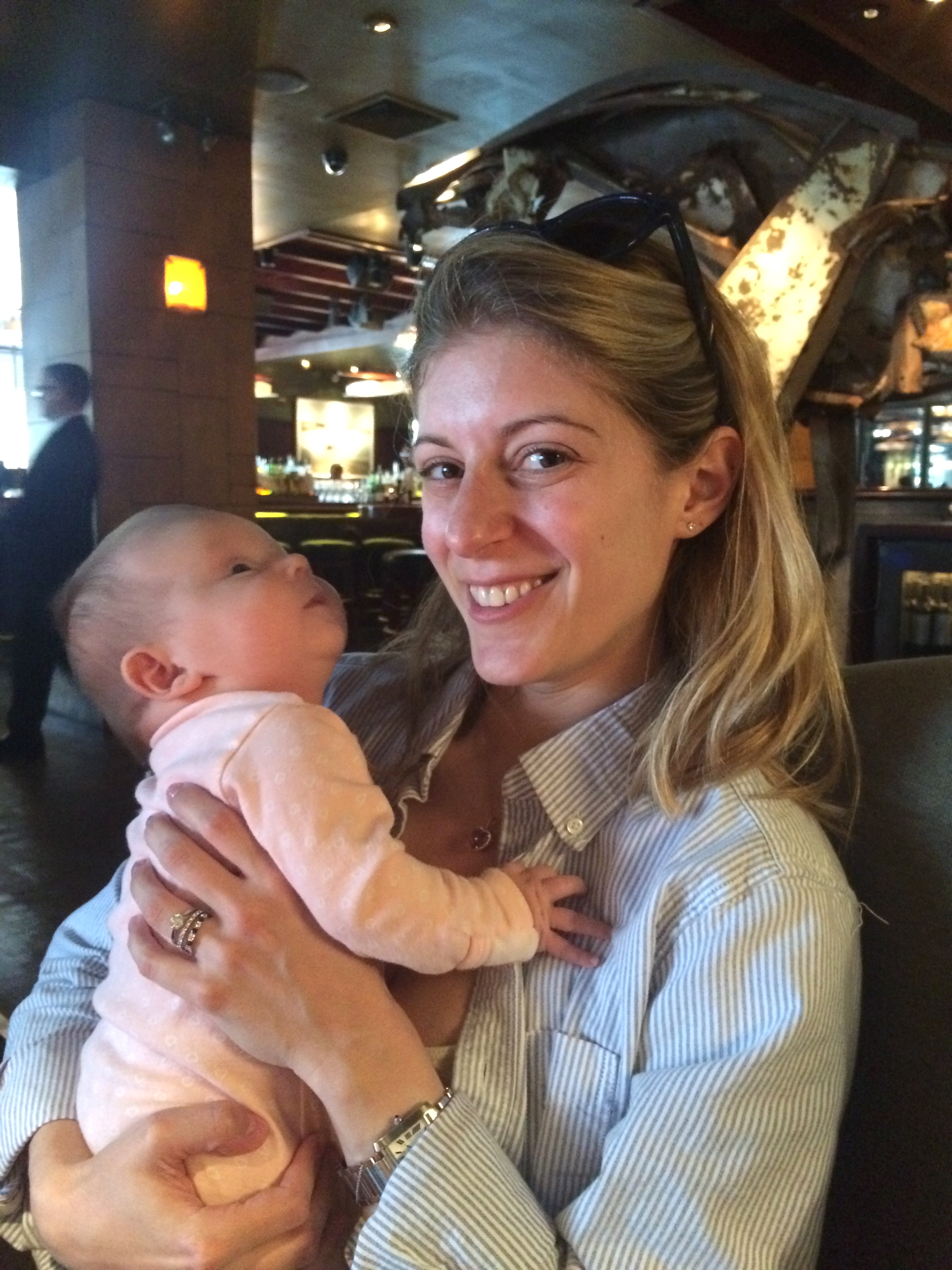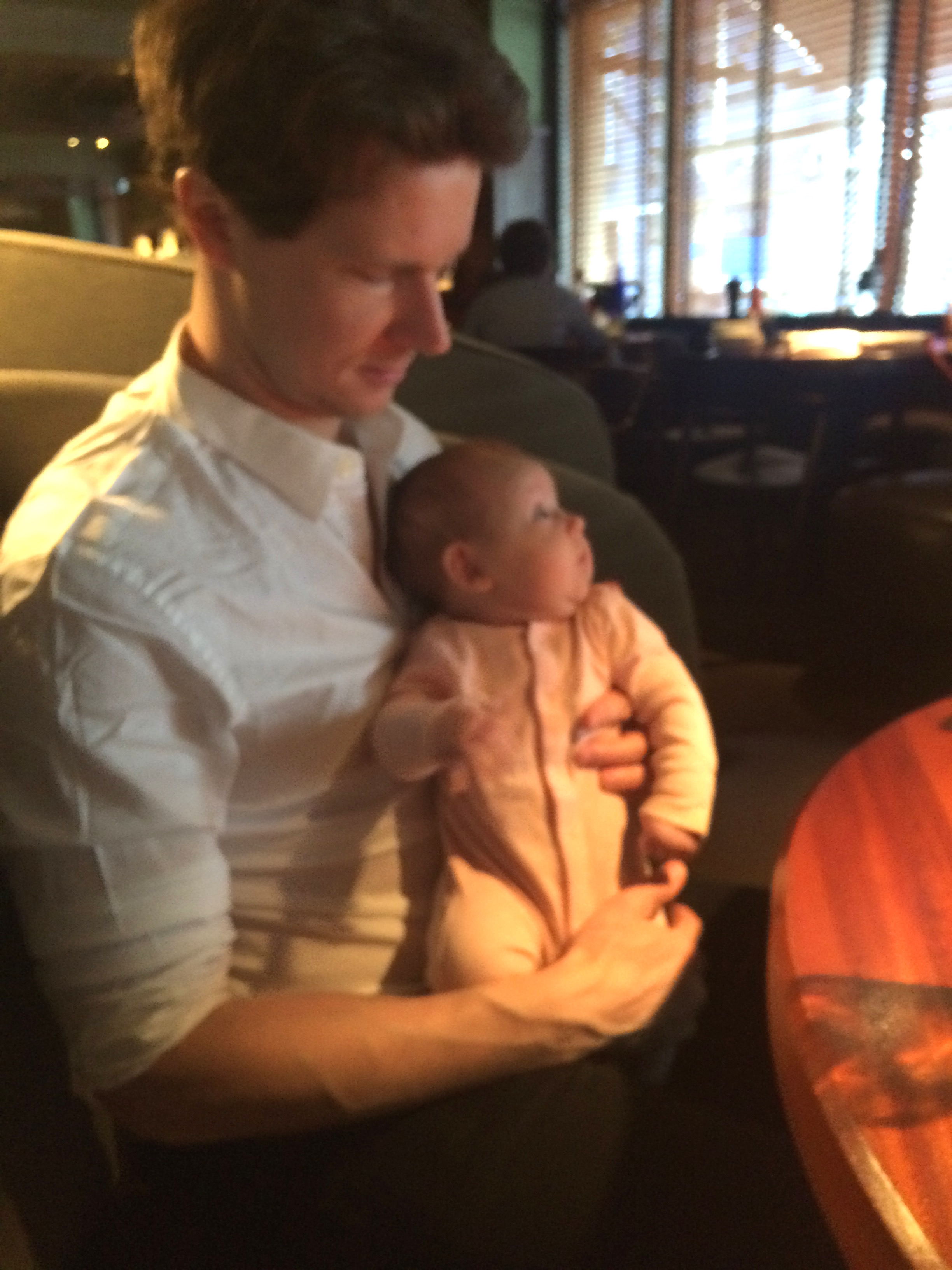 For pure adorableness purposes, the pictures above are from Georgina's first ever restaurant trip when she was two months old. We went to Hillstone and she looked around in total wonder at the lights on the ceiling and the waiters zipping by and the people chatting away. It was the first of many visits to Hillstone, our favorite restaurant. A few other amazingly kid-friendly spots around us in NYC are Almond, Sarabeth's (try to go during off-peak hours / days) and Hill Country Chicken.