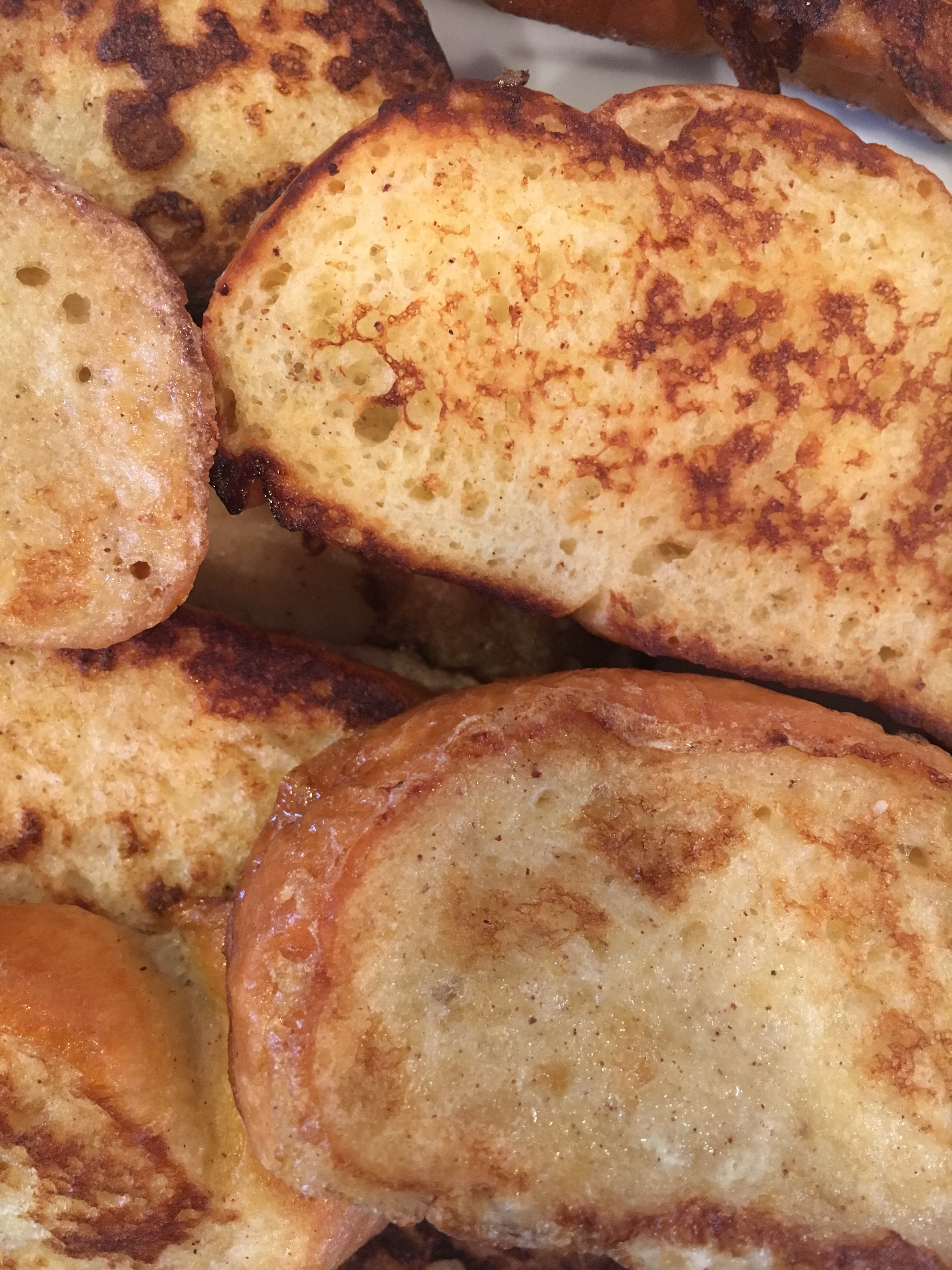 For longer than I care to admit, Georgie ate the same exact breakfast every day after having her milk: seven grain toast with peanut butter, and a banana. She always ate every single bite, and I figured it was ticking most of the food group boxes, so why mess with something that isn't broken!?
Of course eventually she got sick of it, and then I struggled a little bit figuring out exciting new breakfast ideas. She loves having cereal with Tom, but she isn't great with a spoon yet and it's not the most nutritious option… she likes yogurt but doesn't love it enough to eat it consistently, she loves croissants and bagels, but I try and save those as treats for special occasions (or weekends) and she also really likes eggs, so they're in our rotation but some days I just don't feel like making them.
I have now discovered the magic of homemade french toast and it's the best. It's delicious, not super un-healthy and we all love it. I make it with a side of chicken apple sausage so she gets plenty of protein too, and usually give her some strawberries or blackberries too. I didn't use any official recipe, just sort of mixed some things together and figured out what works best with trial and error. Recipe below if you'd like to try! It's super non-specific, but hopefully makes sense 😉
FRENCH TOAST RECIPE 
INGREDIENTS
-fresh challah (we use rolls; I like the bite size pieces they slice into)
-2 eggs
-a few big splashes of milk
-about 1/2 tablespoon vanilla
-a big sprinkling of cinnamon
INSTRUCTIONS
Warm a large pan on medium heat, and spray with nonstick cooking oil or butter.
Mix the eggs, milk, vanilla and cinnamon together in a bowl. Slice the challah and dip it into the bowl (or you can use a shallow plate if your bread slices are larger) making sure to really soak and coat both sides. Cook for about 2 minutes on the first side, then 1 minute on the second, checking to avoid burning. Enjoy!