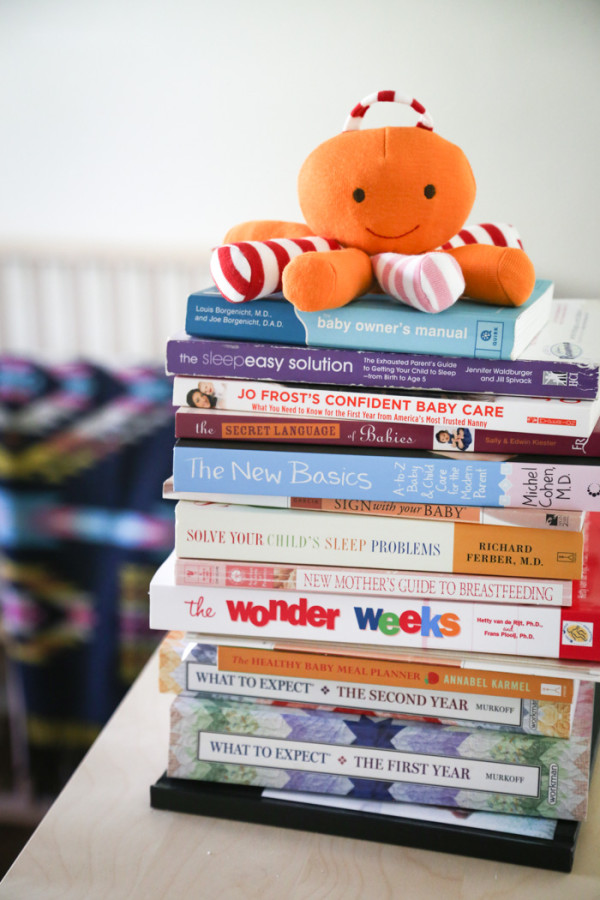 It's sort of overwhelming how many parenting books exist. They all contain pages and pages of varying methods and strategies and theories covering everything from labor to sleeping to feeding to playtime.
Here are some of the books I found (and still find!) super helpful.
This one was my favorite. It's more of a non-fiction book than a parenting book, as it's written beautifully and tells great stories rather than instructing you what to do and how. It's also truly fascinating to read about some of the stark differences between French parenting and American parenting. For example, in France parents are given a government issued manual on parenting – pretty much the opposite of America where there are what seems like hundreds of parenting styles!
Loved this book for all things sleep-related. The authors know what they're talking about, and the book discusses good sleep as an essential for all babies (and parents!), laying out a really intuitive and compassionate way to get your little one to enjoy sleep. I liked how the main premise is that all babies know how to be good sleepers, and it's our job as parents to gently guide them there, while also giving them enough space and independence to get their on their own.
This is a fun one on the best foods to introduce to your little one when they venture into the world of solids. It also provides really helpful tips on food and mealtimes, and some sample schedules to help figure out when you should be feeding baby, how much etc. I use this as a way to get basic info (and recipes) and then double check everything with Georgie's pediatrician.
When my mom was doing her residency and studying pediatrics, she loved Dr. Brazelton best, and since my mom is my role model in terms of the mother I hope to be (nurturing, loving, understanding, calm and supportive) I definitely trust her opinions. I love Dr. Brazelton's warm tone, and he is clearly incredibly knowledgeable on all things babies. It's a really easy book to read and digest, and a great one to reference as Georgie grows.
I actually have two copies of this one, as I bought it for myself when I was pregnant, and then the hospital gave it to us after Georgie was born. It's written by the American Academy of Pediatrics, who set the bar for all things child related. Sometimes the AAP can be a little extreme in their views, but I think this book is another great reference, and I have picked up some really helpful bits of information from it. (Example – I used to be super protective of Georgie's nap schedule, not ever planning a class or an outing or anything that would get in the way of her naps. Then I read in this book that it's ok to forgo the schedule every now and again for something special, and for some reason it was really the authoritative kick I needed to realize that it IS ok for me to put her down for some of her naps a little later than usual.)
The Happiest Baby on the Block
This one is such a gem. Best to read when you're pregnant, it's all about how newborns are in the 'fourth trimester' for the first three months of their life, and provides ways to make your baby feel more cozy and comfortable and happy as they adjust to their new life. There are so many great tips, and it's a quick read. I bookmarked and highlighted my way through this one, and re-read several parts once Georgie was born. Dr. Karp knows his stuff!
Healthy Sleep Habits, Happy Child
I reference this book every now and again. It's packed with stats which is interesting, but it's really rigid in its recommendations. To me, every baby is different, and this one weirdly gives no wiggle room to the number of naps, sleep times etc. which I find strange. I have also found that a lot of Weissbluth's advice (i.e. only 16% of babies need a third nap after five months) totally conflicts with my experiences, and with things I have read or heard from other moms / pediatricians. A lot of women swear by this book, but I think it's a little bizarre!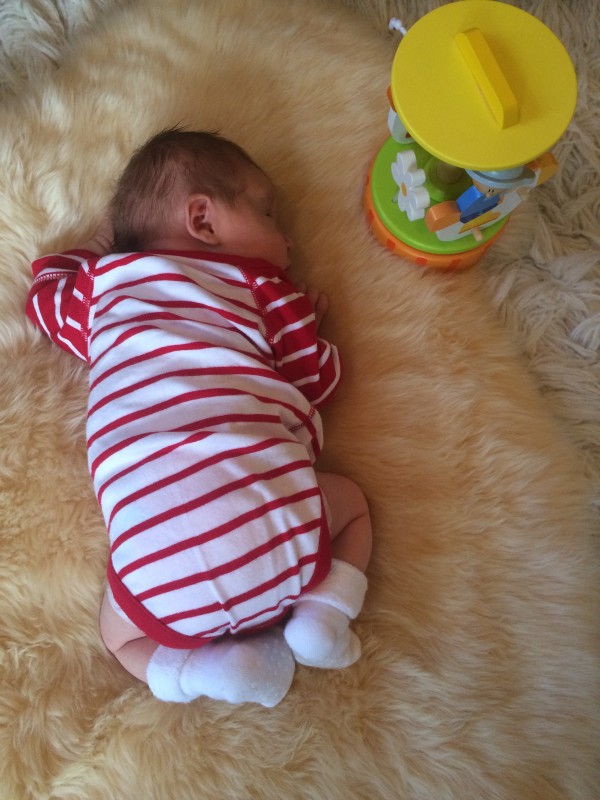 Books and knowledge and reference tools are great, but I will say that when I was inundated with postnatal hormones and sleep deprivation and couldn't remember a thing I had read, I tried to calmly remind myself of my mom's simple but true words on how to take care of a newborn – 'You just need to feed them, change them, and love them.' Sometimes it helps to just get rid of all of the noise and remind yourself that you are giving your baby exactly what they need 🙂
P.S. This is a fun post from Cricket's Circle (one of my favorite sites) on parenting books according to the type of parent you are. I think (or hope!?) I'm a mix of a mindful parent and a hand in hand parent.
Top photo via
Bottom photo of a very tiny, very squeezable baby Georgina