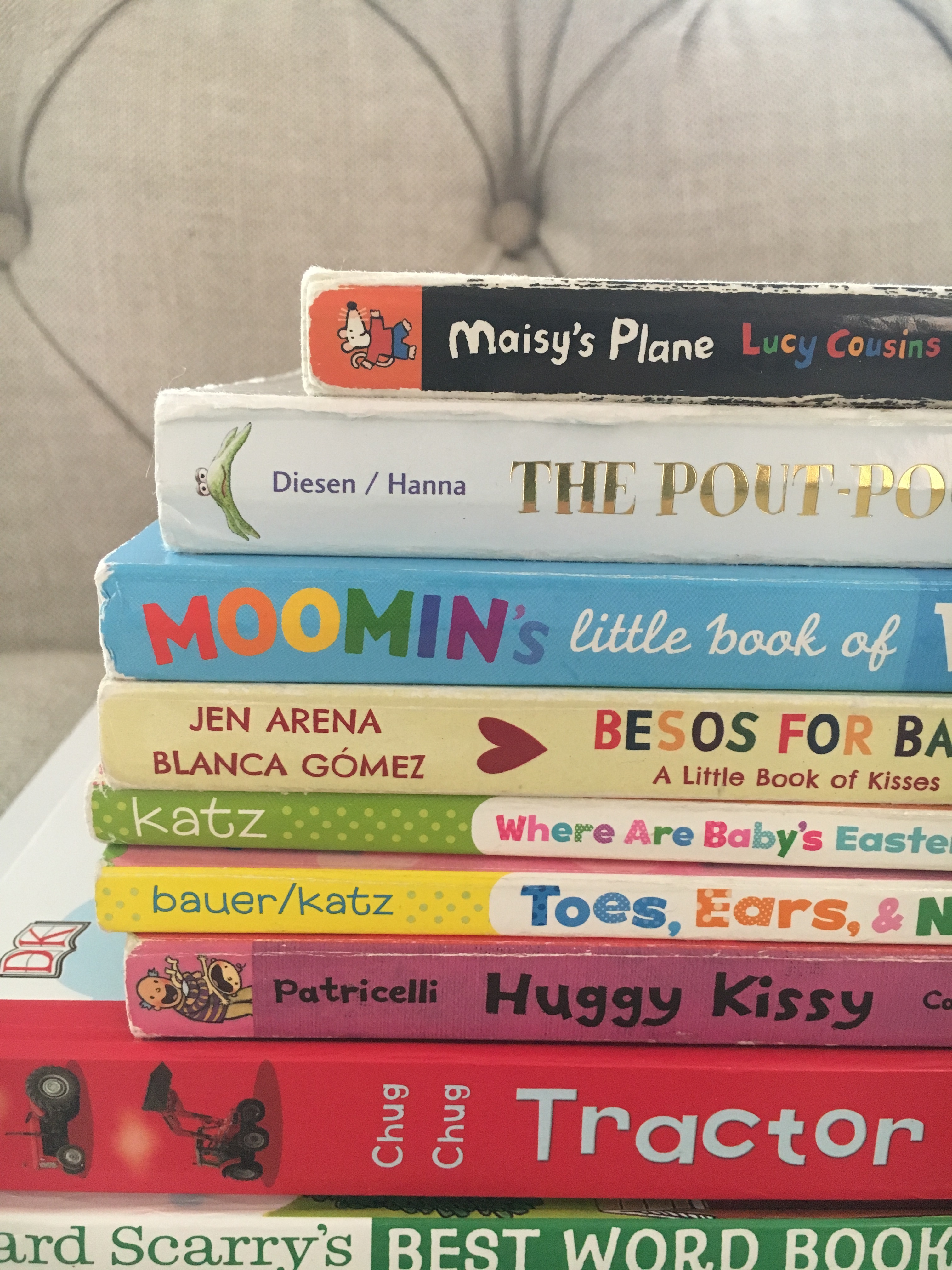 For the past several months, Georgie's favorite toy hands down has been her books. She will spend huge chunks of time sitting and going through her books in her room and our living room (aka playroom), pulling them down and flipping through, opening flaps and touching fuzzy animals. She loves them and it's wonderful to watch.
Here are a few of her current favorites:
Tom brought this home from work one day (he got it from the amazing toy store at Grand Central) and Georgie was in heaven. It combines so many of her favorite things into one book – tractors, animals, tractor and animal noises, and tons of flaps to lift. It has sort of fallen apart at this stage with flaps being torn off and a lot of the noises no longer working, but to me that's just a sign of how well loved it has been.
Richard Scarry's Best Word Book Ever
This book is in heavy rotation when Georgie and I read together on the couch after she has had her dinner. It's so nostalgic and sweet which makes me love it too, and there are so many pages with so many fun things to look at on each one.
Georgie loves this book (and also this one, which is equally beloved, from the same author) and we have this cute little matching doll of the main character. There are so many more in the series, and they all look adorable.
This series of books is precious. They're brightly colored, have big flaps on each page and there are a ton of them, including seasonal ones which are really fun.
The Spain girls (my group of friends who I met while we were all studying abroad in Spain) sweetly got Georgie this book when she was born, and it's such a good one. Georgie says a few Spanish words (hola and agua) and I love that this reinforces key words in both English and Spanish. Also, the illustrations are the sweetest.
I learned about Moomin through Tom, as apparently it was a really popular cartoon when he was growing up. This was the first book Georgie learned to 'read' on her own, as it consists of a few pages, each with a drawing and one word. Once she started talking she quickly learned all of the words on the pages, and loves shouting them all out!
Probably the most high brow book on our list (it's a New York Times bestseller!), The Pout-Pout Fish is pure cuteness. It's a great story of a grumpy fish who leaves behind the 'dreary wearies' for the 'cheery cheeries' with the help of a surprise ocean guest. And the illustrations are incredible.
Georgie calls this the 'mousey' book and it's long been a favorite of ours, rotating between a bedtime book and a daytime book. What's cuter than a mouse flying her own plane to her friend Eddie the Elephant's birthday party?!
P.S. Anything from the Indestructibles set is so adored. We got these when Georgie was a baby, as they are chew-proof, rip-proof and drool-proof 😉 but she loves them just as much these days as she did months and months ago.
And this is the best bedtime book ever. Ever! It makes me cry nice tears every time I read it to Georgie.