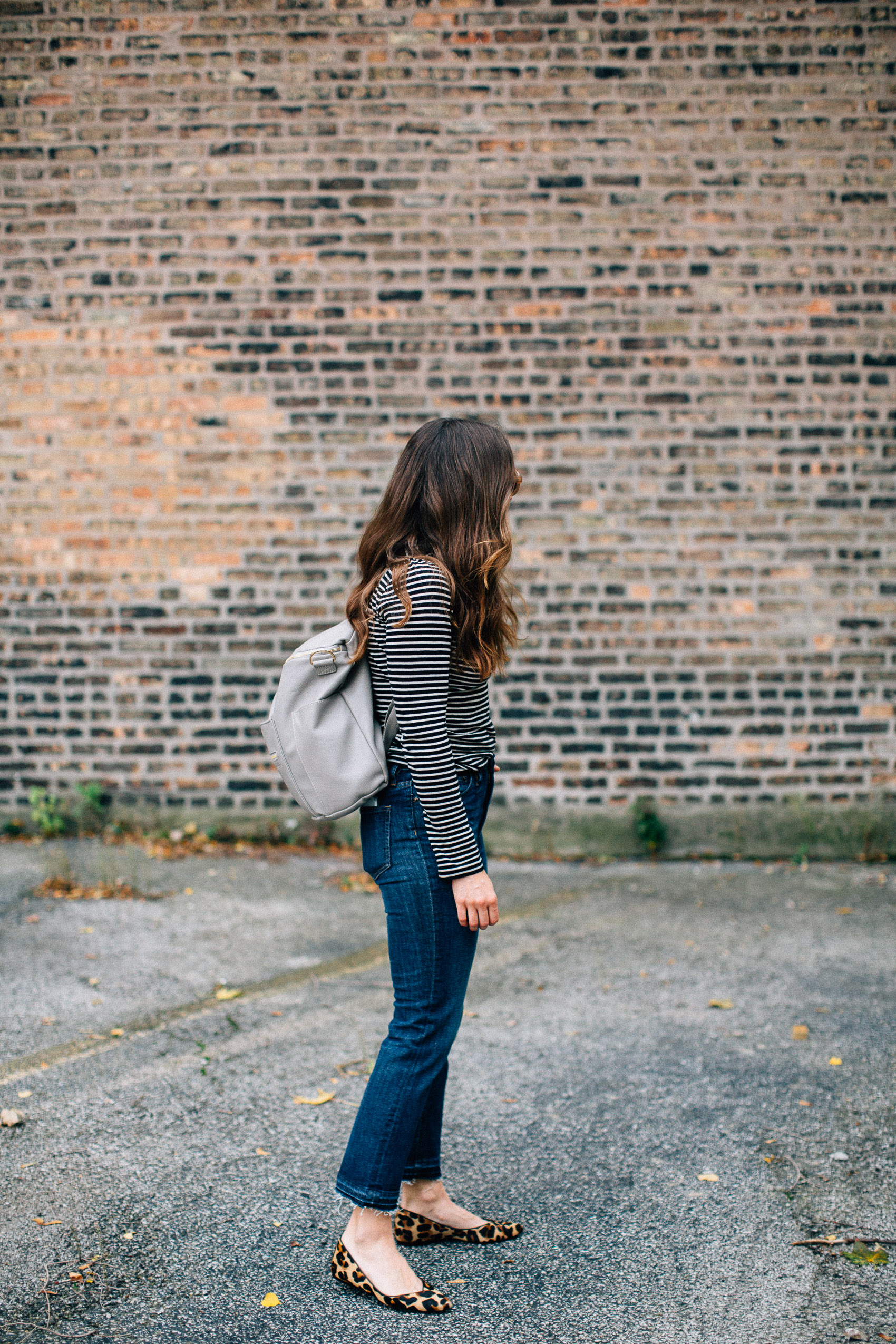 When Georgie was an infant, I used this diaper bag for her and it was great. Lots of space, lots of pockets and easy to wipe down. It travelled with us to England and Florida and California and I used it daily in New York City. Then, a few weeks after Georgie's one year birthday, I realized that I could usually pare down what we needed when we ventured out, and my need for a true diaper bag was diminishing. I was feeling more confident as a mom, and she just generally needed less stuff.
So since then I have used my own bags, usually a big tote bag, filled with my own stuff and then switching out a few essentials for Georgie each time – diapers and wipes, a small bag with some toys, books and a bib, her sippy cup and a snack. Lately I have been seeing so many cute backpack diaper bags, which I've realized is clearly the smart choice if you're going to be doing a fair amount of walking / won't be bringing a stroller with you to store your bag on the handle or underneath. Here are three backpack diaper bags I am loving:
Fawn Design // I love this bag (the blush color is so pretty) and the story behind the brand. It was started by a husband wife duo who raised money to produce their bags via Kickstarter, where they made double their goal in two weeks. The bag looks really sleek, has four pockets outside and five inside, and is made from fully wipeable faux leather, inside and out. The inside can also be pulled out for cleaning, (which is amazing for those fruit pouch spills), and if you're not into carrying it as backpack, it also doubles as a messenger bag.
Everlane // This backpack isn't meant to be used as a diaper bag, but would work well as it has a really roomy inside and two side pockets on the outside. Its super simple design and basic colors (grey, navy, black) make it a good choice for both parents to use as well.
Oh Joy! For Target // Honestly, the whole Oh Joy! line for Target is crazy cute and well priced, and this diaper bag is no exception. (Side note: I also love this tote diaper bag.) It's made of easy to clean nylon and has tons of pockets inside and a few on the outside as well. Since we live in the Northeast and the bag has a really summery look, with the very light grey and pink, I would likely only carry it in the spring and summer, but it's a perfect choice for those warmer months!