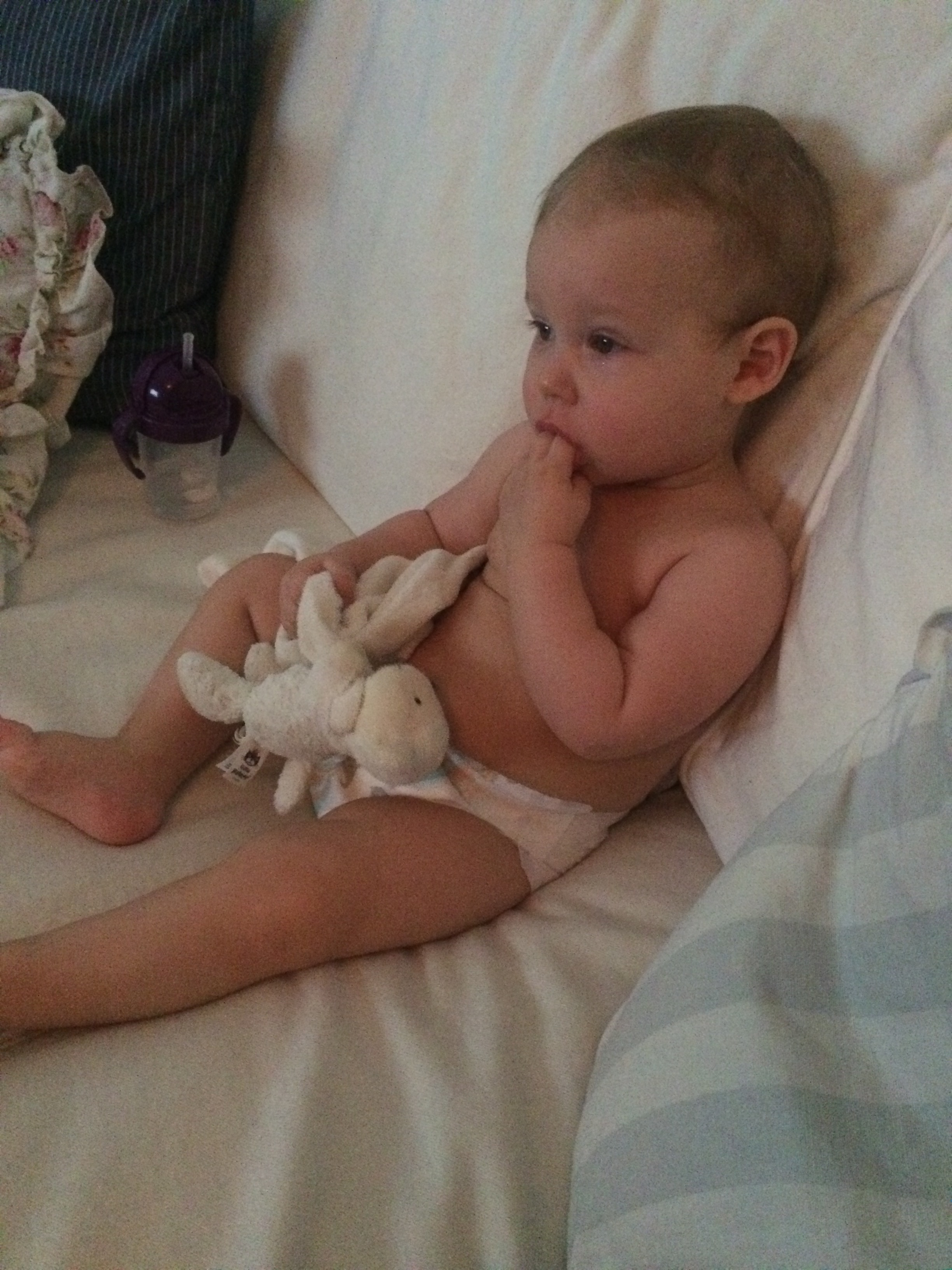 On Thursday night, Tom was out for drinks with a colleague and I was home with Georgie girl. It was a fairly normal evening and we went through her bedtime routine as usual – bath, milk, lotion, pajamas, teeth brushing, stories and bed. She fell right asleep but then around 8pm she woke up and started chatting to herself. She sounded perfectly happy, but it continued for around 30 minutes, which really isn't normal for her. So I went in to her nursery to check on her and just had a feeling something wasn't right. I picked her up and her little body and face was burning up.
I brought her into the bedroom, laid her on our bed and took her temperate – over 102. Then I picked her up again and starting patting her back while I scanned my brain about what to do next. I heard Tom's keys in the door, and at the same second he started to open the front door, Georgie started throwing up. A lot. I will spare you all of the details, but I will say that it was some sort of cosmic wonderfulness that brought Tom home at that exact moment, because a) I am the worst with throw up, and b) I was so scared seeing Georgie so sick.
As Tom cleaned everything up (seriously so thankful for him), I took Georgie into our room, took off her sleep sack and her pajamas and laid with her while I waited for the pediatrician to call me back. She suggested Tylenol to get the fever down, and sips of water as long as Georgie could tolerate it. Luckily, she kept everything down. We alternated between having her in bed with us so I could rub her back and soothe her when her fever spiked again, and putting her in her crib so she could get some solid sleep.
Here are a few things that helped us through our sweet honey's first tummy bug:
Forget the Routine
This may be an obvious one, but it always throws me for a loop when the routine is rattled, since it's so consistent for us on a day-to-day basis. Georgie understandably didn't sleep well at night when she had her fever, so she needed more sleep during the day. Her nap schedule was out of whack, but I just tried to watch the signs that she needed another sleep and put her down accordingly.
Spend Extra Time Soothing
Long gone are the days of Georgie wanting to snuggle on me all day long. She is a busy girl with lots to learn and places to go and things to explore. The most I get these days is a minute or two when she is sleepy, which I cherish! Usually she is so ready to get into her crib for nighttime sleep or naps, I've learned to keep my snuggling with her short. But when she was sick, she didn't want to get right into her crib (I tried, because I wasn't sure what she wanted). Instead, before bedtime she wanted to be soothed to sleep, so we laid in my bed together and I sang to her while I rubbed her back and tickled her head until she started dozing off.
Keep Your Doctor in the Loop
As a first time mom, I have so much to learn, and when my baby is sick, anything I know goes out the window and I feel sort of helpless. So I rely a lot on the advice of Georgie's pediatrician. Her fever started Thursday night, and Friday afternoon I called again to let them know the fever was still there (it came back every time the Tylenol wore off). I've heard people say fevers can last 48 hours, or even several days, but the doctor said that if her fever was still there on Saturday morning, to bring her in. Luckily it subsided by then, but it was good information to have and I felt better having a plan of what to do.
Keep Baby Hydrated 
How do you know if your baby is hydrated? They continue to have wet diapers. Luckily Georgina drank water throughout her fever, but if your baby resists, try Pedialyte. Don't worry about what baby eats when they're sick (Georgie was so not interested in food, a first for her!) as long as they are drinking.
Etc.
With a tummy bug, or any time your baby is throwing up, you want to stick to the BRAT diet (bananas, rice, applesauce, toast) for 24 hours. That means no milk, which baby probably won't want anyway. (If you're still nursing however, baby may want the comfort so go for it.)
Wait at least 24 hours after baby's fever is gone to bring them around any other kids, and obviously tell the mom / dad / nanny that your baby has been sick.
As heartbreaking as it is to see your little one sick, they need to get sick in order to build up their immune system and ultimately stay healthy as they grow up. Something to try and remember as your heart breaks just a little bit!
I have no medical training 🙂 and every baby is different, but hopefully the above will help a little bit!