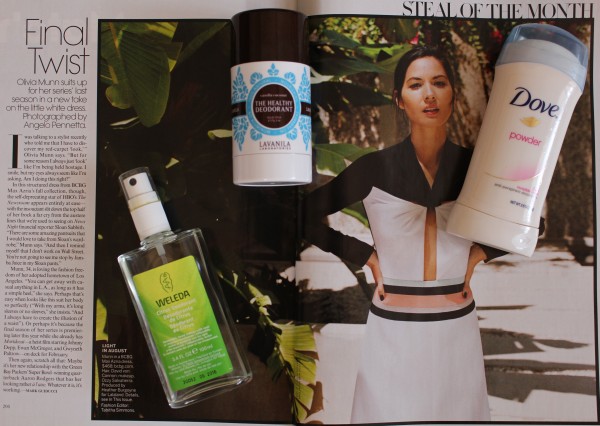 I started to delve into the natural health and beauty product world around five years ago, when I discovered Tata Harper (still my absolute favorite skincare brand!). Since then, I have tried to incorporate natural products into my life and my family's life however I can. Georgina's diapers, wipes and laundry detergent are from Honest. Our dishwasher tabs and most of our cleaning supplies are all-natural, I try not to eat too much processed food, and the bulk of our medicine cabinet and shower consists of natural products.
The one thing that was a tricky switch for me was deodorant. New York City in the summer is HOT, and if you are spending more than a few minutes outside, you are going to sweat. Since natural deodorants don't have antiperspirant (which consists of an aluminum based ingredient) to stop you from sweating, you really just want one that's going to keep you smelling fresh.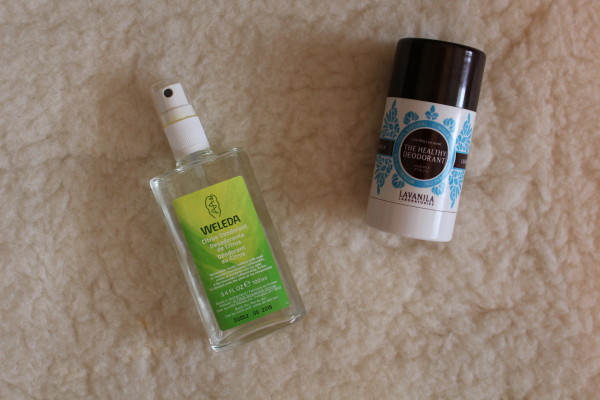 I have tried quite a few, and broken them each down below. I will also admit that on days when it's blazingly hot and I have evening plans, I will go back to my old faithful non-natural deodorant which always does the trick. Everything in moderation, right!?
Weleda Deodorant Spray, Citrus
This one has a zesty citrus smell and I like the spritzing application, but it needs several re-applications during hot days. Totally fine if you are close to home or want to pop it into your bag to take it with you for the day. I do love this brand, so definitely will continue using this spray, especially on cooler days.
Lavanila The Healthy Deodorant, Vanilla Coconut 
This one is THE BEST! It applies just like a normal drugstore brand, leaves no residue and works SO WELL. It uses natural ingredients and antioxidants to promote healthy skin and keep you smelling great, even when it's super hot outside. There are no chemicals in this one so it's not an antiperspirant, but there is some sort of magical combination because it definitely keeps sweating at bay. I have the vanilla coconut which smells really nice, but I think I'll give the fresh vanilla lemon a try next time, because yum.
I really like this stuff. It smells fresh and clean, comes in a tub and has the consistency of frosting. You apply it with your fingers which is a little strange at first, but you get used to it quickly. It does mean it takes a little longer to apply than a typical deodorant does, since you can't just slap on in two seconds. It can be tricky to get the amount of this one right. Applying too little means it doesn't work as well as it should, and applying too much means that it collects in tiny little balls, which isn't a great look when you're wearing a sleeveless top. It also contains baking soda which can irritate the skin. It gave me a red, itchy rash for a few days but then it went away once my skin got used to it. (I actually emailed the company and the founder wrote me the loveliest, longest note back, explaining that the itchiness can be caused by your body expelling the aluminum that's been deposited after years of antiperspirant use!!!!!!).
Tom's of Maine Long Lasting Deodorant Stick, Fresh Apricot
The fresh apricot smells lovely when you first apply it, but this stuff is in no way long lasting, as the name implies. It was my least favorite of the bunch. After using it a few times, I had to toss it. Sad!
I haven't tried this one, but have read good things about it, so adding it to my list to try next!