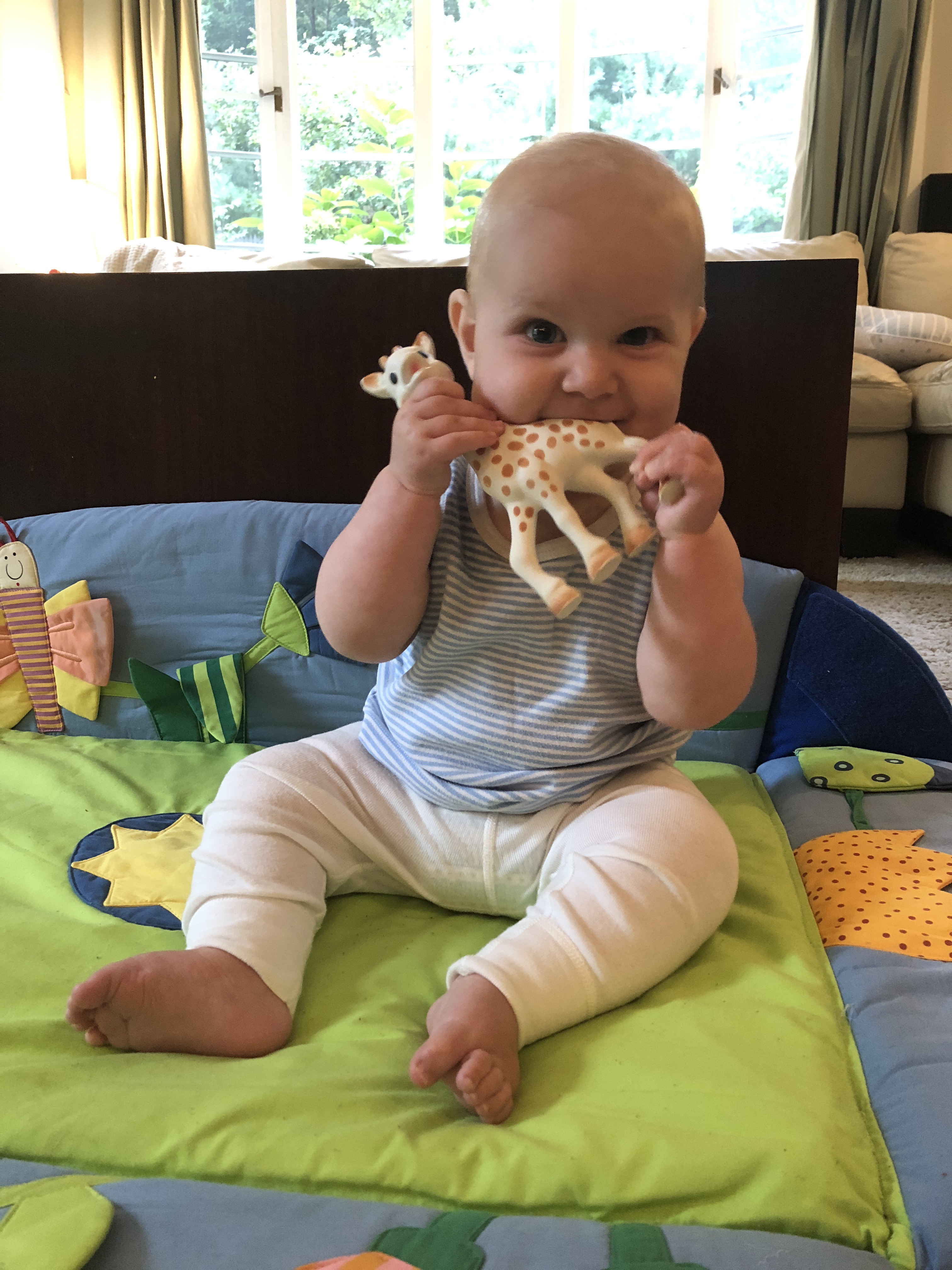 Rex is now seven months old and in the throes of teething. A month ago he was completely un-interested in teether toys and now he has something in his mouth pretty much all day every day. He is also drooling like a champ and gets a little fussier and clingier than usual in the afternoons, which was always Georgie's teething tell too.
When I know Rex is really hurting, I give him some Motrin, one of his beloved teether toys and make sure I'm nearby – either playing with him, holding him or putting him somewhere where he can see me if I need to be cooking, doing something with Georgie etc., and he's good to go.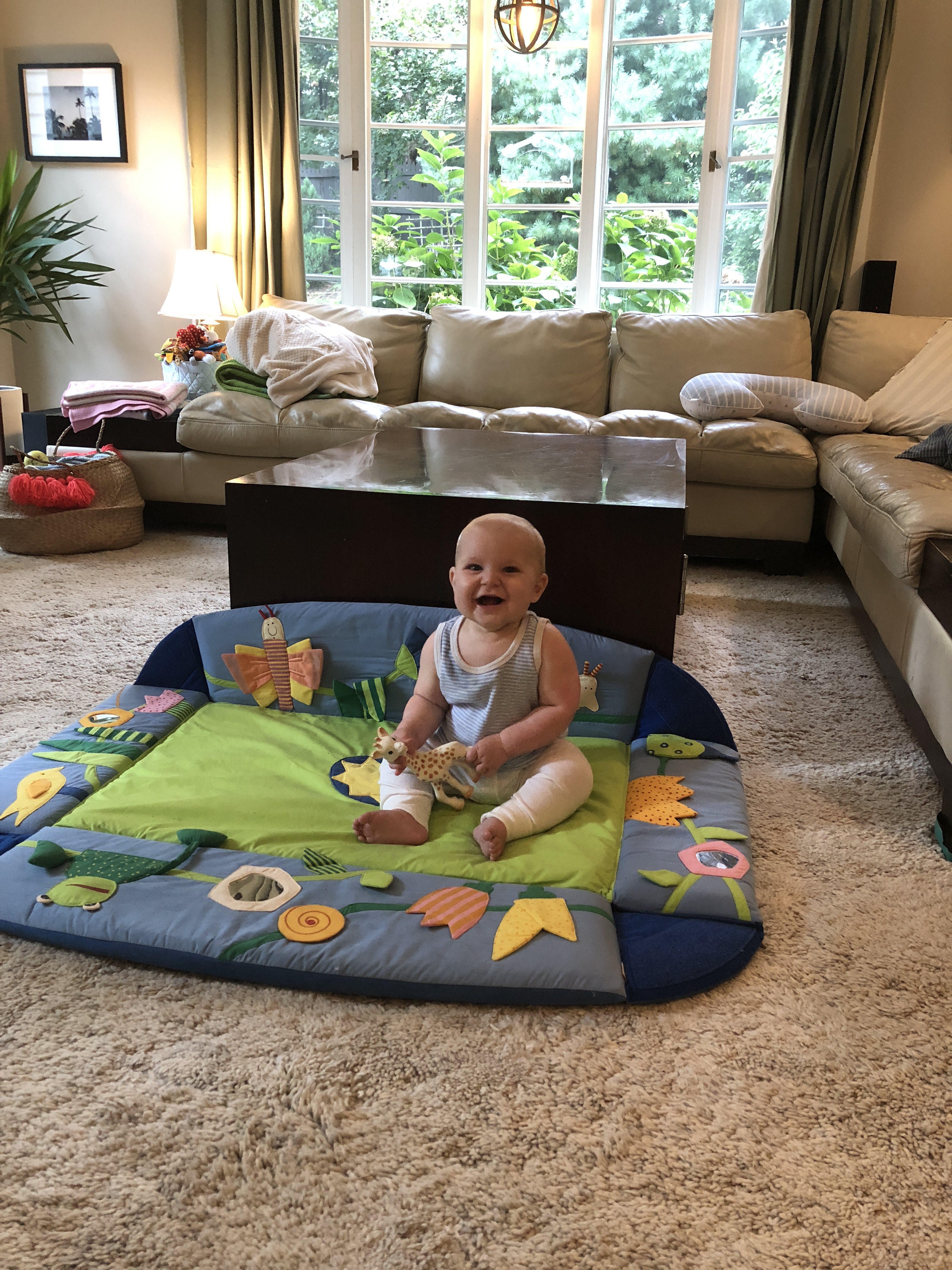 So far, his favorite teether toys have been:
Sophie the Giraffe // Probably the most classic teether there is, and Rex's favorite. To avoid mold growing inside, I wash the legs and then the head separately, never submerging the whole toy in water and making sure the small hole in the middle is covered. Georgie never liked the full sized Sophie, but loved this mini version.
Banana Toothbrush // Another classic. Most babies I know have this one – it's cute, works great and it's meant to introduce proper oral health habits early because technically you can use it to 'brush' babies teeth. We have the yellow, but I love the baby blue too!
Chewbeads // Georgie had this teether in pink and purple and always loved it (I would clip it to her stroller) so I got one for Rex too. It stays in the car, and sometimes I'll clip it to the carrier for walks.
Manhattan Whoozit // Not a teether per se, but this little guy is one of Rex's ultimate favorites, so I had to include it here. We keep this in the car too, and I place it on Rex's lap every time I put him in his carseat. He loves staring at the various black and white pieces sticking out, and pops the red fuzzy hearts in his mouth.
Soft Star Toy // Another not classic teether, but another favorite. This one was Rex's toy of choice for months before the major teething started, and he still loves it now because it's so easy to get his mouth around the star points. It's adorable and it's what I'm getting all of my friends who have just had a baby.
Comotomo // Babies love chewing on fingers, so this teether was designed to mimic small fingers that are easy for babies to gnaw on. Plus the circle in the middle is ideal for grabbing with their chubby little hands.
Moonjax // I love this teether for so many reasons. It was designed by a mom, it's free of any dyes, chemicals or toxins of any kind, it's made in the USA and most importantly, it's super easy for Rex to hold. Oh and you can put it in the dishwasher!
LouLou Lollipop Cookie // Definitely the cutest of our teether toy collection. I clip this one to Rex's top so it doesn't fall on the ground (ideal for travel days) and he loves chewing on the cookie and also the beads. When we first got this, Georgie tried to take a bite out of the cookie three separate times, because it looks so real 🙂
When Rex is ready for some new ones, I think I'll try these wood and silicone ones, and for little girls, this one and this one are just precious!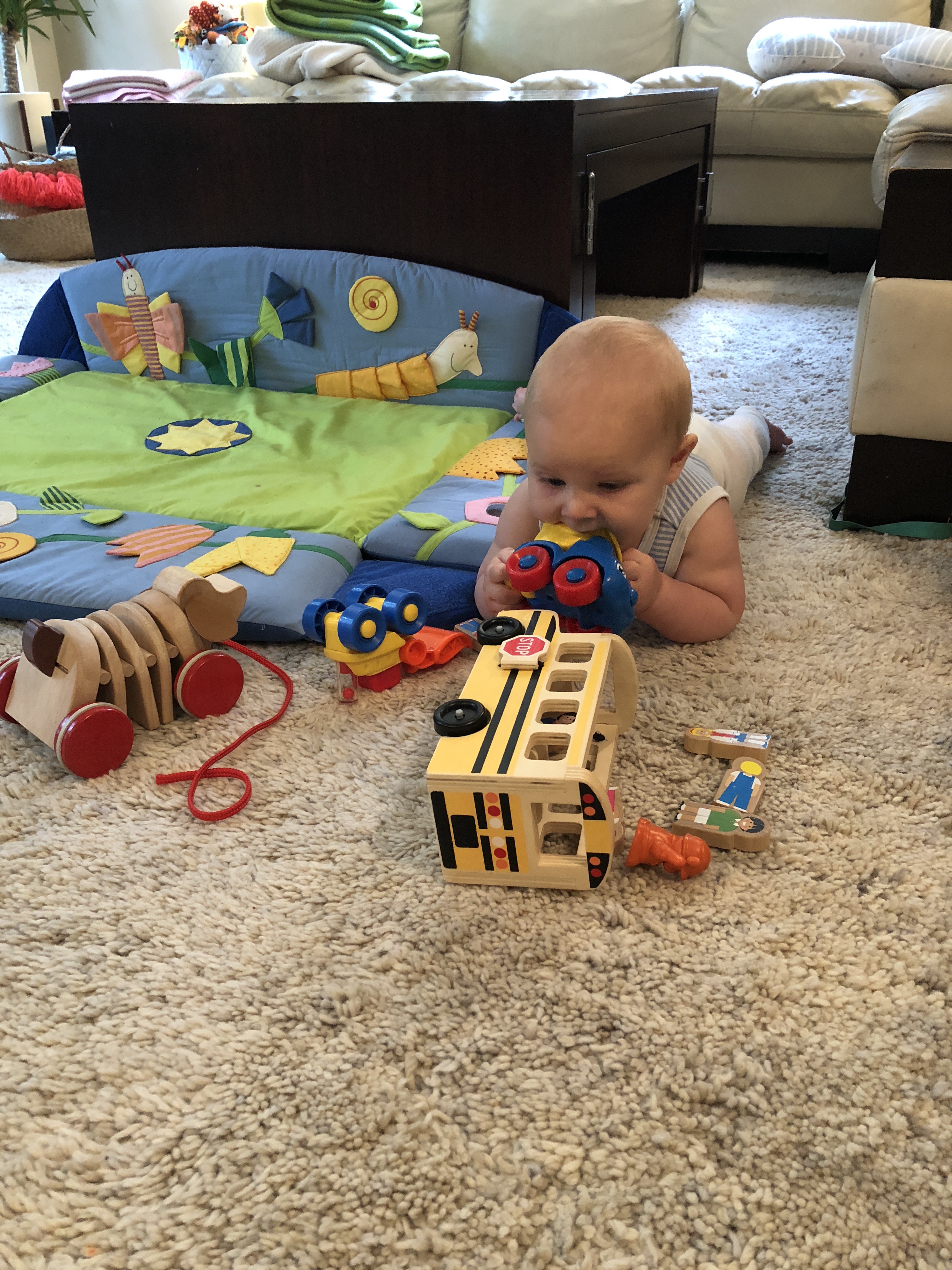 P.S. Georgie's favorite toys, teethers included, at nine months.